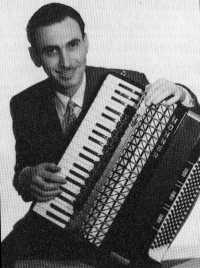 A popular feature of 'Music While You Work' was the accordion ensemble. Several distinguished exponents of this now rather neglected instrument led their own groups through many a programme. They included Albert Delroy, Delmondi, Henry Krein, Jack Emblow and Gerald Crossman. Also popular were the accordion bands of George Scott-Wood and Primo Scala.
Gerald Crossman was born on 5th April 1920 in Upper Holloway, North London. His was a very musical family; father was a mandolin player who owned two music shops and mother was a music teacher. Three cousins also became famous. Joe Crossman played for Lew Stone, Jack Hylton, Ambrose and other dance bands. The other two cousins were Jock Jacobson (Lew Stone's drummer) and guitarist Sid Jacobson.
Gerald Crossman took up the piano at the age of five and, after having lessons from his mother, studied at Trinity College of Music. He took up the accordion at the age of 12 and became proficient on the saxophone, clarinet and trumpet. One of his piano teachers was the well-known Edward Rubach.
In the late thirties, whilst still a teenager, Gerald Crossman played summer seasons in hotels in Cliftonville and London's Tottenham Court Road. He played with orchestras in Lyons' Corner Houses, and appeared solo in West End Theatres.
Gerald commenced his recording and broadcasting career in 1938/9 with recitals on the BBC Empire Service and with the Karl Kaylus Players, at that time directed by violinist Fred Alexander. The following year Gerald did some ENSA shows, but spent much of the time in Bournemouth with the orchestra of Plummer Roddis' Department Store Sundeck Restaurant.
Gerald joined the RAF in 1940 and three years later became RAF Central Band Sergeant Music Instructor, subsequently directing voluntary bands which included such musicians as Ernest Tomlinson and trumpeter Ronnie Hughes. After being posted to India in 1945, Gerald broadcast on accordion and piano for the Forces Radio and All-India Radio. He was Administrator/Music Instructor of the Royal Indian Air Force Band and was actually offered the illustrious post of Director of European Music, should he choose to remain in India after demobilisation; he declined this offer.
Demobilised in 1946, Gerald joined the Harry Gordon Quartet at a holiday camp in Paignton in Devon. Returning to London, he made many connections through broadcasting with light orchestras, and through recording and film music sessions — connections that were to last for several decades.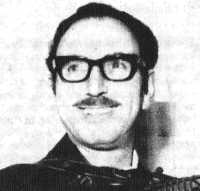 Gerald Crossman composed over 100 pieces of light music, the first of which, 'Granada Mia' and 'Marcha Espagnol', were published in 1948. Other titles include: 'A Night in Montmartre', 'Boulevards de Paris', 'Milou', 'Can-Can Dancers', 'La Vida Latina', 'All Hands For'ard', 'Banda Espanola', 'Poverino Mio', 'Tanto Gusto', 'The Happy Bachelor', 'The Albany Waltz,' 'Nochecita', 'All In Step', 'Fantango' and many others. Gerald Crossman wrote, and played, the music for several films, including 'The House of the Arrow.' In others he has brief on-screen appearances playing accordion, notably in the Morecambe and Wise favourite 'The Magnificent Two.'
After the war, he continued to perform in restaurants and in Lyons' Corner Houses, playing in the orchestras of Fredric Cooper and David Java. He also played with Falkman's Apache Band and recalled how Lionel Falkman used to walk amongst the restaurant tables playing his violin. Gerald later worked aboard the Cunard liners Queen Mary and Caronia, travelling to New York, and to Buenos Aires aboard the Royal Mail ship Andes.
Early television appearances include playing solo accordion to the accompaniment of Eric Robinson's Orchestra in the early fifties from Alexandra Palace. Around this time he formed an accordion quartet for light music broadcasts, followed shortly afterwards by the combination that was to make him a household name in radio, The Gerald Crossman Players whose signature tune was 'A Night in Montmartre'. Their first broadcast was in 'Music While You Work' on Thursday 13th November 1952 at 10.30 a.m. The players consisted of three accordions, saxophone doubling clarinet/bass clarinet and violin, piano, double bass and percussion. Their contrasting repertoire included marches, paso dobles, waltzes, entr'acte numbers and selections from shows and films. Gerald arranged some pieces himself, but the majority were done by the publishers' staff arrangers (in liaison with Gerald, of course).
With so many light music periods available to the many ensembles and small orchestras that were so popular with listeners in the fifties, Gerald found himself in the studios nearly every day, playing for one or more of them. He still found time to lead his players in numerous editions of 'Bright and Early', 'Morning Music' and various untitled, announced programmes, some with a guest artist. The players did 123 MWYW programmes — 24 in 1959 alone. Each programme apparently took three days to plan, so Gerald must have been under some pressure when, on one occasion, he played a 45-minute Friday afternoon show with another live edition on the following Monday. The players' three accordionists were Gerald, Albert Delroy and Ivor Beynon — alternatively, Emilio or Reg Hogarth. Pianists over the years included Billy Mayerl, Maurice Arnold, Edward Rubach, William Davies and Sidney Davey. The woodwind player was originally Frank Reidy, but later was Michael Salmons, who also played the violin.
As the arrangements were done by a number of different musicians, Gerald had to spend time fine tuning them to ensure that they accurately reflected the style of the ensemble — a refined and sometimes quite delicate style. 'I didn't want it to sound like an accordion band!' Gerald told me. In addition to the Players, he had a group on Radio Luxembourg and sometimes broadcast at the piano with a trio in 'Morning Music.'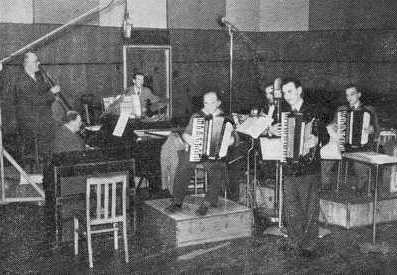 The Gerald Crossman Players about to play their first Music While You Work programme
Gerald Crossman played in most of the top London hotels — Savoy, Ritz, Hilton, Dorchester, Claridge's and others — and performed with combinations as diverse as Ted Heath, Nat Temple, Edmundo Ros, the BBC Concert Orchestra and the London Symphony Orchestra. He played for Fredric Cooper's Tipica Orchestra, in which the clarinettist was the distinguished classical player, Jack Brymer, who apparently loved doing MWYW. Gerald also played for Bernard Monshin, Anton, Ralph Elman, David Java, Marcel Gardner, Frank Baron, George Scott-Wood, Ronald Hanmer, Harry Davidson, Henry Krein's Montmartre Players, Bryan Smith, Frank Baron and Jack Salisbury (for Grand Hotel). If that wasn't enough, he sometimes deputised in the orchestras of Sydney Thompson, Sidney Bowman, Troise, Primo Scala, Mantovani, Ray Martin and Frank Chacksfield, occasionally appearing with Phil Green, Norrie Paramor, Philip Martell, Matyas Seiber, Ron Goodwin, Peter Knight and Cyril Ornadel.
He played the piano at many American Air Force bases accompanying Roy Castle, Tommy Cooper and Bob Monkhouse. He fronted dance bands at dinner/dances after film premieres and acted as British adjudicator at world accordion championships around Europe.
The Gerald Crossman Players were heard for the last time in October 1966. Apart from one 15-minute solo interlude in 1978, Gerald did not broadcast in his own name after the sixties — a time when the BBC's axe fell upon so many long-standing broadcasters.
With the demise of radio work, Gerald spent nine years during the seventies regularly playing on P&O cruises. He also provided the accompaniment for a season of silent films at the Academy Cinema in Oxford Street and, in the 1980s, he was resident pianist at the Ritz Hotel.
In later years, Gerald had the opportunity to entertain at Senior Citizens' Friendship Clubs, hospitals and hospices, assisted by his wife Miriam (to whom he was happily married from 1968 until her death in 2013) with her humorous monologues.
During his long professional career Gerald met and accompanied such notable performers as Marlene Dietrich, Sir Ralph Richardson, Sir Harry Secombe, Jack Hawkins and Charlie Chaplin. Indeed, his accordion can be heard in the sound version of Chaplin's The Pilgrim.
Gerald Crossman died aged 94 on 22nd December 2014
(I am indebted to Gerald Crossman for providing me with copious notes on his career, parts of which have been quoted verbatim).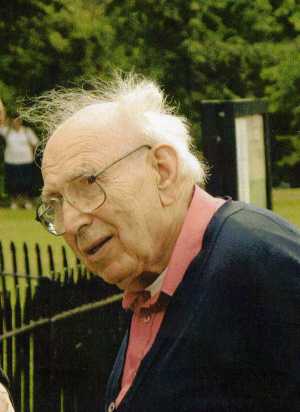 A recent picture of Gerald Crossman
---


Listen to 'Music While You Work' played by The Gerald Crossman Players
as broadcast on the BBC Light Programme at 10.31 a.m. on 26th September 1966.
MUSIC WHILE YOU WORK at 10.31 a.m. on 26th September 1966
played by The Gerald Crossman Players
Calling All Workers (Sig)
Marching along together
Why did she fall for the leader of the band
Lilli Marlene
Round the Marble Arch
Sing as we go
Lullaby of Birdland
My Heart Sings
Happy Hippo
Chico
Bravo Bravo
Leaning on a lampost
Bailiff's Daughter of Islington
Nochecita
Selection: Gigi
Calling All Workers (Sig)
Eric Coates
Pola
Kennedy and Carr
Loip
Butler and Gay
Parr-Davies
George Shearing arr: Langford
Willard arr. Cyril Watters
Gerald Crossman arr. Peter Hope
Hamilton arr.Green
Bernard Monshin
Noel Gay
Trad. arr. Crossman
Gerald Crossman
Frederick Loewe
Eric Coates
---


Listen to 'Music While You Work' played by The Gerald Crossman Players
as broadcast on the BBC Home Service at 10.31 a.m. on 11th April 1964.
MUSIC WHILE YOU WORK at 10.31 a.m. on 11th April 1964
played by The Gerald Crossman Players
Calling All Workers (Sig)
Bravo Bravo
Selection: Calamity Jane
Sur la Pont D'Avignon
Cuban Bellringer
Au Revoir
Take me to your heart again
Hi Lili, hi low
Boom
Dublin Delight
Sarais Marais
Donkey Ride
La Vida Latina
Jolson Medley
Calling All Workers (Sig)
Eric Coates
Bernard Monshin
Sammy Fain
arr.Crossman
Menari
Olivier
Louiguy
Kaper
Charles Trenet
Richardson
arr.Crossman
Albert Delroy
Gerald Crossman
arr. Papworth
Eric Coates
---


Listen to 'Music While You Work' played by The Gerald Crossman Players
as broadcast on the BBC Home Service at 10.31 a.m. on 25th July 1964.
MUSIC WHILE YOU WORK at 10.31 a.m. on 25th July 1964
played by The Gerald Crossman Players
Calling All Workers (Sig)
Banda Espanola
Beautiful Dreamer
Showland
Anniversary Song
Military Shuffle
Bailiff's Daughter of Islington
Jealousy
Medley:
. I love a lassie
. Stop your tickling Jock
. Roaming in the Gloaming
. I belong to Glasgow
. The end of the Road
Shy Serenade
Bravo Bravo
The King and I (Selection)
Calling All Workers (Sig)
Eric Coates
Gerald Crossman
Foster arr.Crossman
Roger Barsotti
Al Jolson
George Blackmore
Trad. arr. Crossman
Joseph Gade

Harry Lauder
Harry Lauder
Harry Lauder
Will Fyffe
Harry Lauder
George Scott-Wood
Bernard Monshin
Richard Rodgers
Eric Coates
---


Listen to 'Bright and Early' played by The Gerald Crossman Players
as broadcast on 20th July 1964.
BRIGHT AND EARLY on 20th July 1964
played by The Gerald Crossman Players
Sur la Pont D'Avignon
Banda Espagnola
Under the bridges of Paris
Hora Samba
Waltzing Matilda
Seven Brides for Seven Brothers (Sel)
Ici on Parle Francaise
Midnight in Moscow
Pepita
Flanagan and Allen Medley:
. Underneath the Arches
. Hometown
. Side by Side
. Hey Neighbour
. Ring out the Bells
Trad. arr. Gerald Crossman
Gerald Crossman
Vincent Scotto
E.G.Charrosin
Mario Cowan
Gene de Paul
George Scott-Wood
Trad- arr.Kenny Ball
Don Versey

Flanagan
Kennedy, Carr
Harry Woods
Ross Parker
Ross Parker
---


Listen to 'Music While You Work' played by The Gerald Crossman Players
as broadcast at 10.31 a.m. on 2nd October 1961.
MUSIC WHILE YOU WORK at 10.31 a.m. on 2nd October 1961
played by The Gerald Crossman Players
Calling All Workers (Sig)
Ici on Parle Francaise
What do you Want?
Bonita
Annie Laurie
Tanto Gusto
Fancy Free
Zaragosa
Dublin Delight
Yodelling Mountaineer
Selection: Gigi
Calling All Workers (Sig)
Eric Coates
George Scott-Wood
Les Vandyke
Lesley Steele
arr.Gerald Crossman
Gerald Crossman
Cecil Norman
Kenneth Baynes
Tom Richardson
Louis Voss
Frederick Loewe
Eric Coates
---