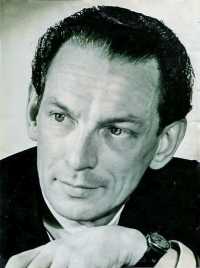 Herbert Marshall Gardner, better known as Marcel Gardner, was born in Guernsey in 1903. For many years he lived in my home town of Bromley in Kent.
He received his musical training at the Royal Conservatoire of Music, Liege in Belgium where he won first prize for violin and chamber music. He was also a member of the Conservatoire Symphony Orchestra. Over the years he was associated with many well-known recording and broadcasting orchestras, amongst which were Geraldo's orchestra and Ernest Leggett's Continental Players. At various times Marcel was also a member of the orchestras of Albert Sandier, Leslie Jeffries and Mantovani (who was then playing at the Carlton Hotel). Marcel Gardner was no stranger to the theatre; the revival of Me and My Girl in the eighties reminds me of the fact that he was a one-time Musical Director of the original show, starring Lupino Lane.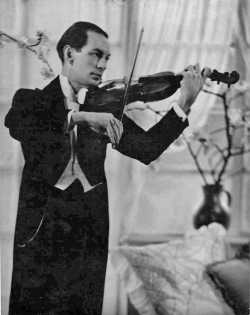 It was in 1947 that Marcel Gardner formed his Serenade Orchestra for broadcasting. It consisted of 11 players and, in the early fifties, was made up of the following musicians: Marcel Gardner (conductor and violin), Ralph Elman (leader), Michael Spivakovsky and Jack Greenstone (violins), David Bellman (viola), Henry Elman (cello), Jack Collier (bass), Gerald Crossman (accordion), Edward Rubach and Gordon Rodda (two pianos) and William Bradshaw (tuned percussion) - quite an impressive list of musicians, five of whom were musical directors of other broadcasting combinations. Gerald Crossman recalls that Marcel Gardner really enjoyed himself when conducting his orchestra, Apparently, unbeknown to listeners, when playing an Irish jig he would put his arms to his sides and dance on his rostrum!
Marcel Gardner's Serenade Orchestra participated in a variety of light music radio shows, including 'Bright and Early', 'Morning Music', 'Continental Serenade' and 'Music While You Work' to which they contributed 152 programmes. By the mid-sixties MWYW was practically the only remaining programme in which it was possible to hear orchestras of this type.
Despite its title, Marcel Gardner and his Serenade Orchestra played a wide range of light music and by the early fifties were boasting a repertoire of 575 pieces.
Whereas most orchestra leaders made use of professional arrangers, often in the employ of the publishers, Marcel Gardner preferred to do his own arranging. It is perhaps not well known that he made a published arrangement of the novelty 'Nola' by Felix Arndt.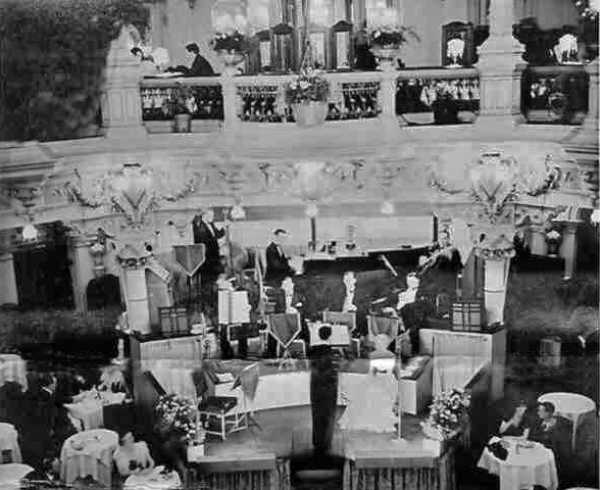 Marcel Gardner conducting at Frascati's in 1934
During the mid-fifties, BBC programme reports commented on the fact that, despite the title of the orchestra, Marcel Gardner's programmes did not appear to contain sufficient 'serenades' to justify the title! Whether or not they said anything to Gardner is not known, but the word 'serenade' ceased to be used in the title of the orchestra thereafter.
Marcel Gardner continued to broadcast regularly until the mid- sixties but, in common with so many other broadcasting combinations, his orchestra was not used after the demise of 'Music While You Work', the BBC was seemingly of the opinion that these little orchestras were 'dated'. I doubt if the feedback from listeners suggested anything of the sort. What I do know is that many listeners kept recordings which they had made of such orchestras (albeit illicitly in those days) and even today they sound delightful and not in the least dated. I am only sorry that today's young people do not have the opportunity to grow up with such lovely music!
On June 3rd. 1973, Marcel Gardner had been doing some gardening (one of his passions) when he said that he was feeling a little tired and would go and watch the cricket (another passion) on the television. Unfortunately, as he entered the house he suffered a heart attack and died.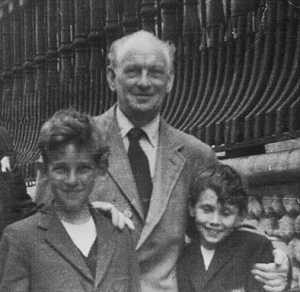 Marcel Gardner with his two grandsons in the early '60s
---


Listen to 'Music While You Work' played by Marcel Gardner and his Orchestra
as broadcast on the BBC Home Service on 7th. July 1962 at 10.31am.
MUSIC WHILE YOU WORK at 10.31 a.m. on 7th July 1962
played by Marcel Gardner and his Orchestra
Calling All Workers (Sig)
Von a Bailir
Charm Waltz
Tabarinage
Dolce Mio
Portuguese Washerwoman
Maigret Theme
Peanut Polka
Tanto Gusto
Dance of the Blue Marionettes
Echoes of Paris
Va Presto
Eric Coates
Edrich Siebert
Geoffrey Henman
Robert Docker
William Davies
Andre Popp
Ron Grainer
Robert Farnon
Gerald Crossman
Leslie Clair
Edward White
Jacques Vallez
---


Listen to 'Music While You Work' played by Marcel Gardner and his Orchestra
as broadcast on 1st. June 1963 at 10.31am.
MUSIC WHILE YOU WORK at 10.31 a.m. on 1st June 1963
played by Marcel Gardner and his Orchestra
Calling All Workers (Sig)
Selection: Carousel
The Little Lobster
Belle of the Ball
Llama de amor
Un Voyage en France:
. Cadet Roussel
. Sur la pont
. Au Clair de le lune
. Aupres de ma blonde
Dolce Mio
Tango Monaco
Rouge et Noire
Parakeets of Paraguay
Merry Widow March
Calling All Workers (Sig)
Eric Coates
Richard Rodgers
Rice
Leroy Anderson
Torrega
arr. Marcel Gardner




Davies
Herbert
Fred Hartley
Cedric Dumont
Franz Lehar
Eric Coates
---


Listen to 'Music While You Work' played by Marcel Gardner and his Serenade Orchestra
as broadcast on 16th. March 1955 at 3.45pm.
MUSIC WHILE YOU WORK
3.45pm on 16th. March 1955 - Light Programme
played by Marcel Gardner and his Serenade Orchestra
Calling All Workers (sig)
Viva Villa
Dance in the Twilight
Rue de la Paix
Serenatella
Dance of the Three Old Maids
Kaleidoscope
Marechiare
Golden Tango
Serenata
Selection: White Christmas
Calling All Workers (sig)
Eric Coates
Jack Leon
Eric Coates
Laurie Johnson
Margutti
Reginald Porter-Brown
Cedric King-Palmer
Tosti
Victor Silvester
Leroy Anderson
Irving Berlin
Eric Coates
---
BRIGHT AND EARLY at 6.30 a.m. on 19th. December 1950
played by Marcel Gardner and his Serenade Orchestra
Dashing away with the smoothing iron
Portrait of a Flirt
Marechiare
Dance of the Violins
Carriage and Pair
Moment Musical
Exotic Intermezzo
Toy-Town Swing
Garden Party
Alicante

Trad. arr. Fred Hartley
Robert Farnon
Tosti
Jean-Jean
Benjamin Frankel
Franz Schubert
Alexanderson
Edward Rubach
Ray Martin
Ricardo
---
Photographs kindly provided by Marcel Gardner's grandson - Philip Vivian