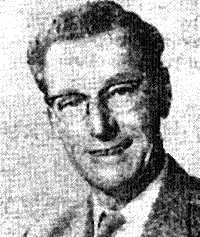 Sidney Davey was born in London on 30th December 1903. His first associations with radio were in 1931 when he was working with Alfred Van Dam as pianist and arranger, later joining the Commodore Grand Orchestra under Harry Davidson. He became well-known to radio listeners in the thirties and forties playing duets with fellow pianist Arthur Dulay, who some may remember for his Cameo Orchestra.
Sidney Davey and his Players emerged in 1939, originally as a nine-piece combination specialising in light novelty numbers contrasted with popular ballads. It was essentially a salon orchestra, comprising strings, woodwind and piano. Whilst Sidney Davey conducted his Players (as opposed to directing them from the piano), he did, nevertheless, sometimes join in on second piano. This practice ceased, however, following producer reports that 'when a conductor leaves his post to play an instrument, the orchestral balance suffers and the additional colour of a second piano could be dispensed with'. It is not widely known that Sidney Davey was also an accordionist and even broadcast in that capacity as a soloist. It is, therefore, not surprising that he subsequently included this instrument in the Players, together with guitar and percussion to suit the changing styles of light music over the years.
Sidney Davey was one of the first contributors to 'Music While You Work' and his ensemble provided 222 programmes in the series. During an orchestral musicians' strike in 1948 he even did one edition without the Players, simply giving a two-piano recital with the aforementioned Arthur Dulay! Other programmes featuring Sidney Davey and his Players included 'Bright and Early', 'Morning Music', 'Music Box', 'Music All The Way', 'Elevenses', 'Uninterrupted Music' and many untitled programmes for which, in those days, the name of the orchestra was often considered sufficient.
Sidney was a versatile musician, not only arranging most of the music for his own ensemble, but also for other broadcasting orchestras. As a pianist, he played in every style from jazz to gypsy and acted as accompanist in the classical world, as well as doing cabaret work. If this wasn't enough, he broadcast regularly with Jack Mandel and the Banjoliers, Ralph Elman and his Bohemian Players and Anton and his Orchestra, his distinctive style of piano links in MWYW immediately identifying him.
Unlike so many of his fellow conductors, Sidney's broadcasting career did not come to a grinding halt when MWYW was axed. It was really a case of his being in the right place at the right time. For many years he had been pianist and arranger with Harry Davidson and his Orchestra, performing with them on hundreds of editions of 'Those Were The Days' — the long-running old-time dance music programme which was started during the war and continued until the mid-seventies. As deputy conductor of the orchestra it was a logical development that, with the retirement of Harry Davidson in 1966, he should be invited to take over the series. Sidney had often deputised for Davidson, particularly in the latter years when Davidson's health was failing, and it would have been an easy task for him to take over the orchestra in its existing form, using its own repertoire, especially as much of it had been arranged by Sidney Davey anyway.
Sidney, however, did not choose the easy option and decided to form an entirely new orchestra of 25 players, with less emphasis on brass. Indeed his brass section consisted exclusively of Stan Newsome on trumpet. The BBC asked Sidney to include more 'popular standards' than formerly, but he continued to use adaptations of some of the light music arrangements which he had produced for the Players, providing that they fitted the rhythm of the dance in question. So a novelty number such as 'The Portuguese Washerwoman' could quite easily be used as a Mayfair Quickstep. Whereas other maestros of 'old-time', such as Sidney Bowman, had adjusted the tempos of pieces to suit the dances in question, Sidney Davey avoided this by selecting only pieces that were intended to be played at the tempo of the dance being performed.
For the next ten years Sidney Davey broadcast regularly in 'Those Were The Days' until, in 1976 with his wife's health failing, he decided to call it a day and informed the BBC of his intention to retire.
Sidney Davey was a courteous and friendly man who always felt that his music should 'entertain not educate'. Nevertheless, his music was always of good quality and quite delightful to hear. He died in August 1986 at the age of 82.


Listen to 'Music While You Work' played by Sidney Davey and his Players
as broadcast on 2nd June 1966.
MUSIC WHILE YOU WORK at 3.31 p.m. on 2nd June 1966
played by Sidney Davey and his Players
Calling All Workers (Sig)
Paris Bonjour
Bessie Larkin
Charlie Girl
Chicolino
Francesco
Jangle Bells
Will You Remember
Snowman's Land
Make The World Go Away
Tango Negre
Summer Holiday
Primero
To Each His Own
The Belle of Brazil
The White Hills of Finland
Portuguese Washerwoman
Lavender Blue
Square Dance Medley:
. Arkansas Traveller
. Turkey in the Straw
. Spitfire Reel
Calling All Workers (Sig)
Coates
Vallez
Agoult
Heneker/Taylor
Marland
Galbraith
Baynes
Romberg
Vogel
Cochran
Phillips
Welch
Malando
Evans
Rubach
Wiberg
Popp
Daniel
arr. Davey



Coates
---


Listen to 'Music While You Work' played by Sidney Davey and his Players
as broadcast on 3rd August 1963.
MUSIC WHILE YOU WORK
10:31 am on 3rd August 1963
played by Sidney Davey and his Players
(Sig) Calling All Workers
Another Opening,Another Show
The Stroller
Wunderbar
Primero
Lonely
Zero-Zero
Ole Guapa
China Tea
Till Tomorrow
Irish Dance No. 1
Military Shuffle
Square Dance Medley:
. Arkansas Traveller
. Turkey in the Straw
. Spitfire Reel
(Sig) Calling All Workers
Eric Coates
Cole Porter
Malcolm Lockyer
Cole Porter
Malando
Acker Bilk
Norin
Malando
Russ Conway
Bock
John Ansell
Geo. Blackmore
Trad.arr.Davey



Eric Coates
---
BRIGHT AND EARLY at 6.30 a.m. on 16th November 1954
played by Sidney Davey and his Players
Marches from Snow White and the Seven Dwarfs
Wonderful Copenhagen
Family Joke
Chinese Laundry Blues
C'est Magnifique
La Zingara
Stepping out with my Baby
Toy Shop Polka
The Peanut Vendor
Lolita
Frank Churchill
Frank Loesser
Eric Spear
Jack Cottrell
Cole Porter
trad., arr. Davey
Irving Berlin
Louis Mordish
Simons
Santeugini
---