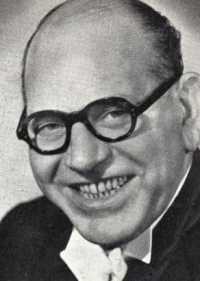 Harry Davidson was born in Croydon on 16th. July 1892. He learnt to play the piano, violin and cello but it was his proficiency at the organ which gave him his first musical engagement.
His first experience at conducting an orchestra came shortly before the outbreak of the first World War at the Shaftesbury Pavilion in London.
Harry's first broadcast came in 1924 at the organ of the Majestic Cinema, Leeds.
A more high profile appointment for Harry came his way in 1929 as resident organist at the newly-built Commodore Theatre, Hammersmith, and in 1934 Harry came to national prominence when he took over the baton of the Commodore Grand Orchestra from Joseph Muscant. From then until the outbreak of war Harry played every Saturday lunchtime on the National Programme.
Harry found himself much in demand at the BBC in the early war years with his own orchestra in such programmes as Music While You Work.
However, his greatest triumph was launched by Fred Hartley and Douglas Lawrence on 2nd. November 1943. They called it 'Those Were The Days', and it was intended to lift the heart of a war weary nation. Harry played this nostalgic tuneful music with his enlarged 30 piece orchestra in the old time dance tempo with an audience either listening or taking to the dance floor.
The show moved to the Home Service in a Sunday evening slot in June 1944 with a whole hour at its disposal. Each programme included an orchestral interlude, such as Dvorak's Slavonic Dances, plus a guest artist singing Victorian and Edwardian parlour songs and music hall chorus songs in which the audience would join. Raymond Newell was the programme's first singer, his initial broadcast being on Sunday 18th. June 1944. He subsequently sang at each hundredth performance. It was on these occasions that Raymond, accompanied by the orchestra, sang one chorus of Meyer Lutz's 'Those Were The Days'. Apart from this, the programme did not have a signature tune.
In September 1944 'Those Were The Days' moved to early Saturday evenings where it remained until 1972. From September 1946 until 1962 the show was broadcast twice a week without a single break, the second programme being a 'live' lunchtime repeat which could be heard in the earlier years on Mondays before moving to Thursdays in 1953, to midday on Fridays in 1958, and eventually to 3.00pm on Fridays in 1961.
Harry enjoyed many accolades and milestones during the record-breaking run of the programme. One came at the one hundredth performance on 11th. May 1946 when Harry handed over the baton to Archibald Joyce to conduct his 'Songe D'Automne', and to Charles Ancliffe for his famous 'Nights of Gladness' waltz.
Queen Mary was responsible for bringing 'Those Were The Days' to BBC Television in 1947 when she named it her favourite programme to celebrate her eightieth birthday. She chose several of the items herself.
Harry was most proud of winning the prestigious Carl-Alan Trophy for the best Old Time Orchestra for six consecutive years from 1953 to 1958.
Between 1957 and 1960 the weekday 'live' repeat was broadcast simultaneously on both the Home Service and Light Programme, and on Christmas Day 1959 'Those Were The Days' was the only programme to be broadcast on both services when it was given the peak listening midday slot for fifty-five minutes. As if this wasn't enough, Harry returned on Boxing Day when his orchestra rode the airwaves for another forty-five minutes in its usual early Saturday evening slot.
In July 1962 Harry's contract was reduced to one programme a week but this was still considerably more than most other freelance orchestras at this time.
In spite of the almost all-consuming nature of 'Those Were The Days', Harry made a few other broadcasts during its long run, the most notable of which was a weekly series called 'Old Time Tunes' which went out in the Home Service at 8.15am on Thursdays for eight months in 1947.
It was at Christmas time that the BBC favoured Harry with more broadcasts, probably because nostalgia at this time of the year hit an even deeper chord in the nation's pysche. In 1946, for example, Harry played for half an hour after the King's Christmas Day broadcast. 1951 saw an extra 'Those Were The Days' on Boxing Day, making no less than three programmes in Christmas week. In 1956 Harry provided 'Morning Music' on Christmas morning; and in 1964 Harry was given star billing in a Christmas Day extravaganza in the Light Programme when he shared a three and a half programme titled 'Take it Easy' with Sandy Macpherson, the Bowman-Hyde Singers and Players, Max Jaffa, Edmundo Ros, Victor Silvester, Ian Stewart and Mantovani. Appropriately, Harry opened the programme with a 'Party Time' medley, and closed it with Debroy Somers' Savoy Christmas medley.
Harry always played it 'straight', and would normally play light music pieces, particularly marches, as they were originally written. However, he did get some tunes re-arranged with a stronger and more imaginative use of the string section to provide a slightly more sophisticated and easier-flowing sound both for listening and dancing. At the same time he introduced music from the 'twenties and 'thirties, and even occasionally from the 'forties and 'fifties. When Harry was interviewed on 5 October 1963 on the occasion of the one thousandth performance of 'Those Were The Days', he told 'Radio Newsreel' that the BBC would never have kept him on if he hadn't changed his music, and that he thought the music he was playing in 1963 was better than that in earlier years.
Harry was also prolific in the recording studio. He made some recordings with the Commodore Grand Orchestra in the 1930s, and was one of the light orchestras that contributed to the Decca 'Music While You Work' series in the war. However, the bulk of his recordings were made for Columbia's 12" Old Time Dance Series, some 200 in total, from 1944 to 1954. Around 1959 he made an LP for Saga with a smaller orchestra of 14 players.
Harry made his last broadcast on 20th. November 1965. Ill health forced him to retire the following March, and his orchestra made its last broadcast on 23rd. April 1966 under the direction of Sidney Davey, Harry's long-serving pianist and deputy conductor. It was Harry's wish that 'Those Were The Days' should continue with his faithful deputy at the helm, which indeed it did until 8th. October 1976.
Harry Davidson died on the 1st. February 1967 in a London nursing home.
The above biographical profile was contributed by David Corbett
---


Listen to 'Those Were The Days' played by Harry Davidson and his Orchstra
as broadcast on 6th. October 1962.
THOSE WERE THE DAYS
Saturday 6th October 1962: 6.45 - 7.30pm
Harry Davidson and his Orchestra
Guest Artist: Arthur Richards (baritone)
Introduced by Ivan Samson
Master of Ceremonies, Charles Crathorn
Produced by Frederic Bayco for John Tylee
La Militaire: Down Windsor Way
Destiny Waltz: Original Music
Barn Dance: By Heck!
Saunter Regalia: Vilia (The Merry Widow)
Victorian Gavotte: Dresden Romance
Interlude Tarantella: Covent Garden (London Suite)
Songs:
. The Wandering Player
. Who Were You with Last Night?
Boston Twostep: Peacock Patrol
First and Second Figures of the Tango Quadrilles:
. Majanah
. Mamma Mia
Progressive Waltz: Romance in Waltztime
. In the Twi-twi-twilight
. Meet Me Tonight in Dreamland
. For Old Time's Sake
Dinkie Onestep: Tunes from No, No, Nanette
Arnold Steck
Sydney Baynes, arr. Sidney Davey
S.R.Henry
Franz Leh?r, arr. Sidney Davey
May Hodgson
Eric Coates

Alan Murray
Fred Godfey and Mark Sheridan
Peter Barrington, arr. Cyril Watters
Arr. Sidney Davey
Juan Llossas
Caminola
Arr. David Caryll



Vincent Youmans
---


Listen to 'Those Were The Days' played by Harry Davidson and his Orchstra
as broadcast on 24th. November 1962.
THOSE WERE THE DAYS
Home Service: Saturday 24 November 1962: 7.00 – 7.30 p.m.
Harry Davidson and His Orchestra
Introduced by Ivan Samson
Master of Ceremonies, Charles Crathorn
Produced by James Dufour
Flirtation Twostep: Party Time Medley:
. Back Again to Happy-Go-Lucky Days
. Make it a Party
. Best of Friends
Waltz: Kay Rudd Waltzes:
. Miracle of Love
. Oh, Wishing Star
. Roses from Venice
Moonlight Saunter: Moonlight and Roses
Georgella Blues: Mountain Greenery
Interlude: Nautical Interlude (based on "A Roving" and "Billy Boy")
Lola Tango: Tango for Tina
General Excuse-Me Waltz: Medley:
. Together
. While We danced at the Mardi Gras
. So Blue
. I'll Always be in Love with You
Boston Twostep: Yip-I-Addy-I-Ay
Arr. Roy Green



Arr. Leon Young



Lemare, arr. Leon Young
Richard Rodgers
Ernest Tomlinson
Guy Desslyn
Arr. Roy Green




Will Cobb and John Flynn, arr. H.M. Higgs
---


Listen to 'Those Were The Days' played by Harry Davidson and his Orchstra
as broadcast on 6th. July 1963.
THOSE WERE THE DAYS
Saturday 6th July 1963
Harry Davidson and His Orchestra
Introduced by James Dale
Master of ceremonies, Charles Crathorn
Produced by Andrew Gold
Waltz: Ivor Novello Waltzes:
. Music in May
. Fold Your Wings
. Waltz of My Heart
. Some Day My Heart Will Awake
Imperial Twostep: Imperial Echoes
First and Second Figures of the Tango Quadrilles: Manjanah; Mama Mia
On Leave Foxtrot: Hors d'Oeuvres
Interlude: Opening Number: Pineapple Poll (based on Gilbert and Sullivan Melodies)
Starlight Saunter: The Way You Look Tonight
Pride of Erin Waltz: Pride of Erin:
. That's an Irish Lullaby
. Sweet Molly O'Morgan
. When Irish Eyes are Smiling
. My Wild Irish Rose
. The Rose of Tralee
. Sweet Rosie O'Grady
The Gay Gordons: A Hundred Pipers (Medley)
Arr. Pat Pattinson




Arnold Safroni, arr. Cyril Watters
Arr. Sidney Davey
David Comer
Charles Mackerras
Jerome Kern
Arr. Keith Papworth






Arr. George Record (Harry Davidson)
---


Listen to 'Those Were The Days' played by Harry Davidson and his Orchstra
as broadcast on 21st. September 1963.
THOSE WERE THE DAYS
Saturday 21 September 1963: 6.45 – 7.30 p.m
Harry Davidson and His Orchestra
Guest Artist: Gerald Stern
Introduced by Rex Palmer
Master of Ceremonies, Charles Crathorn
Produced by Andrew Gold
Military Twostep: The Flying Fortress
Waltz: Autumn in Venice
Ideal Schottische: Toby's Walk
Saunter Regalia: A Tree in the Meadow
Interlude: Overture: Plymouth Hoe
Songs:
. Nirvana
. Daisy Bell
Fifth Figure of the Lancers: The Marching Lancers
Hesitation Waltz: Robbins Waltz Medley:
No One but You
Cara Mia
Dream, Dream, Dream
Tango Magenta: Lovely Doris
Mayfair Quickstep: Medley:
. The Breakaway
. Dinner at Eight
. One, Two, Button your Shoe
Boston Twostep: The Teddy Bears' Picnic
Erwin Van Cortland, arr. Roy Green
Kenneth Baynes
Ernest Ponticelli
Billy Reid, arr. Roy Green
John Ansell

Stephen Adams
Harry Dacre
Arr. Aubrey Winter
Arr. Leon Young



Lee Morris
Arr. Roy Green



John Bratton, arr. Sidney Davey
---
MUSIC WHILE YOU WORK at 10.30 a.m. on 19th. October 1946
played by Harry Davidson and his Orchestra
Calling All Workers (sig)
Twostep: The Jungle Jubilee
Waltz: A Toi
Stepping Stones
Wedding in the Highlands
Selection: Sweethearts
Fragrance
The Pig and Whistle
Calling All Workers (sig)
Coates
Bratton
Waldteufel
Reeves
Ewing
Herbert
Ancliffe
Elliott Smith
Coates
---
David Corbett, 51 Haygate Drive, Wellington, Telford, Shropshire TF1 2BZ
tel:01952 242907 Email: g-michael1@sky.com
---