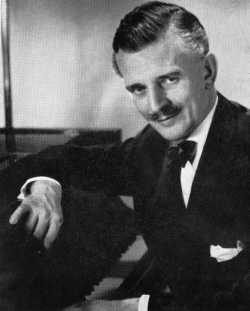 It is unusual to associate the role of a dance band leader with that of a distinguished career in the Army. Such was the case, however, with Ian Stewart, whose strict-tempo pianistic style was a feature of radio for many years.
Ian Edward Stewart was born in December 1908 of a Scottish father and an American mother, spending most of his early life in Seaton, Devonshire. He was a chorister at Salisbury Cathedral and spent three years at St Edwards, Oxford. A pupil of Herbert Howells, Ian Stewart became organist at Chalfont, Somerset, at the age of 18. In complete contrast, he had also formed his own band in Seaton, which he called the Geisha Dance Band. He began his professional career in a rather humble way playing the piano for a marionette show on the beach at Margate. This led to an engagement touring with the musical 'So this is Love' — initially as pianist but later as Musical Director. Next, Ian Stewart turned his hand to music publishing, a venture which occupied him for five years prior to his going to the USA where he frequently broadcast for NBC.
Returning to London in 1935, Ian Stewart was reintroduced to dance music by his idol, Carroll Gibbons, joining the Savoy Hotel Orpheans as Deputy Leader and second pianist in the years leading up to the Second World War.
His military career commenced as a territorial with the London Scottish and ended as a Brigade Major with the 17th Indian Division; he received a meritorious award of MBE in Burma in 1945. When demobilised in 1946, he immediately formed his own band at the Berkeley Hotel, London. Although he had done some pre-war work in radio, Ian Stewart, his piano and his orchestra began regular broadcasting in 1947.
Ian's admiration for Carroll Gibbons was such that, initially, he deliberately emulated his style but soon realised that he would be more successful if he had his own way of playing. He therefore evolved a quite distinctive staccato style, making use of repeated notes to great effect, which immediately identified him. With the premature death of Carroll Gibbons in 1954, Ian Stewart took over the band, reviving the name of Savoy Hotel Orpheans. For radio purposes, he used a combination of piano, bass, guitar, drums, saxophone (doubling clarinet) and accordion; the group was called Ian Stewart and his Quintet (later Quartet, when the guitar was omitted from the group in the early sixties.)
The band broadcast regularly in 'Bright and Early', 'Morning Music' and 'Music While You Work', playing 264 editions over 20 years. As a solo pianist he was a frequent contributor to the 15-minute series 'Piano Playtime'. Having a cultured voice, he was one of the few pianists who was allowed to introduce his own programmes. His signature tune for these programmes was his own composition, 'Story of a Song'.
As well as broadcasting, Ian Stewart made many records for Decca, Parlophone and Fontana, including a series called Hits For Six — each featuring six hits of the day. He would have been hard put to find six playable tunes in the charts of today!
Like Carroll Gibbons before him, Ian Stewart's name became synonymous with the Savoy Hotel, where he played until his retirement in 1978, the occasion being celebrated with a live television performance in an early evening magazine programme.
An elegant and articulate man, Ian Stewart had all the attributes of the soldier that he once was. Indeed, at the BBC he was known as 'The Colonel'. Some diners at the Savoy, however, found him a little aloof. Whereas some bandleaders would push their own personality, Ian was very reserved. 'I'm just not an extrovert', he said. 'I was never a table-hopper — perhaps I should have been, I might have done better and been more famous!'
Although he played requests, he did not always play them immediately. He once recounted the story of a drunken diner who repeatedly asked for the same tune. In desperation, the irate diner slapped a pound note on the piano, snarling 'I suppose you are waiting for a tip'. Stewart said 'I flicked it off. It was very satisfying seeing him have to pick up his own note!'
Ian Stewart played for Churchill, the Macmillans at Number 10 and for the Royal Family, the late Queen Mother being a devoted fan. When playing for informal gatherings he was warned not to make the dances too long. The procedure, however, was to keep on playing whilst a member of the Royal Family was on the floor. Ian Stewart recalled: 'The first time I went there, I was about to stop as the Queen left the floor when somebody whispered, "There's somebody else coming on." This went on for ages. Eventually, a perspiring Duke of Edinburgh came over: "Give it a break, old man. I can be lumbered much as anybody else!"'
Ian Stewart died on 30th July 1989, aged 80, following a long illness.
---


Listen to Music While You Work played by Ian Stewart and his Quartet
as broadcast on the BBC Light Programme at 10.31 a.m. on 20th May 1965
MUSIC WHILE YOU WORK
Played by Ian Stewart and his Quartet
on 20th May 1965
Calling All Workers (Sig)
It's a hap hap happy day
Red Roses for a blue lady
Eight by ten
Pickin' a chicken
Marie
After you, Who?
If I ruled the world
Tango 65
Spoonful of sugar
Swinging on a star
King of the road
It's not unusual
Smile
The Dummy song
Sweet Jennie Lee
Happy Wanderer
San Francisco
Who's Sorry Now
Don't Dilly Dally
Calling All Workers (Sig)
Eric Coates
Sammy Timberg
Roy Brodsky
Bill Anderson
Paddy Roberts
Irving Berlin
Cole Porter
Cyril Ornadel
Ponticelli
Alan Sherman
Jimmy van Heusen
Roger Miller
Les Reed
Charles Chaplin
Lew Brown
Walter Donaldson
Friedrich Moeller
Bronislaw Kaper
Ted Snyder
Fred Leigh
Eric Coates
---


Listen to Music While You Work played by Ian Stewart and his Quartet
as broadcast on the BBC Light Programme at 10.31 a.m. on 27th March 1964
MUSIC WHILE YOU WORK
Played by Ian Stewart and his Quartet
on 27th March 1964
Calling All Workers (Sig)
Happy Days and Lonely Nights
Fings ain't wot they used to be
Who wants to be a millionaire
Mountain Greenery
Don't Blame me
My Special Dream
You were made for me
The Sweetest Sounds
Under the Bridges of Paris
I left my heart in San Francisco
How about you?
Could be the start of something big
Dance On
The Yellow Rose of Texas
Have you ever been lonely?
I like it
Twenty four hours from Tulsa
Easter parade
Dear hearts and gentle people
Something's gotta give
You've done something with my heart
Margie
Calling All Workers (Sig)
Eric Coates
Fisher
Lionel Bart
Cole Porter
Richard Rodgers
Jimmy McHugh
Kaplan
Murray
Richard Rodgers
Vincent Scotto
Cory
Sammy Fain
Allen
Adams
George
De Rose
Murray
Burt Bacharach
Irving Berlin
Sammy Fain
Mercer
Noel Gay
Conrad
Eric Coates
---


Listen to Music While You Work played by Ian Stewart and his Quartet
as broadcast on the BBC Light Programme at 10.31 a.m. on 1st October 1965
MUSIC WHILE YOU WORK
Played by Ian Stewart and his Quartet
on 1st October 1965
Calling All Workers (Sig)
S'posin'
Ida Sweet as Apple Cider
When You've Got a Little Springtime
When Somebody Thinks You're Wonderful
Tears
Elizabeth
A Lot of Living To Do
I Left My Heart in San Francisco
Sugartime
Am I Wasting My Time
Thank Heaven For Little Girls
Who Can I Turn To?
Toot Toot Tootsie
Almost There
Whistle and Flute
Second Hand Rose
The Way You Look Tonight
Volare
Ain't She Sweet
I Whistle a Happy Tune
We'll All Go Riding on a Rainbow
Calling All Workers (Sig)
Eric Coates
Denniker
Leonard
Woods
Woods
Uhr
Katscher
Strouse
Cory
Echols
Bibo
Loewe
Bricusse
Kahn
Keller
Woods
Hanley
Kern
Modugno
Ager
Rodgers
Woods
Eric Coates
---


Listen to 'Melodies to Remember' played by The Ian Stewart Quintet and Victor Silvester and his Ballroom Orchestra
as broadcast on the BBC Light Programme at 1.30pm on 25th. December 1963.
---