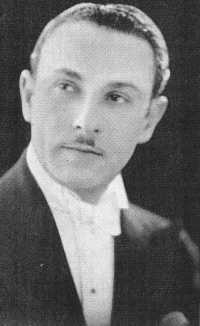 Joseph Muscant enjoyed considerable success during the thirties. He had given classical violin recitals in his young days but turned his attention to light music in 1929 when he was appointed Musical Director at the Commodore Theatre, Hammersmith directing the famous Commodore Grand Orchestra.
From 1930, this orchestra broadcast for an hour every Saturday lunchtime as well as making more than 50 commercial recordings for Decca, Regal Zonophone, Edison Bell and the Broadcast label.
In 1934, Harry Davidson took over the conductorship of the Commodore Grand Orchestra, until the outbreak of war in 1939, although he was later to become famous with his own orchestra in the long-running series 'Those Were The Days.' Joseph Muscant moved on, taking up a similar position with the Troxy Broadcasting Orchestra — a position which he held for some years.
After the Second World War, he formed his own light orchestra, playing summer seasons at resorts such as Paignton and Broadstairs, broadcasting regularly in programmes such as 'Morning Music' and from 1948 in 'Music While You Work' for which the orchestra performed fifty-one editions. The orchestra was classed as a theatre orchestra, because it had a brass section in addition to the usual strings, woodwind, piano and percussion. Consequently, it was larger than many of the orchestras on the BBC's books and rather more expensive - a factor that was, no doubt, a contributary factor to the BBC's decision to phase out most such orchestras in the late fifties. Joseph Muscant gave his final broadcast in 1959 and died, aged 84, in 1983 having for many years been co-president (with Arthur Anton) of the Vintage Light Music Society.


Listen to 'Music While You Work' played by Joseph Muscant and his Orchestra
as broadcast on 7th. November 1958 at 3.45pm.
MUSIC WHILE YOU WORK at 3.45 p.m. on 7th November 1958
played by Joseph Muscant and his Orchestra
(Sig) Calling all Workers
March: The Royal Blue
Waltz with Waldteufel
The March Hare
Serenade No 1
Cascade of Stars
Un Carnet du Bal
Cornflakes
The Wee MacGregor
Mexican Serenade
Trudie
Runaway Romance
Donkey Serenade
Dusky Aristocrat
Anderson's Musical Tales
(Sig) Calling All Workers
Eric Coates
Jeff Marsden
Arr. Arthur Wilkinson
Philip Green
Jonny Heykens
Oscar Moderna
M.Jaubert arr. Hanmer
Sidney Norman
H.G. Amers
Jack Coles
Joe Henderson
Florian Zabach
Rudolph Friml
Norman Whiteley
Leroy Anderson Arr. Ernest Tomlinson
Eric Coates
---
3.00 p.m. Light Programme 25th August 1953
played by Joseph Muscant and his Orchestra
El Relicario
Victor Herbert Melodies
. March of the Toys
. I'm Falling in love with Someone
. Ah! Sweet Mystery of Life
. Gypsy Love Song and Czardas
Cactus Polka
Festival
Herdsmaidens' Dance
Red Velvet
Legend of the Glass Mountain
Granada
Pale Moon
Pearly King
Theme from 'Limelight'
Anderson's Musical Tales
. Sleigh Ride; Plink Plank Plunk
. Waltzing Cat;Serenata;
. Syncopated Clock; Belle of the Ball
Padilla arr. Binge
arr. Papworth




Edward Plumb arr. Walter
Richard Addinsell
Hugo Alfven
Terence Leigh
Nino Rota
Lara
Knight Logan
Gerald Faith/Michael Owen
Charles Chaplin
Leroy Anderson

---