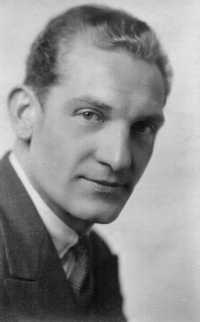 Anton and his orchestra were regularly featured on the BBC Light Programme and Home Service for more than two decades. Anton (real name Arthur Sweeting) was working in theatres in the 1930s when he was advised to find himself a more imposing name - so Anton he became!
During the latter half of the thirties he was conductor of the Paramount Theatre orchestra in London's Tottenham Court Road, from where the orchestra gave weekly broadcasts as well as making many records for HMV, often accompanied by Al Bollington on the cinema organ. Some of the broadcasts came from the Brixton Astoria and for those occasions the orchestra was retitled the Paramount Astoria Orchestra.
During the latter part of the war, Anton formed his own orchestra of fifteen players specifically for broadcasting, giving the first of his 252 'Music While you Work' programmes in 1946. The orchestra also made many appearances in other series, such as 'Marching and Waltzing', 'Bright and Early' and 'Morning Music'.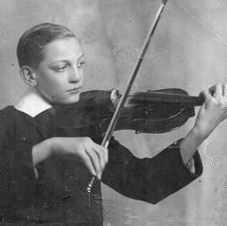 The orchestra consisted of strings, woodwind, accordion, piano and percussion and was almost a who's who of the light music profession as it consisted of top session players, many of whom had their own orchestras on the air. Famous names of the era such as Bernard Monshin, Ralph Elman, Gerald Crossman, Sidney Davey, Hugh James and Jack Mandel were regularly to be found playing in the orchestra.
Arthur Anton was also a reserve conductor to the BBC's own staff orchestras and made countless broadcasts with the BBC Northern Ireland Light Orchestra and BBC Scottish Variety Orchestra. A reliable and temperate man, he was highly respected by his fellow musicians. In 1965 he also became Musical Director for the London show 'Charlie Girl'. In retirement, Anton became joint president (with Joseph Muscant) of the Vintage Light Music Society which was run by the late Stuart Upton, a man respected for his encyclopaedic knowledge of traditional light music.
Arthur Anton died in March 1980 and many of his early records have been issued on a series of CDs.
(The pictures above are courtesy of Lynne Chapman, Anton's Neice)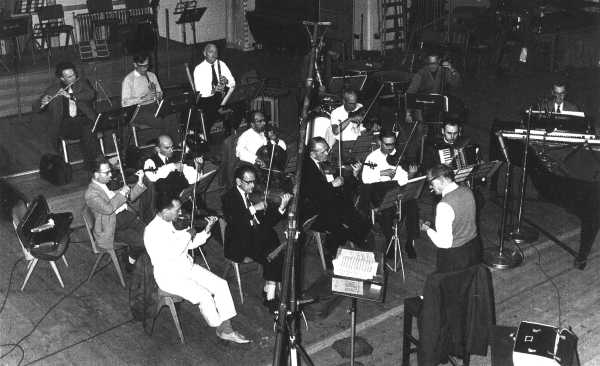 Anton and his Orchestra broadcasting from the Camden Theatre, London
---


Listen to 'Music While You Work'
played by Anton and his Orchestra
as broadcast on the BBC Home Service at 10.31 a.m. on 26th September 1964
MUSIC WHILE YOU WORK
played by Anton and his Orchestra
on 26th September 1964
Calling All Workers (sig)
Lady of Madrid
Alpine Echoes
Jangle Bells
This is my Prayer
Little Senorita
Medley:
. Song of the Dawn
. A Bench in the Park
. Happy Feet
Spanish Harlequin
Begorrah
Parlez moi d'amour
Spanish Gypsy Dance
Sophie Galop
Calling All Workers (sig)
Eric Coates
Tolchard Evans
Pilatus
Kenneth Baynes
Nisa
Cyril Watters
Milton Ager



Peter Haysom Craddy
Ray Martin
Lenoir
Marquina
Lanjean
Eric Coates
---


Listen to 'Music While You Work'
played by Anton and his Orchestra
as broadcast on the BBC Light Programme at 10.31 a.m. on 21st November 1966
MUSIC WHILE YOU WORK
played by Anton and his Orchestra
on 21st November 1966
Calling All Workers (sig)
La Mattchiche
Toujours le vin blanc
Chico
C'est Si Bon
Jangle Bells
Memories are made of this
Rusticanella
Top Hat Medley
. Putting on my top hat
. Cheek to cheek
. Piccolino
Pancho from Peru
The Grenadiers Waltz
Calling All Workers (sig)
Eric Coates
Borel Clerc
Jimmy Leach
Donald Phillips
Henri Betti
Kenneth Baynes
Gilkyson
Don Cortopassi
Irving Berlin



Cyril Watters
Emile Walteufel
Eric Coates
---


Listen to 'Music While You Work'
played by Anton and his Orchestra
as broadcast on the BBC Home Service at 10.31 a.m. on 16th November 1963
MUSIC WHILE YOU WORK
played by Anton and his Orchestra
on 16th November 1963
Calling All Workers (sig)
Scenic Railway
Piermont Waltz
Pico Carpentero
Medley:
. Lullaby of Broadway
. Keep young and beautiful
. Tip toe through the tulips
. Avalon
Autumn Concerto
Gaylord
Pearly King Polka
Canary Twist
Tango Time
Selection: Annie Get your Gun
Calling All Workers (sig)
Eric Coates
Roger Roger
Green
Monia Liter
arr.Papworth
Harry Warren
Harry Warren
Joe Burke
Vincent Rose
Bargoni
Shepherd
Harry Dexter
Barber
Bernard Monshin
Irving Berlin
Eric Coates
---


Listen to 'Music While You Work'
played by Anton and his Orchestra
as broadcast on the BBC Light Programme at 10.31 a.m. on 25th September 1967
MUSIC WHILE YOU WORK
played by Anton and his Orchestra
on 25th September 1967
Calling All Workers (sig)
El Relicario
Trapeze Waltz
This Little Piggy
Jealousy
Zaragoza
Village Band
Top Hat (selection)
Viva Villa
Pancho from Peru
Romantic Gipsies
Calling All Workers (sig)
Eric Coates
Padilla arr.Ronald Binge
Sidney Torch
Eric Jupp
Jacob Gade
Kenneth Baynes
M.Freyburg
Irving Berlin
Jack Leon
Cyril Watters
Ralph Elman
Eric Coates
---


Listen to 'Music While You Work'
played by Anton and his Orchestra
as broadcast on the BBC Home Service at 10.31 a.m. on 8th July 1961
MUSIC WHILE YOU WORK
played by Anton and his Orchestra
on 8th July 1961
Calling All Workers (sig)
Here's to Love
Echoes of Paris
Bizet Melodies
The Frightened City
Sel: The Sound of Music
Alcantara
The Apache Dance
Medley:
. Shepherd of the hills
. Have you ever been Lonely
. Ain't that a Glorious Feeling
. Nobody's Sweetheart
Mon Reve
Calling All Workers (sig)
Eric Coates
Charles Mougeot
Edward White
arr. Ronald Hanmer
Norrie Paramor
Richard Rodgers
Maurice Arnold
arr. Eric Jupp
arr. Leonard
Horatio Nicholls
Peter de Rose
Milton Ager
Gus Kahn
Waldteufel
Eric Coates
---


Listen to 'Music While You Work'
played by Anton and his Orchestra
as broadcast on the BBC Light Programme at 10.31 a.m. on 10th July 1967
MUSIC WHILE YOU WORK
played by Anton and his Orchestra
on 10th July 1967
Calling All Workers (sig)
Playboy in Paris
Fiesta in Brazil
Kisses in the dark
Fiddler on the Roof (Selection)
Jangle Bells
Little Brazilian Soldier
Cafe sous les arbres
Dixie Doodle Rag
Medley:
. Play a simple melody
. A pretty girl is like a melody
. You're in Love
Spring Double
Espana
Calling All Workers (sig)
Eric Coates
Gledhill
Rodriguez
de Michelo
JerryBock/Harnick
Kenneth Baynes
Douglas Rossiter
Jimmy Leach
J.Holland

Irving Berlin
Irving Berlin
Irving Berlin
Albert Marland
Waldteufel
Eric Coates
---


Listen to 'Music While You Work'
played by Anton and his Orchestra
as broadcast on the BBC Home Service at 10.31 a.m. on 26th October 1963
MUSIC WHILE YOU WORK
played by Anton and his Orchestra
on 26th October 1963
Calling All Workers (sig)
Zaragoza
Under the Bridges of Paris
Romantic Gipsies
Little Brazilian Soldier
Selection: The Merry Widow
Carlo's Theme
Playboy in Paris
El Pandero
Selection: Boys of Syracuse
Laughing Polka
Can Can Dancers
Calling All Workers (sig)
Coates
Baynes
Scotto
Raphael
Rossiter
Lehar
Slaney
Gledhill
Lanjean
Rodgers
Steurs
Crossman
Coates
---
BRIGHT AND EARLY at 6.30a.m. on 8th August 1952
played by Anton and his Orchestra
Barcelona
Princess Ninetta
Swing Three Quarter
Liebesfreud
Zaragoza
Spider of the Night
Cheeky Chappie
Waves of the Danube
Evans
Strauss
Johnson
Kreisler
Baynes
Manilla
Porter-Brown
Ivanovici
---