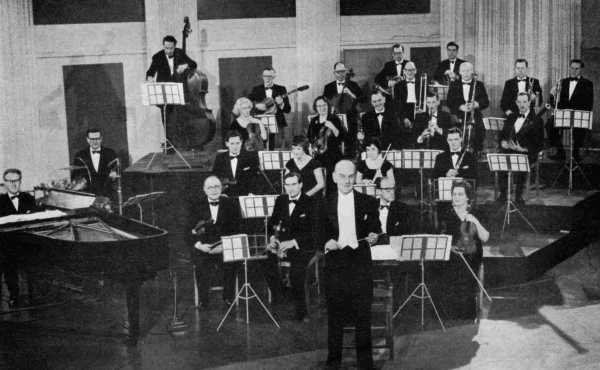 The BBC Northern Ireland Light Orchestra - conductor David Curry
Although the BBC Northern Ireland Light Orchestra that is remembered by many was a post-war orchestra, it is perhaps not widely known that the BBC had a regional orchestra in Belfast from the earliest days of broadcasting. Originally formed in the 1920s as the Belfast Wireless Symphony Orchestra, it was renamed the BBC Northern Ireland Orchestra in the mid-thirties. Its leader was Philip Whiteway (better known in later years as the leader of the BBC Welsh Orchestra in Cardiff) who also broadcast with his own ensemble from Belfast. Conductors over the years included E. Godfrey Brown and B. Walton O'Donnell (1888 - 1939), who had founded the BBC Military Band (formerly the Wireless Military Band) back in the twenties. The 35 piece orchestra gave at least one broadcast every day and, whilst its repertoire was essentially of classical works, it had to be sufficiently versatile to be able to play whatever was required of it and so sometimes played light music and show selections such as 'No, No, Nanette'. The orchestra was disbanded upon the outbreak of war in 1939.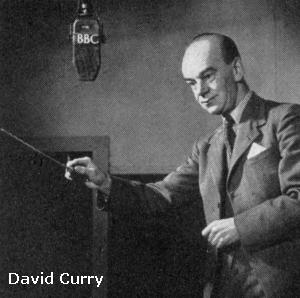 However, there had been one member of the orchestra who had become rather distinguished in his own right, as a leading authority in Irish folk music - indeed, it was said that there was no-one else in Belfast with his deep understanding of the genre. His name was David Curry and because he had arranged much of this music for a full orchestra, he had sometimes been asked to conduct the orchestra in programmes of his works.
With the disbandment of the BBC Northern Ireland Orchestra, David Curry set about forming his own ensemble, which he called 'The Irish Rhythms Orchestra'. This was,in effect, an augmented Ceilidhe Band and therefore played predominently Irish music - much of it arranged by Curry himself. This combination broadcast regularly throughout the 1940s, often appearing in 'Music While You Work' - jigs and reels being considered an ideal accompaniment to industrial production.
In 1949, the BBC decided to re-establish a staff orchestra in Belfast, this time to specialise in light music. It was decided that the Irish Rhythms Orchestra should become the nucleus of the new BBC Northern Ireland Light Orchestra - initially of 16 players but increased to 21, in the early fifties. It would be an understatement to say that the orchestra experienced teething troubles, as its standard of playing apparently fell well short of what the BBC expected of one of their staff orchestras. According to the BBC files, it was compared with "a third rate pit orchestra", one executive commenting that it wasn't up to playing standard light music, adding "it should stick to playing Ceilidhe music which is supposed to sound rough!" Obviously, steps had to be taken to put things right and light music chief Kenneth Baynes went to Belfast to find out what was going wrong. One thing that didn't help was the studio,which did not even have a proper floor. (Apparently the double bass 'buzzed' when plucked!) Kenneth Baynes was most impressed with David Curry's acceptance of the fact that all was not well, and with his determination to put things right. Indeed he was commended for his level of co-operation. It was decided to send senior conductor, Vilem Tausky to Belfast to help resolve the problems and advise on matters such as the layout of the orchestra and microphone placings. It is known that the saxophone section were dispensed with and a number of musicians were likely to have been replaced. At this time, the early fifties, it was apparently difficult to find musicians in Belfast of sufficient calibre to play standard light music (a genre which demands the highest standards) and this may explain the fact that, within a few years, David Curry was almost the sole Irishman in the orchestra!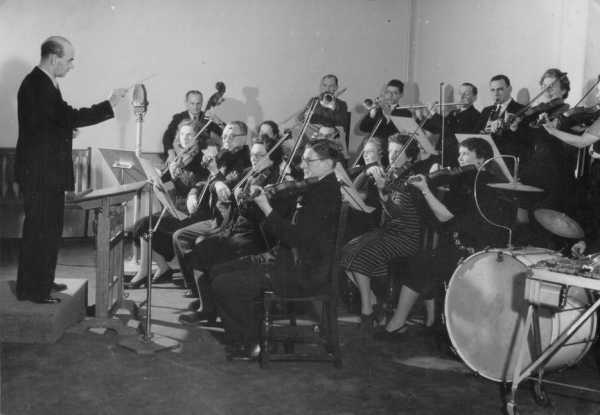 David Curry conducting The Irish Rhythms Orchestra
The problems were resolved and the BBC Northern Ireland Light Orchestra became one of the most worthwhile orchestras on the air. Admittedly, they had none of the sophistication of the Midland Light Orchestra nor did they attempt to update their style to emulate modern trends ( certainly not whilst Curry was in charge) but their enthusiasm shined through their performances. They built a fine repertoire of quality light music, interspersed with show selections and, of course, David Curry's wonderful Irish dance arrangements, which probably didn't appeal to the purists who felt that such music should only be performed by an authentic ensemble, but they were very well arranged and personally, I loved them. The orchestra had a character and style of its own which was not intentional - indeed one of their producers told me that their distinctive sound was down to the accoustics of the studio rather than anything the musicians were doing!
Many will recall the many programmes broadcast under Curry's direction:- 'Come Into The Parlour', 'Irish Rhythms', 'On with the Dance', 'Morning Music', 'Melody on the Move', 'Bright and Early' and the early evening Programme 'Music on the Move'. They also had a long weekly slot in 'Music While You Work' between 1957 and 1959.
David Curry was well respected in music circles but he was known to be a bit of a stickler. Apparently, if deputies turned up five minutes late for rehearsal, he would send them away, saying "You are no use to me!"
David Curry retired in 1965 and Arthur Anton was invited to conduct the orchestra for three months whilst a new permanent appointment was made, and despite having to do several broadcasts per week in Belfast, still managed to fit in programmes with his own orchestra in London. During this period he used his own repertoire for much of the time, having had certain adjustments made to it, to suite the different instrumentation of the orchestra. (Anton's orchestra had an accordion instead of a brass section.)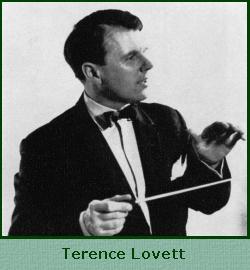 The new conductor of the orchestra was Terence Lovett, a classically orientated man and musical sophisticate. Some changes were inevitable; the size of the orchestra was increased from 21 to 30, with a view to the orchestra playing more classical music. Indeed, Lovett eventually dropped the word 'light' from the orchestra's title. Happily, despite this change, the orchestra still participated in some light music programmes, however, it now regularly contributed to Radio Three and did twice weekly concerts on Radio Four (formerly the Home Service) of mostly light classical music. As mentioned earlier, they weren't the most sophisticated of orchestras and I well remember listening to them play an overture with what sounded suspiciously like a 'jangle piano' in the background!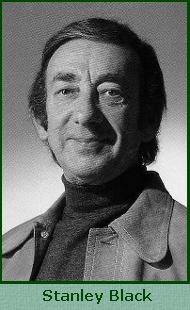 When Terence Lovett left the orchestra in 1968, his place was taken by Stanley Black, who sometimes presented his own programmes. However, film and recording commitments forced him to resign after a year – conductorship passing to Kenneth Alwyn in 1969. Eric Wetherell became the final conductor of the orchestra in 1976. In 1974, there was a special concert on television, celebrating the 25th. anniversary of the orchestra. In it, reference was made to David Curry's arrangements of traditional Irish tunes but, curiously, none were played.
Within a few years, the BBC had decided that the regional orchestras were an expensive luxury. Although the Northern Ireland Orchestra was still giving serious concerts as well as playing in 'Marching and Waltzing' and a Sunday morning light music series, the BBC felt that their style of music was "not in keeping with the requirements of the early eighties" and a move was made to disband this and other regional orchestras (including the Scottish Symphony).
Industrial action followed, during which time BBC orchestras actually gave concerts on park bandstands to advertise their cause! The compromise that resulted from this situation saved the Scottish Symphony Orchestra but the light orchestras were not so lucky and ceased to exist under their own names.
The Northern Ireland Orchestra was absorbed by the Ulster Orchestra.
Many pictures on this page were supplied with the kind permision of David Byers.
For further information on orchestras in Northern Ireland visit David Byers' website
---
BBC NORTHERN IRELAND LIGHT ORCHESTRA
- A NEW DOUBLE CD FROM THE N.D.O PROJECT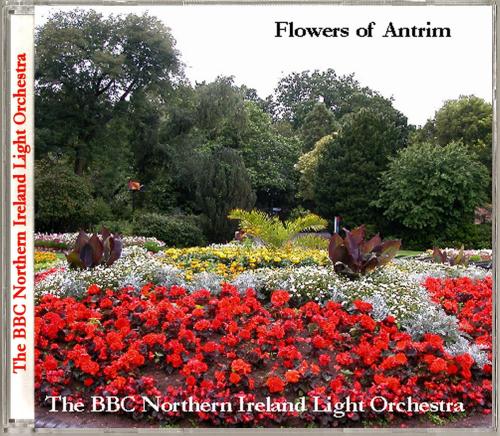 Following their successful series of recordings of the BBC Northern Dance orchestra, Scottish Variety Orchestra and Midland Radio Orchestra, the N.D.O Project are now pleased to present their latest recording - a double CD of the erstwhile BBC Northern Ireland Light Orchestra which provided light music several times a week to listeners of the BBC for over thirty years. Having been involved in selecting the tracks, I could be accused of bias when I say that the 56 tracks on this album, all taken from vintage radio programmes such as 'Morning Music' and 'Melody on the Move' probably represent the finest collection of tuneful light music that you are ever likely to encounter on CD.
This is the music with which many of us grew up, good tunes composed by such talented musicians as George Melachrino, Sidney Torch, Peter Yorke, Ron Goodwin and many others. Most of the conductors who fronted this orchestra over the years are represented, in particular their founder conductor David Curry, whose arrangements of Irish traditional tunes became world famous and are included on this CD.
Copies are available by contacting the NDO project at ndoinfo@virginmedia.com
If you are local to Manchester, there is normally 1 copy at Johnny Roadhouse's shop
123 Oxford Road,
All Saints,
Manchester
M1 7DU.
Tel 0161 273 1111 to check for stock on all NDO project CDs
Brian Reynolds
---


Listen to 'Music On The Move' played by the BBC Northern Ireland Light Orchestra conducted by David Curry
as broadcast on the BBC Home Service at 6.37pm on 16th October 1964
---


Listen to Melody on the Move played by The BBC Northern Ireland Light Orchestra, conductor David Curry
as broadcast on the BBC Light Programme at 8.15am on 21st October 1960
---


Listen to Morning Music played by The BBC Northern Ireland Light Orchestra, conductor David Curry
as broadcast at 6.34am on 13th January 1962.
MORNING MUSIC at 6.34am to 7.15am. on 13th January 1962
played by the BBC Northern Ireland Light Orchestra
Leader: David Adams, Conductor: David Curry
March: Viennese Ladies
Waltz Medley:
. Dancing with tears in my eyes
. Together
. Charmaine
Jig: The Kinnegad Slashers
The Man from Madrid
The Dancers of El Paso
Selection: The Desert Song
Waltz: Ask Papa
Hornpipe: Flowers of Antrim
Lady Chatterbox
Bella Bella Maria
C'est Magnifique
Green Turtle
Reel: The Mooncoin Reel
Selection: The Music Man
Franz Lehar
arr.Bell
Dubin, Burke
De Silva/Brown /Henderson
Pollack
Trad: arr. David Curry
Tony Osborne
Harold Geller
S.Romberg arr. Higgs
W.Morressy arr.Piercy
Trad: arr. David Curry
J.Seal/C.Burchall
G.Winkler
Cole Porter
Cecil Norman
Trad: arr. David Curry
Meredith Wilson arr. Rapley
---


Listen to Melody on the Move played by The BBC Northern Ireland Light Orchestra, conductor David Curry
as broadcast at 8.30 am on 21st November 1958
MELODY ON THE MOVE at 8.30 am on 21st November 1958
played by The BBC Northern Ireland Light Orchestra
conductor David Curry
(Sig) Melody on the Move
Gopak (from Gayane Ballet)
Vienna Blood
Musical Tales (Medley)
Jig: The House on the Hill
Anna Lisa
Sel: The Pajama Game
Reel: The Mooncoin Reel
(Sig) Melody on the Move
Clive Richardson
Katchaturian
Johann Strauss
Leroy Anderson
David Curry
Alan Rogers
Adler and Ross
Trad: arr. Curry
Clive Richardson
---
11.30 am. on Wednesday 19th. September 1953 - Light Programme
ON WITH THE DANCE
BBC Northern Ireland Light Orchestra
Conductor: David Curry
Three dances from 'Hullo America'
Country Dance & Hornpipe (English Dance Suite)
Dance of the Reeds
Waltz: Accelerations
Hop Jig medley
Dance of the Comorrists
Dance of the Violins
The Royal Tango
Charleston Parisien
Foxtrot: Woman in Love
Reel: Snow on the Mountains
Herman Finck
Leslie Woodgate
Laine Goddard
Johann Strauss
Trad: arr. David Curry
Wolf-Ferrari
Winkler
Bernard Monshin/Eric Jupp
Moulin
Frank Loesser
Trad: arr. David Curry
---


Listen to The BBC Northern Ireland Light Orchestra
conducted by David Curry
playing 'Estorella' by Ronnie Munro
(60 second clip)
---