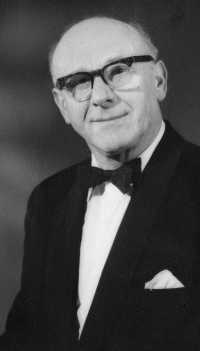 Hugh Reginald Hay James started his musical career in 1912. Whilst attending school in the day time, he played second violin in the orchestras of the Castle Electric and Gaiety Theatres in Richmond, Surrey, during the evenings for 10/6d per week.
He joined the Army under age in 1916 and fought on the Western Front at Passchendaele and the Somme until he was discharged with shell shock in 1918. Hugh then commenced serious musical study with Ferdinand Weiss-Hill (one-time master of Albert Sammons) during which time he played at the Cinema House and Picture House in Oxford Street. In the early twenties he directed the Imperial Symphony Orchestra, which was an eight-piece theatre orchestra. He also held the position of Musical Director at Horn Lane Cinema in Acton. It was around this time that he began a life-long friendship with Arthur Anton, better known to radio listeners as 'Anton', although his real name was Arthur Sweeting. Hugh happily recalled their meetings for coffee in the Lyons' Corner House during intervals at their respective cinemas in the Notting Hill Gate area.
For five years Hugh was Musical Director at the Putney Hippodrome (a variety theatre turned cinema) where, in 1926, he directed the accompanying music for 'The Merry Widow.'
It was in 1936 that Hugh James, then appearing at the Rex Cinema, Stratford, first auditioned for broadcasting, playing Herman Finck's 'Last Dance of Summer' from the suite 'My Lady Dragonfly.' Unfortunately, the audition was unsuccessful and, despite frequent requests, the BBC declined to give him another hearing.
Upon the outbreak of the Second World War in 1939, Hugh attempted to rejoin the Armed Forces but was rejected on medical grounds. So, in 1940 he became resident Musical Director of the Chelsea Palace Orchestra, a position which he was destined to hold for nearly eight years, playing for variety acts and giving an orchestral interlude in each show.
After the war, Hugh James again applied for radio, stressing that he would particularly like to do 'Music While You Work', but again the BBC didn't want to know. He had formed a 20-piece theatre orchestra for playing in London parks and had a regular summer contract with the London County Council (later Greater London Council) and, feeling that the combination would be ideal for broadcasting, sent some of his programmes (including those for a full week at Hyde Park) to the BBC, inviting a representative to come and listen to the concerts. Finally, the BBC gave in and agreed to an audition. This turned out to be an overwhelming success; the listening panel gave glowing comments on his performance, with particular praise for the programme content. He began and ended with his signature tune 'The Bandstand, Hyde Park' (Haydn Wood) and included such items as 'The Arcadians' overture, 'Cockney Capers', 'Lady of Spain' and 'Montmartre' also by Haydn Wood.
Thus, in the summer of 1951, Hugh James and his Orchestra took to the air with a breakfast time programme, the success of which led to several other shows in the next few months. Hugh reminded the BBC that he would like to do 'Music While You Work' and, as the reports on his audition specifically commented that his orchestra was ideal for the series, his wish was granted on 4th January 1952 when he broadcast the first of 115 editions of the programme.
Hugh James continued to broadcast during the fifties and sixties, sometimes with guest artists. He was particularly associated with 'Morning Music' and 'Music While You Work', having the distinction of playing the last afternoon edition in 1966.

Hugh James and his Orchestra in concert on London's South Bank in the fifties
Hugh's successful format was of tuneful light music entr'actes interspersed (in MWYW) with medleys and arrangements of popular standards. For 'Morning Music' he would include some longer items such as overtures or movements from suites. After MWYW ended, he appeared in 'Home To Music' and a few sessions of 'Breakfast Special' in the late sixties before being axed, together with most of the other light orchestras. He regretted this, as he would have liked to have continued broadcasting. He told me that he regarded it as a 'labour of love' and said: 'We, and the other orchestras, gave so much pleasure to people, yet were cast out like old clothes.' I think that many would have agreed with him; the fact that other styles of music had become popular didn't mean that older people were obliged to switch their allegiance away from the type of music that they had grown to love.
In addition to conducting his theatre orchestra, Hugh led a quartet and a salon orchestra in the London parks. He played the violin for Michael Freedman and Arthur Anton, both of whom played in his own orchestra. Other conductors for whom he played included Harold Collins, Jack Leon, Joseph Muscant, Van Dam, Raymond Agoult and, occasionally, Harry Davidson. Harry's orchestra, like his own, was led by Ralph Elman.
After broadcasting ceased, Hugh continued to play the violin in London theatre pits, as well as directing his park orchestra, until his retirement in the mid-seventies. I often attended his concerts in Victoria Embankment Gardens, London; his conducting and presentation were always professional and the orchestra responded well to his direction. His programmes covered a wide variety of light music but often included songs from the music hall, for which he had a great affection. He would go to great trouble to play requests for people, even if the orchestra hadn't played them for years. He was one of the old school — gentle, genial and polite without ever being ingratiating.
In retirement, Hugh James greatly missed conducting his orchestra, as well as the companionship of his fellow musicians. It would have been nice if Hugh could have participated in the revived MWYW series in 1982/83, but even if he had been invited, it is doubtful if he would have been physically up to it as, then in his mid-eighties, his health and hearing had deteriorated. He, nevertheless, listened to some of the programmes and was not always pleased with what he heard!
Hugh was saddened at the lamentable standard of much of today's popular music, which he called 'thug music'. Being a gentleman in every sense of the word, he deplored the decline in morals and good manners. Unlike many of today's entertainers, he neither drank, smoked nor swore and he was happily married for many years.
The physical limitations which beset him in his last years were a source of major frustration to him, as socialising became difficult. His intellect had not diminished and he would have liked to have been more active. His great delight was in receiving letters from enthusiasts, to whom he always replied by return of post. He said 'I like receiving letters as it gives me the opportunity to do some typing — after all, I haven't got much else to do!'
Hugh James died, aged 88, on November 6th 1986, following a short illness.
---


Listen to 'Music While You Work'
played by Hugh James and his Orchestra
as broadcast on 17th September 1963 on the Light Programme at 3.31 p.m.
MUSIC WHILE YOU WORK
played by Hugh James and his Orchestra
on 17th September 1963
---


Listen to 'Music While You Work'
played by Hugh James and his Orchestra
as broadcast on 25th October 1962 on the Light Programme at 3.31 p.m.
MUSIC WHILE YOU WORK
played by Hugh James and his Orchestra
on 25th October 1962
Calling All Workers (Sig)
Sons of the Brave
Guilty
Jondo
Buffoon
Medley:
. A garden in the rain
. The touch of you
. Don't blame me
Israeli Carnival
Les Sylphides
Bows and Belles
Babette
Spanish Mule Dance
What more can I say
La Danza
I don't know why
Highland Fiddler
Playtime for poodles
The Young Ones
It's a sin to tell a lie
Top o' the bill
. I love a lassie
. I used to sigh for silvery moon
. Maybe it's because I'm a Londoner
. Somebody stole my gal
Calling All Workers (Sig)
Eric Coates
Thomas Bidgood
Gus Kahn
Eric Denson
Zez Confrey

Carroll Gibbons
Ray Noble
Jimmy McHugh
Donald Phillips
Oliver Cussans
Sydney del Monte
Horatio Nicholls
Jack Coles
Art Noel
Rossini
Fred Ahlert
Montague Ewing
Eddie Strevens
Sid Tepper
Billy Mayhew
arr: Ivan Caryll
Harry Lauder
Darewski
Hubert Gregg
Leo Wood
Eric Coates
---


Listen to 'Music While You Work'
played by Hugh James and his Orchestra
as broadcast on 31st May 1966 on the Light Programme at 3.31 p.m.
MUSIC WHILE YOU WORK
played by Hugh James and his Orchestra
on 31st May 1966
Calling All Workers (Sig)
Blaze Away
Hampden Roar
One morning in May
Apple Blossom Time
Bows and Bells
Kisses in the Dark
Can Can Polka
Poor Butterfly
Jangle Bells
Selection:Mary Poppins
Laughing Polka
Marching Strings
Sing like the birdies sing
Paris Bonjour
Me and my Shadow
Russian Salad
Medley:
. Yes Sir,That's my Baby
. Baby Face
. Wonder where my baby is tonight
Calling All Workers (Sig)
Eric Coates
Holzmann
Fred Hartley
Hoagie Carmichael
Von Tiltzer
Sydney Del Monte
Micheli
Louis Mordish
Hubbell
Kenneth Baynes
Richard Sherman
Steurs
Ray Martin
Tolchard Evans
Jacques Vallez
Al Jolson
Jimmy Leach

Sammy Kahn
Akst
Donaldson
Eric Coates
---


Listen to 'Music While You Work'
played by Hugh James and his Orchestra
as broadcast on 9th October 1964 on the Light Programme at 3.31 p.m.
MUSIC WHILE YOU WORK
played by Hugh James and his Orchestra
on 9th October 1964
Calling All Workers (Sig)
On the Quarter Deck
Count of Luxembourg Waltzes
Song of the Sea
Can Can Polka
Medley:
. The breeze and I
. My mother's Eyes
. I love you
Pyrotechnics
Heidelberg Polka
That's a plenty
Peg o' my heart
Hampden Roar
Brise de Paris
Chicken Reel
For me and my girl
Llama de Amore
Israeli Carnival
Long Ago
Medley:
. Row row row
. Belgium put the kibosh on the Kaiser
. Hold your hand out naughty boy
. Pack up your troubles
. They didn't believe me
. Good Bye-ee
Calling All Workers (Sig)
Eric Coates
Kenneth Alford
Franz Lehar
Ferrer Trinidade
Louis Mordish

Ernesto Lecuona
Baer
Archer
Jack Helyer
Cyril Watters
Ben Pollack
Fred Fisher
Fred Hartley
Albert Delroy
Joseph Daly
George W. Meyer
Torrega
Donald Phillips
David Heneker

James Monaco
Alf Ellerton
C.W. Murphy
George H. Powell
Jerome Kern
R.P Weston
Eric Coates
---


Listen to 'Music While You Work'
played by Hugh James and his Orchestra
as broadcast on 25th October 1963 on the Light Programme at 3.31 p.m.
MUSIC WHILE YOU WORK
played by Hugh James and his Orchestra
on 25th October 1963
Calling All Workers (Sig)
The Liberty Bell
Let's All Sing like the Birdies Sing
Tabarinage
Long Ago
Spanish Mule Dance
What More Can I Say
Folk Songs From Somerset
Scarlett O'Hara
Medley:
. All by yourself in the Moonlight
. The More We are Together
. Show me the way to go home
Amporita Roca
Soft Shoe Song
Confessin'
Teddy Bears' Picnic
Count of Luxembourg Waltzes
Laughing Polka
If I had a Talking Picture of You
Salute to Jolson:
. I'm Just Wild about Harry
. I only have Eyes for You
. Avalon
. Rock-a-bye your baby
. California here I Come
Calling All Workers (Sig)
Eric Coates
John Philip Sousa
Evans
Robert Docker
Heneker
Jack Coles
Noel
Vaughan Williams
Jerry Lordan

Wallis
King
King
Texidor
Jordon
Reynolds
Bratton
Franz Lehar
Steurs
De Sylva
Arr. Ronald Hanmer
Sissle
Harry Warren
Al Jolson
Young
Al Jolson
Eric Coates
---
7.15 a.m. Home Service on 29th August 1952
Hugh James and his Orchestra
March: Oxford Street
Tomboy
Fifinette (Three Light Pieces)
Woodland Sketches:
. To a Wild Rose
. At an old Trysting Place
. In Autumn
Punch and Judy Polka
Gypsy Fiddler
The Merchant of Venice Suite
. Intermezzo, Portia
. Oriental March
Selection: Gay's the Word
March: Down with the Curtain
Eric Coates
Trevor Duncan
Percy Fletcher
MacDowell



Ronnie Munro
Ralph Elman
Frederick Rosse


Ivor Novello
Charles Shadwell
---