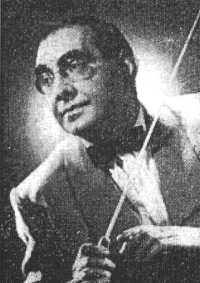 Judah Leon Aronoff (to give him his birth name) was born in Kiev in 1905 but moved with his family to Antwerp the following year. He came to London in 1914, becoming a British citizen in 1929, having changed his name to Jack Leon.
Although trained as a violinist, he gave this up in favour of conducting. His early dance band records, of which he made many, served as a prelude to the light orchestral performances that were to dominate his career. He recorded extensively for 'Mood Music' libraries and his recordings with the New Concert Orchestra are now becoming available to a new generation by way of compact disc. Although essentially a recording orchestra, it did occasionally broadcast.
Jack Leon conducted his own orchestra throughout the forties and for much of the fifties, appearing regularly on 'Music While You Work' and later in 'Morning Music', for which he provided more than forty programmes. There was also an untitled light orchestral 'slot' at 7.15a.m to which Jack Leon and his orchestra regularly contributed. There is one surviving recording of this orchestra in the BBC Sound Archives which is a perfect testimony to its high standard of performance.
Jack Leon's theatrical connections included the London Casino and the Theatre Royal, Drury Lane, for which he was Musical Advisor. He also had a long association with the Prince of Wales Theatre, London as Musical Director. He was not particularly well-known as a composer but one composition of his that was very successful was 'Viva Villa" written under the pseudonym of Stephen-Fonora
He moved to Glasgow in 1956 to take up the appointment of conductor of the BBC Scottish Variety Orchestra, a position he was destined to hold for ten years, broadcasting several times every week. He retired (albeit very reluctantly) from the BBC in 1966 and soon reformed his own orchestra for broadcasting. Early in 1967 he was given a series of broadcasts in 'Breakfast Special'. Sadly, after completing only a few recordings he collapsed in the street in Glasgow having suffered a heart attack from which he died, aged only 61, on 10th March 1967.
Jack Leon was a perfectionist and was regarded by some as a 'hard task-master,' but his daughter Miriam remembers him only as a kind and loving father from whom she was parted at the tender age of eighteen.
With 324 editions of 'Music While You Work' to his credit, Jack Leon conducted the most light orchestral programmes in the series.


Listen to 'Morning Music' played by Jack Leon and his Orchestra
as broadcast on 30th September 1954 at 8:20am.
MORNING MUSIC
Home Service 30th September 1954 at 8.20am.
played by Jack Leon and his Orchestra
Blaze of Glory
Love's Dream After the Ball
Selection: Hans Christian Anderson
Marionette in Mayfair
La Ronde
Tin Pan Alley Tunes:
. Someone Else's Roses
. Gilly Gilly Ossenfeffer
. The Story of Tina
. Tennessee Wig Walk
Mexican Hat Dance
Song of Songs
Rip Van Twinkle
Selection: The Love Parade
Abe Holzmann
Alphons Czibulka
Frank Loesser
Guy Desslyn
Oscar Straus

Carson
Al Hoffman
Katrivanou
Cy Coleman
Trad. arr. Ronald Hanmer
Moya
David Nelson (Tommy Reilly)
Victor Schertzinger
---
MORNING MUSIC at 8.20 a.m. on the Home Service on 30th.December 1953
played by Jack Leon and his Orchestra
El Relicario
Selection:Great Day
Jealousy
The Boulevardier
Medley: Tin Pan Alley Tunes
Wedding Dance
Moonlight over Tahiti
Barcelona
Selection: Guys and Dolls
Jose Padilla
Vincent Youmans
Jacob Gade
Frederic Curzon
arr. Jack Leon
Jacques Press
Leslie Bridgemont
Tolchard Evans
Frank Loesser
---
MUSIC WHILE YOU WORK at 10.30 a.m. on 12th April 1956
played by Jack Leon and his Orchestra
Calling All Workers (Sig)
Begorrah!
The Bells of St.Mary's
Scotch and Chaser
Medley:
. Young and Foolish
. Memories are Made of This
. Jimmy Unknown
. Pickin' a Chicken
Siciliano
Bubbling Over
Yodelling Strings
Selection: Summer Song
Calling all Workers (Sig)
Eric Coates
Ray Martin
Emmet-Adams
Henry Croudson

Albert Hague
Terry Gilkyson
Roberts and Katz
Derek Bernfield
Harry Dexter
Percy Faith
Edward White
Dvorak/ Bernard Grun
Eric Coates
---


Listen to Jack Leon and his Orchestra
playing 'Love's Dream after the Ball' by Czibulka
(60 second clip)
---