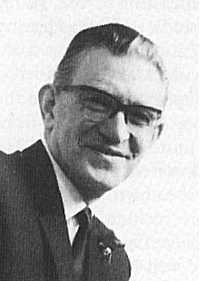 Harry Leader was born in the East End of London on 28th January 1906. He was the son of a Russian trumpeter in the Tsar's Army who became a Professor of Music at St Petersburg Conservatoire. Anglicising the family name, Harry's father set up a grocery store after arrival in this country around the turn of the 20th century. Harry learned to play the violin from his father and, when not assisting in the family business, could be found playing for silent movies.
With the coming of jazz, Harry taught himself to play the saxophone at the age of 14. He later acquired valuable experience playing in clubs in the West End of London, as well as touring. In 1928 he was invited to join Sid Phillips' Melodians, and even took over the direction of the band during a tour of Italy when Sid Phillips had to return to London. No doubt this inspired him to form his own band, which he soon did. Initially it was essentially a combination for recording purposes and Harry made hundreds of records (often under pseudonyms) for Decca's Panachord label as well as Broadcast, Eclipse, HMV and various EMI labels. His biggest hit (recorded on Eclipse 729) was 'Little Man You've Had a Busy Day', which sold 375,000 copies. Indeed, so keen was Harry for this record to be a success he even stood in the streets of London selling it himself!
In the early thirties, Harry Leader played for Teddy Brown as well as for a character known as 'Jack de Yanke' at the Café de Paris. He made his first broadcast with his own band in 1934, commencing a broadcasting career spanning nearly 50 years, during which time his 'line-up' included such famous names as Norrie Paramor, Billy Amstell, Billy Bell, Freddie Gardner, George Chisholm, Nat Temple, Tommy McQuater, Steve Race, Phil Green, Kenny Baker, Johnny Gray, Bert Weedon, Ray Davies and Stanley Black.
Harry Leader's first residency was at the Hammersmith Palais from around 1939 to 1942, after which he moved to the Astoria, playing opposite Jack White until 1955. There followed seasons at Butlin's Holiday Camps until a residency was available at the Regent Ballroom in Brighton, where he stayed until well into the sixties. Harry's original signature tune was 'Memories of You', but this was later changed to 'Music Maestro Please'. During his extensive broadcasting career, Harry contributed to many series that featured dance bands, as well as having his own 'Harry Leader Show' on television in 1947.
Harry Leader was particularly associated with 'Music While You Work', in which he appeared 215 times. His first appearance was on the 10th August 1941 and his last on 13th June 1966. Apart, that is, from an appearance in the revival series, about which more later.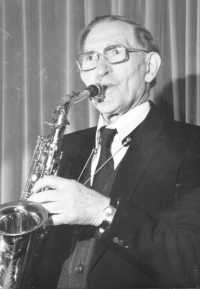 Harry was also a gifted composer who, with his wife Rona, produced over 350 songs under various aliases, his best-known composition probably being 'Dragonfly'. Other compositions include 'Just Fancy That', 'Washington Square' and 'Dance, Dance, Dance'. During the sixties most of his MWYW programmes ended with the well-known 'Tonight's The Night', which Harry Leader maintained was also one of his compositions. If this is the case then the programme accompanying this profile (below) has rather more than the permitted allocation of 'own compositions' - the BBC permitted one original composition by the musical director - but what is the purpose of a pseudonym if it is not to deceive?
Unlike many dance bands of yesteryear, many of which, to the layman at least, sounded identical, the Harry Leader Band had a very individual style, with a full, bright and beautifully harmonised sound, every note being played to its full value. This is not to say that the style did not change over the years, indeed, Harry always moved with the times, a fact that is apparent from listening to recordings of his broadcasts between, say, 1960 and 1966.
Another of Harry's claims to fame was the discovery of two leading popular singers, Clinton Ford and Matt Monro. Readers may well remember the occasion of a 'This is Your Life' television show featuring Matt Monro, in which Harry made a guest appearance.
By the early seventies, Harry's broadcasts were becoming infrequent and he moved down to Brighton where he continued to do gigs and to teach the flute, trumpet, saxophone and clarinet (the instrument with which he is most associated).
In 1972 Harry made an LP for strict-tempo dancing. At this time he called the band 'Harry Leader's Nu-Set' — a corny title which he even used on radio and which somehow always made me think of dentures! In 1983 he concluded his broadcasting career with a superb programme in the revived series of 'Music While You Work'. I had the honour of being present and was impressed by the enthusiasm of Harry Leader, who was clearly very excited to be broadcasting after some years in the BBC 'wilderness'. He rallied his musicians, saying:
"Come on lads, let's enjoy ourselves, just like we used to in the old days". Well, Harry certainly did! He was dancing on the rostrum in one piece and the overall broadcast had a sparkle which put some of the other bands to shame.
Sadly, it was to be his last broadcast and he died on 20th January 1987.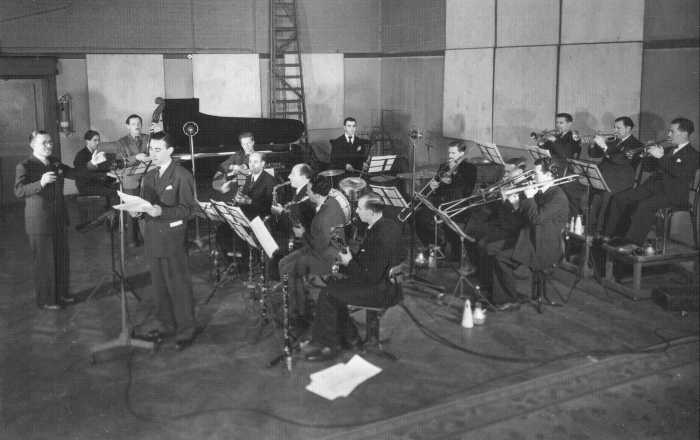 Harry Leader conducting his Band
(by kind permission of Michael Leader)
---


Listen to 'Music While You Work' played by Harry Leader and his Band
as broadcast on the BBC Light Programme at 3.31pm on 2nd October 1961.
MUSIC WHILE YOU WORK
Played by Harry Leader and his Band
on 2nd October 1961
Calling All Workers (Sig)
Dance Dance Dance
Man of Mystery
My Favourite Things
Fascination
How Beautiful you are
La Dolce Vita
Someday
Toby's Walk
Kontikki
Destiny
That's my Home
My heart has a mind of its' own
Are you lonesome tonight
Easy going me
Devil in Dixie
With you in mind
The Frightened City
Here comes Summer
Senora
Do Re Me
Fings ain't wot they used to be
Marry Me
Calling All Workers (Sig)
Eric Coates
Harry Leader
Michael Carr
Richard Rodgers
Fidenco Marchetti
Richard Rodgers
Nino Rota
Armstrong
Ernesto Ponticelli
Michael Carr
Sidney Baynes
Ben Ellison
Jack Keller
Roy Turk
Lionel Bart
Guy Desslyn
Cyril Ornadel
Norrie Paramor
Jack Keller
George Tibbles
Richard Rodgers
Lionel Bart
Jacks
Eric Coates
---


Listen to 'Music While You Work' played by Harry Leader and his Band
as broadcast on BBC Radio 2 at 12 noon on 21st September 1983.
MUSIC WHILE YOU WORK
Played by Harry Leader and his Band
on 21st September 1983
Calling All Workers (Sig)
Dance,Dance,Dance
Gideon's Way Theme
Chattanooga choo choo
Speak to me Pretty
A Shot in the Dark
Best Years of our Lives
They can't take that away from me
Swinging Gently
Jubilee Hayride
Telstar
Charade
Tonight's the Night
Calling All Workers (Sig)
Eric Coates
Harry Leader
Edwin Astley
Harry Warren
Vars/Dunham
Henry Mancini
Jaymes,Deane
George Gershwin
Harry Leader
Dale
Joe Meek
Henry Mancini
Harry Leader
Eric Coates
---


Listen to 'Music While You Work' played by Harry Leader and his Band
as broadcast on 17th December 1965.
MUSIC WHILE YOU WORK at 10.31 a.m. on 17th December 1965
Played by Harry Leader and his Band
Calling All Workers (Sig)
Dance, Dance, Dance
In The Middle of Nowhere
Three O'Clock in the Morning
Lonely Girl
Strong Love
Dream on Little Dreamer
Jubilee Hayride
Dragonfly
Slippery Samba
Sweet Beginning
Hot Line
Post Horn Beat
Just Fancy That
Tonight's the Night
Calling All Workers (Sig)
Coates
Roberts
Kaye
Robledo
Hefti
Silver
Burch
Dale
Wain
Cugaro
Bricusse
Reed
arr. Leader
Leader
Primo
Coates
---


Listen to 'Music While You Work' played by Harry Leader and his Band
as broadcast at 3.45 p.m. on 2nd January 1958.
MUSIC WHILE YOU WORK at 3.45 p.m. on 2nd January 1958
Played by Harry Leader and his Band
Just Another Polka
Enjoy Yourself
Maria from Bahia
I'd love to Sing
Knees up Mother Brown
The Fleet's in Port Again
Ferryboat Inn
The More we are Together
Tammy
Cruising down the River
If you ever go to Ireland
Over my Shoulder
The Breakaway
An Apple for the Teacher
Sing a Song of Sunbeams
Goodnight Sweetheart
Blueberry Hill
Singing the Blues
I love my Baby
If I had You
Together
Sweet Sue
One Morning in May
Show me the way to go home
I'm a Dreamer
We'll meet Again
Man with the Mandolino
Rock a Bye your Baby
Cross my ever loving Heart
I'll Find You
Pickin' a Chicken
Mr. Cuckoo
Cookie
Down by the Sugar Cane
Wanderin' Eyes
White Silver Sands
Be My Girl
Alone
I Like Music
Gypsy in my Soul
Gonna Get Along with You
She
Swedish Polka
Love You Darling
Wonderful, Wonderful
In the Middle of an Island
One,two, Button your Shoe
Ready, Willing and Able
Pocketful of Dreams
Sweet Heartaches
The Natural Thing to Do
The Music Goes Round and Round
Calling All Workers (Sig)
Loesser
Hagidson
Misraki
Carr
Weston
Gay
Campbell/Pelosi
King
Livingston
Tollerton
Noel
Woods
Conrad
Burke
Burke
Noble
Stock
Endsley
Green
Campbell
De Sylva
Young
Parish
King
De Sylva
Parker
Fancuilla
Lewis
Johnson
Evans
Roberts
Turner
Young
Roberts
Norton
Mathews
Singer
Craft
Reine
Boland
Callem
Izera
Alfven
Roberts
Raleigh
Varnick
Johnson
Rinker
Monaco
Stept
Johnston
Farley
Coates
---