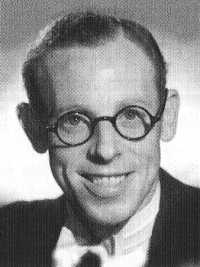 Jack was born Eugene Joseph White, in Liverpool, on 2nd December 1905 and, at the tender age of three, he played the concertina at his grandfather's funeral! He played this instrument throughout his childhood, even doing gigs — singing to his own accompaniment. He had no intention of turning professional, therefore upon leaving school he became a motor mechanic. His enthusiasm for music remained, however, and he took up the drums, later learning the alto-saxophone, tuition for which was paid for by his mother. At the age of 19 he formed his own 'family band', having taught his father to play the drums and his brothers Jay and Tom to play saxophones. In 1926, the band won contests organised by Melody Maker and in 1928 was awarded the Jack Hylton Trophy, sponsored by Jack Hylton at the Embassy Ballroom, Liverpool.
There was a local school called St. Francis College and Collegiate School, thus the band became known as Jack White and his Collegians. The band turned professional in 1929, appearing at the Rialto Ballroom in Liverpool, its original signature tune being 'Collegiate'. In later broadcasting days, Jack changed his theme tune to 'Out of Nowhere'. After a long spell at the State Café, Liverpool, the band performed at the Plaza Ballroom, Manchester, the West End Ballroom, Birmingham, the Regent Ballroom, Brighton, and in 1935, the Hammersmith Palais. The original quintet had increased to six and then eight players.
When Jack's father died in 1930, the band's personnel were reshuffied and Tom became the drummer, a position which he held throughout Jack White's career. In an age when musicians were constantly moving from one band to another, it is truly amazing that several of Jack's 1935 band were still with him 20 years later.
In 1936, Jack White started what was intended to be a six week spell at the Astoria Dance Salon in London, whilst Joe Loss was away on tour, but he was retained as second band and remained there (apart from a few years' break for war service) until November 1957 — probably the longest residency in dance band history. By 1936, Jack White was broadcasting regularly and in late 1937 commenced recording for Parlophone and later, Regal-Zonophone. The title 'Collegians' was dropped in 1940 when they became No. 1 band opposite Syd Dean, at the same time increasing their personnel to twelve.
In 1941, Jack and his two brothers were called up, Jack joining the RAF on 12th May 1941. The band continued for some months and did quite a few editions of 'Music While You Work' under the direction of Jack Lennox before disbanding. Jack White was now in the Central Band of the Royal Air Force, eventually forming a ten-piece band which, believe it or not, actually included five of his Astoria musicians, amongst whom was his brother Jay. Soon after the war, Jack White and his Band re-established themselves as No. 1 band at the Astoria, playing opposite Harry Leader. Regular broadcasting resumed and, whilst Jack contributed to many different programmes, he is probably best remembered for 'Music While You Work', for which the band played 309 editions between 1940 and 1966. Available documentation shows that he had a very enthusiastic and loyal following amongst his listeners and by the mid-fifties was doing more broadcasts than any other bandleader in the country. His popularity was well justified as his brass section had a terrific 'punch', tempered with a beautiful, warm mellow saxophone section. The arrangements were stylishly done by Jack himself and the musicians always sounded as if they were enjoying themselves.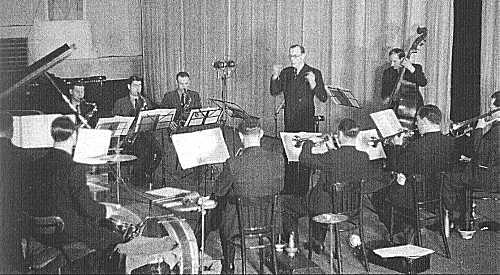 Jack White and his Band
A distinctive feature of the band was the unorthodox percussion style of Jack's brother Tom, particularly when using the wire brushes — and it didn't always meet with the approval of BBC producers who were probably looking for a more modern sound. The fact was that Jack didn't care for the modern trends in pop music and made little attempt to emulate them. In fact, the band's style in the sixties retained many of the characteristics of their records made in the 1930s.
It was unfortunate that the frequency of the band's broadcasts, which was based on their popularity, attracted a certain amount of professional jealousy from bandleaders who had become famous in a wider sphere of dance music (big band swing etc.) but were not getting as many broadcasts. Jack White never tried to compete with anybody; he didn't try to recruit 'star' players, his only concern being that the musicians he used would give a polished performance of the repertoire. This fact, coupled with the obvious rapport between leader and players, must have accounted for the incredible stability of personnel over the years.
In November 1957, Jack White finally decided to leave the Astoria, hoping to get another residency elsewhere, but none was forthcoming and the band ceased to exist on a full-time basis. Despite this, broadcasts continued, for which he used most of the Astoria personnel, supplementing them with session men when required. BBC policy was such that full-time bands were given priority over those that were 'got together' just for radio and, as Jack now came into this category, his appearances became less frequent and, during the sixties, were confined to 'Music While You Work.'
Many will recall, with affection, the annual Christmas edition which consisted of community songs and music hall tunes. The musicians joined in, singing and cheering during some of the numbers, creating a wonderful atmosphere. Even in their 'normal' broadcasts Jack White's band sometimes forgot that they were on the air. I can recall sometimes hearing the sound of whistling and, on one occasion, a shared joke followed by raucous laughter!
Jack White's final broadcast was given on 23rd December 1966 and, being the cheerful Christmas show, was a fitting finale to his career. He then moved to the South Coast and set up a successful printing business.
A sad epilogue to the story is that Jack White, depressed at the way tuneful dance music had given way to crude 'beat and shout' pop music, chose to erase his career from his mind, destroying all his memorabilia and not wishing to meet anyone who might bring back memories. Apparently, in old age, he even refused to admit to having ever been a bandleader!
Jack White died on 25th June 1988 at the age of 82.


Listen to 'Music While You Work' played by Jack White and his Band
as broadcast on the BBC Light Programme at 3.31pm on 17th. November 1965.
---


Listen to 'Music While You Work' played by Jack White and his Band
as broadcast on 29th. June 1966.
MUSIC WHILE YOU WORK
on 29th June 1966
played by Jack White and his Band
Calling All Workers (sig)
If you knew Susie
Goodbye blues
I'm gonna lock my heart
Sweet Pussycat
C'mon in
Summer Night
Sally
Secondhand Rose
Song of Mexico
Never say never again
See you in my dreams
Blue Skies
Ramona
Snow Bells
The River
Heartaches
I love you best of all
Ain't she sweet
Pasadena
Way down yonder in New Orleans
Was it a dream
World Cup March
Try a little tenderness
Ballad of the Green Berets
Dear is the night
I'm a dreamer
One two button your shoe
Calling All Workers (sig)
Coates
De Sylva
Jimmy McHugh
Eaton
Coleman
Syd Dale
Carter
Leon
Hanley
Edward Charles
Harry Woods
Jones
Irving Berlin
Wayne
Kent
Angilini
Hoffman
Montagu
Ager
Harry Warren
Creamer
Cosel
Alan Moorhouse
Harry Woods
Moore
Miller
De Sylva
Johnston
Coates
---
And the Christmas special...


Listen to 'Music While You Work' played by Jack White and his Band
as broadcast on 24th. December 1963.
MUSIC WHILE YOU WORK
10.31 a.m. on 24th December 1963
played by Jack White and his Band
Calling All Workers (sig)
Jolly Good Company
Marching Along Together
Changing of the Guard
Why did she fall for the leader of the band
I belong to Glasgow
If you're Irish
All Thru' the Night
The Lincolnshire Poacher
On Ilkla Moor
Lassie from Lancashire
Up from Somerset
Sussex by the Sea
Endearing Young Charms
Blaydon Races
Scotland the Brave
Maybe it's because I'm a Londoner
Destiny
The Veleta
Lily of Laguna
Little Dolly Daydream
John Brown's Body
You made me Love You
The Lambeth Walk
The Gay Gordons
Who's Your Lady Friend
Beside the Seaside
The Man who Broke the Bank at Monte Carlo
The Campbells are Coming
Loo-be-Loo
Everybody's Twisting
Knees up Mother Brown
Here's a Health unto her Majesty
John Peel
Calling All Workers (sig)
Coates
Raymond
Staininger
'Flotsam'
Carr
Fyffe
Glanville
Trad.
Kennet
Windram
Murphy
Sanderson
Higgs
Trad.
Trad.
Trad.
Gregg
Baynes
Morris
Stuart
Stuart
Trad.
Monaco
Gay
Bonheur
Fragsen
Glover
Gilbert
Trad.
Turner/Farley
Bloom/Keehler
Trad.
Trad.
Trad.
Coates
---
MUSIC WHILE YOU WORK at 3.45 p.m. on 5th April 1961
played by Jack White and his Band
Calling All Workers (sig)
Button Up Your Overcoat
My Heart Stood Still
You're the Cream in My Coffee
Sailor
You're Driving Me Crazy
Are You Lonesome Tonight
Lulu's Back in Town
Avalon
Chicago
Till
Pepe
Just as much as ever
Shine
Shepherd of the Hills
Pardon Me Pretty Baby
Mistakes
Samba Rag
Friendly Street
Hap Hap Happy Day
This is the Missis
Here Comes Cooke
Passing Breeze
Marry Me
Eternally
If You Knew Susie
Goodbye Blues
I'm Gonna Lock My Heart
Cherry Blossom Lane
We're Gonna Dance
Someone is Thinking of You
You are my Sunshine
Sugartime
Calling All Workers (sig)
Coates
De Sylva
Rodgers
De Sylva
Scharfenberger
Donaldson
Turk
Warren
Jolson
Fisher
Sigman
Wittstatt
Singleton
Mack
Nicholls
Kalges
Nicholls
Laurenson
Cleaver
Tinberg
Brown
Gordon
Stanford
Jacks
Chaplin
De Sylva
McHugh
Eaton
Leslie
Barell
Powell
Davis
Phillips
Coates
---