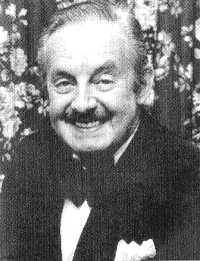 Syd Dean was born on 4th June 1907 in the village of Wellesbourne near Stratford-upon-Avon. He took up the piano at the age of ten, becoming proficient within a few years. After leaving school he worked for a while with his motor mechanic father, but his heart was in dance music and, determined to join the music profession, he answered an advertisement in 'The Era' in 1926 for a pit orchestra pianist at the Boscombe Hippodrome. To his surprise, the 'pit orchestra' turned out to be a 25-piece section of the Bournemouth Municipal Orchestra directed by Dan Godfrey.
This, however, was not the area of music in which he was most interested, so he took a job with a dance band led by John Birmingham (who was later to die after falling from the balcony of his Earls Court flat). After a spell with a dance band in North Wales, Syd took the opportunity to play a season in a ballroom in Jersey where, for the first time, he realised his ambition to lead his own band. This band included alto-sax player John McCormack, who went on to lead his own band and appeared on 'Music While You Work' from the Midlands. After two seasons Syd moved to a night club in Glasgow but, preferring ballroom work, accepted an offer at the Leicester Palais in 1934.
It seems that in those distant days nobody stayed anywhere for long and Syd was soon off to Toni's Ballroom in Birmingham, switching to the New Plaza Ballroom, Derby, in 1935 for a three year stay. He broadcast for the first time in 1936 as solo pianist in the series 'Keyboard Cavalcade'. His success attracted the attention of the Music Corporation of America, which put him into Madame Tussauds, London — no, not as a waxwork! Over the next two years he played at the Café Normandie (Cliftonville), the Rector's Club (opposite Jack Jackson) and then at the famous Kit-Kat Club.
A big break came in 1940 when Syd Dean not only had his first band broadcast but was invited to replace Joe Loss at the Astoria, Charing Cross Road, where his nine-piece band played opposite Jack White — already an established broadcaster. Unfortunately, war intervened and Syd spent the next four years in the RAF. Although he was able to form a small band at Bomber Command in Nottingham, he ended up on a small island in the Outer Hebrides (but without eight gramophone records!).
Although Gaumont-British (who owned the Astoria) had promised Syd his job back after the war, contractual difficulties with the band already playing there made this impossible. So, Syd Dean was sent to the Regent Ballroom, Brighton, with a 15-piece band which was a tremendous success and very popular with the dancers. He resumed broadcasting and, in 1946, did the first of his 177 'Music While You Work' broadcasts. Over the years, Syd's broadcasts (some of them from the Regent) brought several singers to fame, notably Jill Day, Dick Francis and Rita Williams. Syd also came across a vivacious young singer who impressed him to the extent that he arranged for her to be auditioned at the BBC. The young woman failed the audition and Syd, thinking that his judgement must have been in error, let her go. He must have kicked himself when she topped the Hit Parade, her name was Alma Cogan!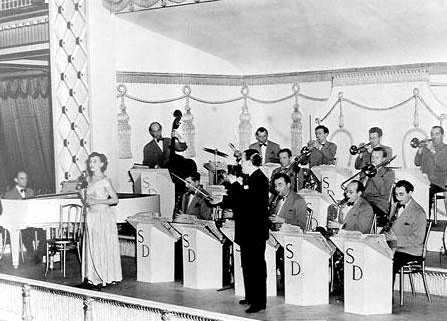 Syd Dean and his Band at The Regent Dance Hall, Brighton in 1948
Syd Dean's band was so popular in Brighton that when he decided to leave in 1959, the local evening paper described him as a 'marvellous unofficial ambassador for Brighton, having publicised the resort in many ways'. He left as a result of a tempting offer from the Orchid Ballroom in Purley, but in the event only had a short stay there before moving on again!
During the following year, he opened at the newly-built Gaumont State Ballroom in Kilburn, where he fronted a nine-piece band consisting of five saxes, trumpet, piano, bass and drums. In 1962 he returned to the Astoria for a year, after which he went back to the Regent. In 1966 it was decided to demolish the Regent Ballroom, so Syd had to move down the road to the Top Rank Suite, where he stayed for a further six years.
Syd Dean specialised in 'straight' ballroom music, but, in common with other bandleaders, he had to make adjustments when fashions changed — he even included a guitar in his band from 1963! Although a prolific broadcaster, Syd Dean and his Band only made a handful of records (mostly 78s), usually backing The Stargazers.
Although Syd stayed at the Top Rank Ballroom until 1972, he was finding that teenagers didn't want his music, so he left to go freelance. He said at the time: 'I'm glad to get out of it. They just don't want a band. We tried to please them but all they want are hit records'.
Syd Dean carried on with appearances and concerts for many years and ran successful dances at Hove's King Alfred Ballroom and the Corn Exchange and the Dome in Brighton. Despite his declining health he continued to do the occasional private function.
The late Chris Hayes, a musical journalist who, many years ago, provided me with much of the information in this profile, interviewed Syd in 1988, when he was planning a big band show at the Hotel Metropole, Brighton. Chris described Syd Dean as a 'dapper and handsome man, with a neat moustache and a ready smile. He possessed a smooth and pleasant personality which endeared him to people. He was genial and gracious without pomposity or conceit.' There couldn't be a more fitting epitaph!
Syd Dean died on 1st August 1993, aged 86.
---

Listen to 'Music While You Work'
played by Syd Dean and his Band
as broadcast around April 1966
---

Listen to 'Music While You Work'
played by Syd Dean and his Band
as broadcast in the Spring of 1966
---

Listen to 'Music While You Work'
played by Syd Dean and his Band
as broadcast on the BBC Light Programme at 10.31 a.m. on 13th September 1963
MUSIC WHILE YOU WORK
played by Syd Dean and his Band
on 13th September 1963
Calling All Workers (Sig.)
Let's face the Music and Dance
Stepping Out With My Baby
It's a Lovely Day Today
The Good Life
Acapulco 1922
I Remember April
Teach Me Tonight
Souvenir D'Italie
Rip Van Winkle
I'm Confessing
Truckin'
Deed I Do
You Forgot Your Gloves
The Legion's Last Patrol
I Love You and Don't You Forget It
Easier Said Than Done
I'll Be Around
These Foolish Things
That Was The Week That Was
Eric Coates
Berlin
Berlin
Berlin
Distel
Allan
Johnston
Chan
Sigman
Race
Dougherty
Bloom
Rose
Lehak
Rosso
Mancini
Linton
Wilder
Strachey
Grainer
---


Listen to 'Music While You Work'
played by Syd Dean and his Band
as broadcast on the BBC Light Programme at 3.31 p.m. on 25th March 1964
MUSIC WHILE YOU WORK
played by Syd Dean and his Band
on 25th March 1964
Calling All Workers (Sig.)
I Found a New Baby
There'll be Some Changes Made
Tiptoe Through the Tulips
Young and Healthy
If you Love Me
A Stitch in Time
At Last
I know Why
Stairway to the Stars
Deep Purple
Tipsy Gypsy
Over You
Falling in Love with Love
When Lights are Low
The Glory of Love
Ida
I've Got the World on a String
It Happened in Monterey
Swinging Bells
24 Hours from Tulsa
Swinging Down the Lane
There Goes that Song Again
Me and My Shadow
All of Me
I'm the One
Don't Worry about Me
Toby's Walk
I'm in a Dancing Mood
Poor People of Paris
Celebration
I Think of You
The Sweetest Sounds
Calling All Workers (Sig.)

Eric Coates
Palmer
Higgins
Dubin
Dubin
Monnot
Phil Green
Harry Warren
Harry Warren
Walneck
De Rose
Osborne
Jones
Richard Rodgers
Carter
Hill
Munson
Harold Arlen
Wayne
Steve Race
Burt Bacharach
Jones
Jule Styne
Al Jolson
Simons
Marsden
Bloom
Pontichelli
Sigler
Monnot
Woods
Stirling
Richard Rodgers
Eric Coates
---


Listen to Syd Dean and his Band
playing 'The Willow Waltz' by Cyril Watters
---