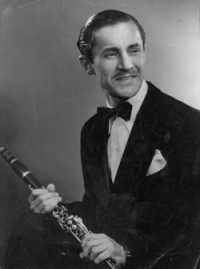 Nathan (Nat) Temple was born in Stepney, East London, on 18th July 1913, one of four brothers. He took up the saxophone and clarinet and, prior to becoming a bandleader, played with many of the leading bands, including those of Ambrose, Geraldo and, occasionally, Lew Stone, but is probably most associated with Harry Roy, for whom he had nothing but praise. Many of the clarinet solos on Harry Roy's recordings were performed by Nat Temple.
He served in the Grenadier Guards for much of the war, playing with their regimental band in North Africa and Italy. It was a fact that musicians serving in the Forces sometimes took 'time out' to do gigs with ad hoc bands — a situation which led to questions being asked in Parliament! Nat certainly took the opportunity to play sessions with many well-known bands, notably Geraldo from 1941, forming his own band in 1944. Early vocalists included Benny Lee and Frankie Vaughan. Nat also accompanied Lita Rosa, David Whitfield, Anne Shelton, Julie Andrews and many others.
His broadcasting career started in 1946, when he formed the Nat Temple Octet. He later broadcast as 'Nat Temple, his clarinet and woodwind' (or Woodwindettes). By 1950, the Nat Temple orchestra was broadcasting regularly. It usually consisted of about 12 players, although it was sometimes augmented with strings, if required.
During the late forties it was commonplace for a dozen or more programmes of dance or light music to be broadcast each day (a far cry from the present time) and this enabled Nat to broadcast frequently, filling many an instrumental half-hour with his orchestra, as well as playing for variety or light entertainment programmes such as 'Breakfast with Braden', 'Bedtime with Braden' (and their sequels), in which he often participated in the repartee between Bernard Braden and Barbara Kelly. There were, however, a number of other situation comedy series in which Nat not only provided the music but acted as stooge to the main stars as well! Apart from appearing on other people's programmes he also had his own series called 'Enchanted Rhythm'.
Nat Temple's many television credits during the fifties included 'My Wife Jacqueline' and 'Barbara with Braden'. My first memories of him, whilst still a child, were on children's television in programmes such as 'Crackerjack', 'Telebox' and 'Jack-in-the-Box' when Nat and the band involved themselves in comedy routines. I still recall my surprise when hearing them on 'Music While You Work' and realising, for the first time, that they were not just a comedy band!
Nat Temple once told me that it was sometimes suggested that he should forsake music for comedy — the implication being that he was a better comedian than he was a musician. In fact he was a very good musician. He composed a number of pieces such as 'Burma Road' and 'Nattering Around', both of which he recorded with a combination called Nat Temple and his Club Royal Orchestra. He also wrote his signature tune 'Canzonetta', which I don't believe he recorded with his own band, but a Parlophone recording by Geraldo and his Orchestra featured Nat as a solo artist. The piece was also recorded by Eric Winstone, Lou Preager, Joe Loss, Reg Leopold and Phil Green. There was even a recording by the distinguished clarinettist Reginald Kell with Monia Liter's Twentieth Century Serenaders.
Nat Temple and his Orchestra played regularly for radio and television throughout the fifties and continued with 'Music While You Work' until 1966. When this series was revived in 1982 as part of the BBC's 60th Anniversary celebrations, Nat Temple's band was the first to be featured and Nat was shedding tears of emotion by the conclusion! He made further appearances in 1983 and subsequently in 'Music All the Way'.
I had the privilege of attending several of Nat Temple's MWYW programmes and recall him telling me on the phone that he was under pressure to include more modern material, so I suggested a piece called 'We'll Meet Again' — no, not the Vera Lynn hit but the title tune for a then current television drama series set in the Second World War, played in the style of Glenn Miller. As Nat did not know of it, I sang a few bars down the phone which he then sang to his wife. He then exclaimed, 'My wife knows it and says it's good— so we'll use it!' A few weeks later he played it in 'Music While You Work'.
I clearly recall sitting on a hard stool in the cramped Studio 5 at Maida Vale, literally only a couple of feet behind Nat Temple — keeping as still as possible for fear that a creak would be heard over the air, when suddenly, in the middle of the actual broadcast, Nat turned round to me and mouthed the words, 'Is it alright?' I gave him the 'thumbs up' sign and he nodded appreciatively before resuming playing his baritone saxophone!
Nat Temple has never been associated with a particular ballroom as, over the years, his band has played mostly for private and corporate functions. He did summer seasons for Butlin's, university balls, Christmas parties at Windsor Castle plus many appearances at top London hotels. He also ran an entertainment agency and, even in his eighties, was providing bands for functions. A compact disc was issued by Evergreen magazine to coincide with Nat Temple's 90th birthday in July 2003. Only then did he decide to retire from bandleading!
Nat Temple died on May 30th 2008, aged 94.
---


Listen to 'Music While You Work' played by Nat Temple and his Band
as broadcast on BBC Radio 2 at 12 noon on 20th January 1983
MUSIC WHILE YOU WORK
Played by Nat Temple and his Band
at 12 noon on 20th January 1983
Calling All Workers (Sig)
Thoroughly Modern Millie
Hello Dolly
Cracklin' Rosie
Song Sung Blue
Sweet Caroline
Cavatina
A Fine Romance
My Heart stood Still
Somebody loves me
I'll never fall in love again
Raindrops keep falling on my head
Come Fly with Me
Love is a tender trap
Nice 'n Easy
Lollipops and Roses
Happy Days and Lonely Nights
Among my Souvenirs
On the sunny Side of the Street
California Here I Come
Calling All Workers (Sig)
Eric Coates
Sammy Cahn
Jerry Herman
Neil Diamond
Neil Diamond
Neil Diamond
Stanley Myers
Jerome Kern
Richard Rodgers
George Gershwin
Burt Bacharach
Burt Bacharach
Sammy Cahn
Sammy Cahn
Lew Spence
Tony Velona
Fred Fisher
Horatio Nicholls
Jimmy McHugh
Al Jolson/De Silva
Eric Coates
---


Listen to 'Music While You Work' played by Nat Temple and his Band
as broadcast on BBC Radio 2 at 12 noon on 4th October 1983
MUSIC WHILE YOU WORK
Played by Nat Temple and his Band
at 12 noon on 4th October 1983
Calling All Workers (Sig)
American Patrol
We'll meet again
Medley:
. Cracklin' Rosie
. Song Sung Blue
. Sweet Caroline
Cavatina
Best years of my life
I'll never fall in love again
Raindrops keep falling on my head
Amor.Amor
Theme from 'Rhapsody in Blue'
Sunny side of the street
Calling All Workers (Sig)
Eric Coates
Jerry Gray
Dennis King
Neil Diamond



Myers
Jaymes
Burt Bacharach
Burt Bacharach
Gabriel Ruiz
George Gershwin
Jimmy McHugh
Eric Coates
---


Listen to 'Music While You Work' played by Nat Temple and his Orchestra
as broadcast on the BBC Light Programme at 3.41pm on 29th September 1965
MUSIC WHILE YOU WORK
Played by Nat Temple and his Orchestra
at 3.41 p.m. on 29th September 1965
Calling All Workers (Sig)
Selection: Mary Poppins
March of the Mods
Make It Easy On Yourself
A Walk in the Black Forest
Granada
What's New, Pussycat?
Lollipops and Roses
Selection: West Side Story
That's the Way
Girl from Ipanema
I Love You and Don't You Forget It
Catch Us If You Can
Happy Days and Lonely Nights
Among My Souvenirs
Sunny Side of the Street
My Old Man
Calling All Workers (Sig)
Coates
Sherman
Carr
Bacharach
Jankowski
Lara
Bacharach
Velona
Bernstein
Blakely
Jobim
Mancini
Clark
Rosa
Nicholls
McHugh
Collins
Coates
---