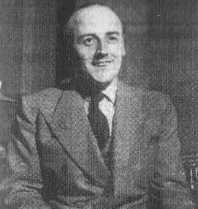 Many bands of the past attempted to create their own style, some more successfully than others. Perhaps one of the most distinctive styles of all time belonged to Billy Ternent. Indeed, the phrase 'that unmistakable sound' will always be synonymous with him on broadcasts and records.
Billy Ternent took up the violin at the age of seven and his first job was with a trio at a North Shields cinema when he was 12. At 16, he was conducting a cinema orchestra on a circuit run by George Black. He made his first broadcast with a sextet from a tea room in Newcastle, later playing at the famous Kit-Kat Club in Piccadilly. It was probably his long spell with Jack Hylton and his Orchestra (1927 to 1939) that really brought him to the public's attention, during which time he acted as Deputy Conductor and principal arranger. Many well-known bandleaders were better managers than they were musicians — some bands even regarded their conductor as a liability! Not the case with Frederick William Ternent, who was a fine and much respected musician who could, and sometimes did, play every instrument in the orchestra. This was very useful to Jack Hylton, who was able to use him whenever a player was off sick.
In September 1939, Billy Ternent was appointed conductor of the BBC Dance Orchestra or 'The Dance Orchestra' as it was then called. He conducted the first ITMA broadcasts with Tommy Handley, worked on 'Variety Bandbox', and had a weekly slot on 'Music While You Work'. When he resigned from this post in 1944, he handed over the baton to Stanley Black, who conducted the band until its demise in the early fifties.


Billy Ternent and his Orchestra - Butlins Clacton 1950s
At this point Billy Ternent formed a new band with which he went on tour. The band's signature tune was 'She's My Lovely', from the musical 'Hide and Seek'. This, however, attracted some complaints due to the fact that the opening glissando, to some people, sounded like the start of an air-raid warning! Nevertheless, it remained the signature tune of Billy Ternent and his Orchestra for many years to come. The original 1943 Decca recording featured the singing of actor/guitarist Ken Beaumont, who was later to find fame on the radio with his sextet.
The secret of Billy Ternent's success was the combination of the superb musicianship of both leader and players, coupled with having created one of the most distinctive styles in broadcasting. It was a seemingly old-fashioned style, using a tenor-dominated saxophone section with a strong vibrato (perhaps reminiscent of Guy Lombardo) and a trumpet section which was frequently required to play muted passages with rapid triple tonguing — a sort of 'stuttering' effect — possibly inspired by the American band of Hal Kemp. The overall effect, however, was original and required a musical expertise far above that of the average palais player; indeed, the top session men Billy used found the arrangements to be very challenging.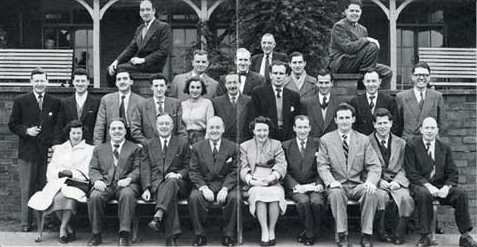 Billy Ternent and his Orchestra - Fort Dunlop 1953
The late Roger Moffat, best known for his humorous presentations of the BBC Northern Dance Orchestra, often comp?red Billy's programmes in later years. On one occasion he told Ternent on air, "You are very old-fashioned." "No I'm not," Ternent retorted, "I'm very modern!" Actually, this was in some ways quite true because even though the arrangements (penned by Ternent himself) alluded to styles of the past, they were highly complex — even sophisticated.
Roger Moffatt was in the habit of engaging Billy Ternent in conversation during the broadcasts — most of it was scripted but not always. Indeed, some of his ad-libs displeased the BBC and eventually cost him his job.
On one occasion Roger Moffatt said to Billy Ternent, "Hey Bill — I hear that they're taping these broadcasts down at the Foreign Office! You know when your lot go 'uh uh uh uh,uh uh,uh,uh' — all staccato like on the trumpets? Well, they think you're transmitting coded messages to a foreign power!"
Despite the 'holocaust' in radio music when, in the sixties, most dance bands and light orchestras were unceremoniously dumped by the BBC, Billy Ternent and his Orchestra survived, broadcasting regularly until the mid-seventies.
Billy Ternent, who was born in Newcastle on 10th October 1899, died on 23rd March 1977, but this amiable Geordie can still be remembered through his legacy of 78s and long-playing records (now available on CD), spanning a long and distinguished career.


Listen to Billy Ternent and his Orchestra
55 minute radio programme from 1974
---


Listen to Billy Ternent and his Orchestra
45 minute radio programme from 1969
introduced by Roger Moffatt
---


Listen to Billy Ternent and his Orchestra
playing 'Goodnight Sweetheart' by Ray Noble
(45 second clip)
---
MUSIC WHILE YOU WORK at 3.30 p.m. on 13th March 1950
Played by Billy Ternent and his Orchestra
Calling All Workers (Sig)
You Forgot to Remember
My Thanks to You
Kiss Me Sweet
Long Long Ago
The World is Waiting for the Sunrise
Best of All
Boa Noite
A Rose in a Garden of Weeds
Lovers Lane Has Everything
The Harry Lime Theme
Is It True What They Say About Dixie
Calling All Workers (Sig)
Coates
Berlin
Gay
Drake
Brown
Lockhart
Dewar
Warren
David
Denson
Karas
Lerner
Coates
---