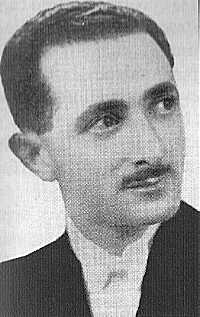 The qualifications Doctor of Psychology, Doctor of Metaphysics and Licentiate in Chromotherapy are not the usual credentials of a palais bandleader; however, they were certainly the credentials of Lou Preager, who was at one time a Director of the Park Royal Hotel in Brighton, owner of Harmony Book Publishing Company, Managing Director of an art production factory, founder of the Golden Bell Record Company, Managing Director of Tele Variety Ltd., owner of Radius Film Productions and Director of Lou Preager Productions. He was also a practising psychologist and a Fellow of the British Federation of Psychologists. Oh yes, he was also a bandleader!
Lou Preager was born in London on 12th January 1906. Whilst still at school, he played the piano in light orchestras and dance bands. After leaving school at 16, he spent several years in a chartered accountant's office and with a solicitor in an advertising agency. I recall him once saying on radio that he regarded these years as the wasted years of his life!
At the age of 19 he became a professional — in the capacity of musician, comedian and stage manager in touring revues. He played in West End clubs, and joined the Maurice Handford Band at the Piccadilly Hotel, giving his first broadcast with the band in 1928. In 1931, the Monseigneur Restaurant wanted a tango band, so Lou joined a combination fronted by Eugene Pini. Curiously, despite the billing of 'Eugene Pini and his Tango Orchestra', Lou Preager always insisted that he was the Musical Director.
It was during this period that Lou met Billy Reid and together they formed the Billy Reid Accordion Band. As Lou Preager did not know how to play the accordion, Reid gave him an intensive three-day course! Lou then joined the Gene Louis Band at Selfridges, playing for tea-dances in the afternoons but directing a Continental-style band in the Mayfair Restaurant in the evenings.
It appears that nobody ever did anything for long in those far-off days and 1933 found Lou Preager leading an 11-piece band at Ciro's but transferring within weeks to Romano's in the Strand, issuing his first gramophone record in 1935. The band's appropriate signature tune at that time was 'Let's All Go Down The Strand'. Lou's Accordion Serenaders were also broadcasting around this time.
In 1937, Lou took a band on tour, taking up a residency in Bangor until the outbreak of war. Despite immediately offering himself for service, he was told to continue entertaining. He therefore formed a show band, which he took to France. Having been machine-gunned on route, however, the band was immediately sent back to England for its own safety.
After a spell of ambulance driving, Lou joined the Intelligence Corps in 1941, but, whilst training for a commission in Scotland, he was involved in a serious motor accident (ironically, whilst off-duty) and his right arm was smashed. It was only after eight months' intensive hospital treatment that he was able to get his arm reasonably straight.
He was invalided out of the Army in 1942 but was soon fit enough to form a 14-piece ballroom orchestra at the Hammersmith Palais, where he was destined to stay for nearly 18 years. He started broadcasting regularly as 'Lou Preager and his Correct Tempo Ballroom Band' (as it was initially called). He sometimes broadcast live from the Hammersmith Palais in such shows as 'Saturday Night at the Palais', as well as doing studio sessions with singers such as Paul Rich, Edna Kaye and Rita Williams. He began a long association with 'Music While You Work' in 1942, playing quickstep medleys interspersed with other dance rhythms — the hotter, big-band-style numbers being reserved for other programmes.
Many readers will remember his distinctive, somewhat martial arrangement of 'Calling All Workers', making effective use of fanfares on the trumpets with the melody played underneath on the saxophones. Although his signature tune was now 'On the Sunny Side of the Street', he normally closed his MWYW programmes with 'Whispering', featuring tenor sax and piano and gradually speeding up to link with 'Calling All Workers'. He did 96 editions.
Whilst at the Hammersmith Palais, Lou played opposite Harry Leader and Phil Tate. The latter was playing for the revival series of MWYW in 1982 when it became apparent that the band was tight on time. One musician called out: 'Let's do a Lou Preager and speed it up', and another musician interjected 'That's right — let's play Whispering'!
One of Lou's biggest broadcasting successes was a song writing contest called 'Write a Tune for ?1000'. The 52 programmes took place during the years 1945, 1947 and 1950 and produced a number of successful tunes, notably 'Cruising Down the River', which made a fortune for a couple of spinsters, Nellie Tollerton and Elly Beadell. Nowadays, there's the Eurovision Song Contest, about which the less said the better.
Lou Preager and his Orchestra were featured frequently on televisIon, with 'Palais Party' on ITV in 1955 and later with the very successful 'Find a Singer', for which Lou wrote the script, shared the presentation and was involved with the production, as well as conducting the band! In 1959, he decided that it was time for a change and his orchestra moved to the Lyceum in The Strand. He was regularly featured on television's 'Come Dancing' in the days when this programme came simultaneously from two ballrooms, each in the region of the competing teams. In later years Lou appeared as an adjudicator.
In 1962 ill health caused Lou Preager to retire. Internal operations in 1955, 1961 and 1962 affected him for the rest of his life. During his career he had won several trophies, including, on three occasions, the Carl Allan Award for the best palais band. Lou left London and went to live in Slough, where he bought the local Carlton Ballroom. After a heart attack in 1967, however, he sold the ballroom, settling down to a quiet life playing golf, billiards and snooker.
Over the years, Lou Preager made records for Panachord (some as Don Luiz and his Tango Band), Regal Zonophone and Columbia. Some of his Columbia 78s were reissued on a President LP. Lou also recorded as Lou Preager's Mink Tone Music — strict-tempo ballroom music in the which the brass section used mutes lined with mink! This might sound like publicity talk, but Lou actually cut up his wife's discarded mink coat so that the mutes could be lined with it. This created quite a distinctive sound which he used for 'Music While You Work'.
In the fifties, Lou Preager was well-known as a disc-jockey - introducing 'Housewives' Choice' and his own 'Record Serenade', 'Meet My Friends', 'Platter Playtime' and 'Listen With Lou'.
Lou Preager was a complex man, intense and serious and, apparently, not one to suffer fools gladly, but he was also known to be gentle, generous and kind-hearted. As I mentioned earlier, he had impressive qualifications as a psychologist and, so I'm told, practised faith healing. Quite an extraordinary man! He died on 14th November 1978 at the age of 72.


Listen to 'Music While You Work' played by Lou Preager and his Orchestra
as broadcast on 7th. September 1959.
MUSIC WHILE YOU WORK
3:45 pm on 7th. September 1959 - Light Programme
played by Lou Preager and his Orchestra
Calling All Workers (sig)
Truckin'
Ida
Summer Sweetheart
I love to sing
Falling in Love Again
I love you truly
Beautiful Lovable
There's a blue ridge round my heart
I can't give you anything but love
On the Sunny Side of the Street
I can't believe that you're in love with me
Pardon Me, Pretty Baby
Tango Monaco
Porto Rico
Sicilian Samba
If yesterday could come again tomorrow
I'm in a Dancing Mood
Dancing with my Shadow
Galway Bay
Trudie
Lovable and Sweet
'S Wonderful
Hallelujah
Smile Darn ya Smile
Whispering
Calling All Workers (sig)
Eric Coates
Bloom
Leonard
Gilbert
Misraki
Hollander
Hollander
Munn
Bryan
Gaskill
Brown
Fields
Ross
Herbert
Roland
Lewis
Evans
Sigler
Woods
Calaghan
Henderson
Levant
Gershwin
Youmans
Rich
Schonberger
Eric Coates
---
MUSIC WHILE YOU WORK at 3:45 p.m. on 28th November 1960
Played by Lou Preager and his Orchestra
Calling All Workers (Sig)
Fings Ain't Wot They Used to Be
An Apple for the Teacher
If I Had a Talking Picture of You
Amapola
Always
What'll I Do?
Goody Goody
This Can't Be Love
The Continental
Romantica
Cindy Lou
Bell Samba
Let Yourself Go
Change Partners
Cheek to Cheek
My Little Corner of the World
The Touch of Your Lips
The Very Thought of You
Sicilian Samba
Galway Bay
Along Came Caroline
How About That?
I've Got a Pocketful of Dreams
Sweet Sue
I'm a Dreamer, Aren't We All?
Singing Piano
Feel So Fine
Bon Sante
Spooky
Love Look Away
You Are Beautiful
There a Blue Ridge Round My Heart
I Can't Give You Anything But Love
Pardon Me, Pretty Baby
Truckin'
Ida
Button Up Your Overcoat
Why Do I Love You?
You're the Cream in My Coffee
Whispering
Calling All Workers(Sig)
Coates
Bart
Burke
De Sylva
Lacalle
Berlin
Berlin
Mercer
Rodgers
Conrad
Rascel
Shepherd
White
Berlin
Berlin
Berlin
Pockriss
Noble
Noble
Lewis
Colahan
Stephens
Worth
Burke
Harris
De Sylva
Evans
Lee
Elman
Deane
Rodgers
Rodgers
Bryan
Gaskill
Rose
Bloom
Leonard
De Sylva
Kern
De Sylva
Schonberger
Coates
---