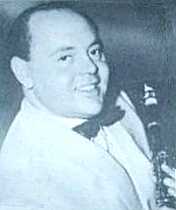 Frederick Ronald Pleydell was born in 1913. As he did not make many records, he has not been well documented, so I am grateful to Terry Brown for providing sufficient information to make this article possible.
Ronnie Pleydell was discovered in February 1932 during a 'Melody Maker' dance band contest. He was playing in a semi-pro group, Jack Mann and his Band, which was placed third in the contest. Pleydell actually won the alto sax award and soon began to get work as an efficient side-man in bands, a reliable session musician who was able to cover absentees in many of the West End's top bands.
In late 1935, Ronnie Pleydell joined the Joseph Q. Atkinson Quartet at the Oxford Galleries in Newcastle, from where he made his first broadcast. In 1937, he joined the Peter Fielding Band at the same location, before doing further session work for the next eighteen months, returning to London in 1939.
Ronnie served in the R.A.F for six years, becoming a member of the No.1. Balloon Centre Dance Orchestra (better known as 'The Skyrockets, directed by Paul Fenhoulet') in 1946. This band played for a revue called 'High Time' at the London Palladium, and impressed Val Parnell so much that he engaged them as the official 'pit orchestra' for the theatre. In September 1946, Ronnie left to form his own band, which made its debut at a theatre/restaurant in Bournemouth called 'The Ballerina' - further residencies following in 1946/47. Ronnie Pleydell also did society 'gigs' with a slightly reduced band.
His usual band, which consisted of nine players (five saxes, trumpet, piano, bass and drums) took up residency at Fischer's Restaurant in January 1948, but they got the sack in August (on economic grounds) and were replaced by the Ray Ellington Quartet. By this time Pleydell was becoming well-known on radio, particularly on 'Music While You Work' for which he provided 129 editions.
After a season at the 'Embassy Club' the orchestra moved to the Trocadero Restaurant. From November 1955 to April 1956 they formed the resident band at the Cresta Ballroom in Luton. In April 1957 they opened at the Park Ballroom, Southampton and from December 1957 they took a three-year residency at the Grand Hotel, Torquay.
The band's signature tune throughout their existance was 'Grey Mist', composed by Ronnie Pleydell. Although it was published, it was never commercially recorded. Indeed, there is no evidence of the regular band having made any records. However, Ronnie Pleydell did go to the recording studios in 1954 with a large concert orchestra to record his composition 'On Fifth Avenue' and this is currently available on CD on the Guild Light Music label. It is possible that this composition was inspired by a long holiday in New York which Ronnie took in 1950.
Having returned to London, Ronnie Pleydell commenced a six-year residency at the 'Latin Quarter' in January 1961, during which time he sometimes broadcast live from the nightclub as well as appearing frequently in 'Music While You Work', 'Morning Music' and 'Breakfast Special'. His orchestra always sounded polished and accurate, with a good, tight saxophone ensemble. Ronnie's clarinet was often well in evidence during his broadcasts.
After leaving the 'Latin Quarter', Ronnie continued to supply bands for corporate functions until the early 1970s when he disbanded.
Ronnie Pleydell died in 1994.
---


Listen to 'Music While You Work' played by Ronnie Pleydell and his Orchestra
as broadcast on the BBC Light Programme at 3.31pm on 23rd May 1966.
---


Listen to 'Music While You Work' played by Ronnie Pleydell and his Orchestra
as broadcast on the BBC Light Programme at 3.31pm on 8th June 1964.
MUSIC WHILE YOU WORK on 8th. June 1964
played by Ronnie Pleydell and his Orchestra
Calling All Workers (sig)
I've got my Love to Keep me Warm
Apple Blossom Time
Tangerine
I love the Little Things
What can it be?
Playtime for Poodles
Caravelle
Whispering
Japanese Sandman
September in the Rain
Rose Room
Ramona
My Prayer
Slightly Latin
And her Mother Came too
A Lot of Living to do
The Very Thought of You
Charade
How About You
Ida
We will Make Love
Toby's Walk
Terminado
Almost Like Being in Love
Calling All Workers (sig)
Eric Coates
Irving Berlin
Von Tilzer
Victor Schertzinger
Tony Hatch
Ubart
Eddie Strevens
Reg Owen
Vincent Rose
Harry Warren
Harry Warren
Hickman
Wayne
Georges Boulanger
Brown
Ivor Novello
Charles Strouse
Ray Noble
Henry Mancini
B. Laine
Manson
Hulme
Ponticelli
Douglas
Frederick Loewe
Eric Coates
---