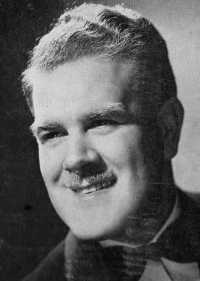 Phil Tate was born in Bramley, Yorkshire, on 28th April 1922 and was educated at West Leeds High School. He developed an early interest in music, taking up the violin at the age of eight.
He concentrated on classical music until the outbreak of war, when he joined the Royal Air Force as a radar mechanic. In 1943 he was transferred to welfare and was then able to form his own orchestra of service musicians called the Silver Wings Dance Orchestra. After demobilisation he formed a civilian orchestra which included most of his wartime players.
In 1948 he accepted an appointment as Musical Director to the Folkestone Corporation and broadcast both from Folkestone and London. Regular broadcasting commenced in 1950, when he gave the first of his 144 'Music While You Work' programmes. This was with a small band which he was then directing at the Hammersmith Palais (opposite Lou Preager) — a residency held by both bandleaders for many years.
Phil Tate subsequently decided to form a larger orchestra for broadcasting and, knowing that the BBC specifically encouraged bands to sound 'different', he set about creating his own particular 'sound' — a blend of three flutes, five saxophones and clarinet with two pianos, trumpet and rhythm. This produced a warm, friendly sound with the same spine-tingling effect as the famous Glenn Miller sound yet in no way was this an imitation of this or any other style.
Phil Tate's orchestra was a firm favourite on radio during the fifties and sixties. He even compéred his own breakfast-time series featuring his orchestra and quintet, which he led on clarinet. By this time, television audiences had come to know him as the resident musical director for the various beauty contests sponsored by Mecca and leading up to the Miss World Contest in the Royal Albert Hall each November. Phil also appeared on the children's television programme 'Crackerjack!' - as a conjuror!
For their broadcasts, the band specialised in strict-tempo dance music and its success led to a contract with Oriole Records and the issue of many 78s and 45 rpm records as well as some long-playing records. Phil Tate and his Orchestra had already been captured on celluloid in the early fifties when they appeared in the film 'Green Grow the Rushes'. It is for radio, however, that Phil Tate is best remembered, and for the 16 years he played regularly in 'Music While You Work'. As his programmes were largely in medley form, he often got through about 40 pieces in a 45-minute programme!
By the sixties, Phil Tate had moved from the Hammersmith Palais to the Ilford Palais and, around 1964, he made some minor changes to the instrumentation of the orchestra and to the style of the programmes by introducing some longer arrangements. He replaced the second piano with a guitar (presumably to facilitate the playing of some current 'pops'). The blend of flutes and saxes was retained.
When the Ilford Palais residency ended, Phil Tate moved to the Locarno in Streatham where he stayed until 1968, at which time he handed the band over to singer Ken Barrie, relinquishing full-time bandleading as he had become part of the Mecca management. However, regular broadcasting continued in Breakfast Special with a slightly smaller combination known as Phil Tate's Windjammers, which had a distinctive but quite different style. This was an eleven piece band consisting of three trumpets, four saxes, piano/organ, guitar, bass and drums. The trumpets were always muted with bucket mutes - hence the title 'Windjammers' and played in unison with the saxes, in a swinging style - not unlike Count Basie.
In 1982, when the BBC brought back MWYW for one week, Phil Tate was asked to reconstitute his orchestra in the style for which it was best remembered. This he did, restoring the second piano and using only arrangements from the original series. The success of this week (and in particular, Phil Tate's broadcast) led to a resumption of the programme in 1983, and Phil again took part. The BBC assumed that he would want to use the Windjammers, but Phil insisted on using the full orchestra as before. So, despite what was shown in the Radio Times, and even incorrectly announced on air, what was broadcast was Phil Tate and his Orchestra!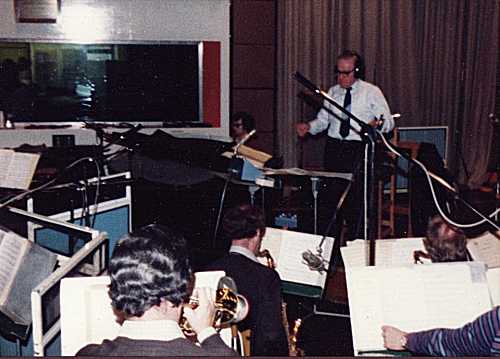 Phil Tate rehearsing the orchestra for a live broadcast on 8th October 1982
By this time, Phil had been out of regular music-making for some while, although he was still conducting for the annual Miss World Contest plus the associated Miss Scotland, Miss Wales and Miss England contests for which he conducted for 27 years! His main occupation now was as Managing Director of Mecca Agencies, a joint position with Ivor Rabin (Oscar Rabin' s son).
In 1990, the BBC celebrated the 50th Anniversary of 'Music While You Work' with a further week of programmes and, once again, Phil Tate took part. It was 40 years since his first appearance on the show and this broadcast was destined to be his swan-song at least as far as radio was concerned. Happily his broadcasting repertoire is now in the safe hands of his pianist of 26 years, Bruce Graham (to whom I'm grateful for some of the information in this article). Having retired from Mecca Agencies in 1987, Phil Tate continued with occasional band work until 1992. For the next eight years he acted as director of the Music Users' Council.
Sadly, the last five years of Phil Tate's life were marred by debilitating illness, and he died on December 9th. 2005. His wife had predeceased him and he is survived by two sons.
---


Listen to Music While You Work played by Phil Tate and his Orchestra
as broadcast on BBC Light Programme at 3.31pm on 13th January 1983
---


Listen to Music While You Work played by Phil Tate and his Orchestra
as broadcast on BBC Light Programme at 3.31pm on 31st August 1964
MUSIC WHILE YOU WORK
played by Phil Tate and his Orchestra
on 31st August 1964
Calling All Workers (Sig)
I won't dance
I love you because
I love you for sentimental reasons
Slightly Latin
Hard Day's night
Nicola
Follow me
Getting sentimental over you
Rise and fall of Flingel Bunt
You
Mandy
Here Comes Summer
Girl from Ipanema
She Loves me
Let's get away from it all
Old Piano Roll Blues
Relax-ay-vous
Answer Me
Spanish Harlem
Don't throw your love away
Come Fly with me
Jacaranda
Put on a happy face
Zing went the strings of my heart
Ma, he's making eyes at me
Calling All Workers (Sig)
Eric Coates
Irving Berlin
Leon Payne
William Best
Johnny Douglas
Lennon/McCartney
Steve Race
Frederick Loewe
George Bassman
Hank Marvin
Evans
Elliott
Kerry Keller
Antonio Carlos Jobim
Gerry Bock
Matt Dennis
Cy Coben
Sammy Cahn
Winkler
Phil Spector
Billy Jackson
Jimmy van Heuson
Phil Tate
Charles Strouse
James Hanley
Con Conrad
Eric Coates
---


Listen to Music While You Work played by Phil Tate and his Orchestra
as broadcast on BBC Radio 2 at 3.30pm on 25th June 1990
---


Listen to Music While You Work played by Phil Tate and his Music
as broadcast on BBC Radio 2 at 12.00pm on 5th October 1983
MUSIC WHILE YOU WORK
played by Phil Tate and his Music
on 5th October 1983
Calling All Workers (Sig)
Great Day
Heart
I'll get by
Sitting on top of the world
Blue Skies
Rainbow round my shoulder
World is waiting for the sunrise
Hold my hand
Magic Moments
Kiss me Honey
A Fine Romance
Eternally
Love Letters
A Certain Smile
Jeepers Creepers
Gal in Calico
Rose of Wahington Square
Luxembourg Polka
Gigi
When my dreamboat comes home
Calling All Workers (Sig)
Eric Coates
Vincent Youmans
Adler
Ahlert
Young
Irving Berlin
Al Jolson
Seity
Lawrence
Burt Bacharach
Timothy
Jerome Kern
Charles Chaplin
Young
Payne
Harry Warren
Schwarz
MacDonald
Reissdorf
F. Loewe
Franklin
Eric Coates
---


Listen to Music While You Work played by Phil Tate and his Orchestra
as broadcast on the BBC Light Programme at 10.31am on 11th March 1965
MUSIC WHILE YOU WORK at 10.31am on 11th March 1965
played by Phil Tate and his Orchestra
Calling All Workers (Sig)
Too Close for Comfort
People
Garden in the Rain
Genie with the Light Brown Lamp
On the Street Where you Live
Maggie Maggie May
Walk Away
Folks get married n the Spring
I'll never find another You
Dear Heart
Mexican Shuffle
I'll Walk Alone
A Spoonful of Sugar
Jacaranda
Put on a Happy Face
Calling All Workers (Sig)
Eric Coates
Jerry Bock
Jule Styne
Carroll Gibbons
Hank Marvin
Frederick Loewe
Lionel Bart
Jurgens
Walsh
Springfield
Henry Mancini
Herb Alpert
Jule Styne
Sherman
Phil Tate
Strouse
Eric Coates


Listen to Music While You Work as broadcast at 3.30pm on 8th October 1982
played by Phil Tate and his Orchestra
MUSIC WHILE YOU WORK
played by Phil Tate and his Orchestra
on 8th October 1982
Calling All Workers (Sig)
Poppa Piccolino
There, I've said it again
Broadway Melody
Jubilee hayride
Serenata
From Russia with love
Cherry Pink
Alabama Jubilee
Everybody loves somebody
A fine romance
People
Among my souvenirs
Sing a song of sunbeams
A pocketful of dreams
Meet the sun halfway
Kiss me honey
Under the bridges of Paris
Swinging Safari
I'm in a dancing mood
Dancing with my shadow
My hat's on the side of my head
Eternally
When my dream boat comes home
Calling All Workers (Sig)
Eric Coates
Mascheroni
Evans, Mann
Nacio Herb Brown
Syd Dale
Leroy Anderson
John Barry
Louiguy
Cobb
Lane
Jerome Kern
Jule Styne
Horatio Nicholls
Monaco
Monaco
Monaco
Timothy
Vincent Scotto
Bert Kaemfert
Sigler
Harry Woods
Harry Woods
Charles Chaplin
Dave Franklin
Eric Coates
---


Listen to a broadcast of Music While You Work by Phil Tate and his Orchestra
*** As the precise date of this broadcast is unknown, I am unable to provide a listing at this time,
however the undernoted listing will give an idea of the type of programme provided by Phil Tate in the early Sixties ***
---
MUSIC WHILE YOU WORK at 3.45 p.m. on 2nd January 1961
Played by Phil Tate and his Orchestra
Calling All Workers (Sig)
I'm in a Dancing Mood
Dancing With My Shadow
My Hat's on the Side of My Head
My Little Corner of the World
Whispering Tango
You Turned the Tables on Me
El Pandero
Red Sails in the Sunset
Dreamin'
Everything's in Rhythm With My Heart
One, Two, Button My Shoe
Just in Time
Snowcoach
Paradise
Isn't This a Lovely Day
Easter Parade
Madeleine
Cindy Lou
Love Walked In
The Love Nest
I've Got My Eyes
Romantica
Rustlin'
Cuban Fiesta
To Each His Own
High Tide, Low Tide
Rosalie
You're the Cream in My Coffee
There's a Small Hotel
Don't Blame Me
Try a Little Tenderness
Somebody Loves Me
Once in a While
Kickin' Up the Leaves
Mountain Greenery
Ain't She Sweet
You Forgot to Remember
Rosemarie
Bye, Bye, Baby
Calling All Workers (Sig)
Coates
Sigler
Woods
Woods
Pockriss
Munro
Alter
Baker
Kennedy
De Vorzon
Sigler
Burke
Styne
Stanford
Brown
Berlin
Berlin
Addison
Shepherd
Gershwin
Hersch
Porter
Rascel
Russell
Ellis
Livingstone
Race
Porter
De Sylva
Rodgers
McHugh
Woods
Gershwin
Edwards
Bart
Rodgers
Green
Berlin
Friml
Robin
Coates
---