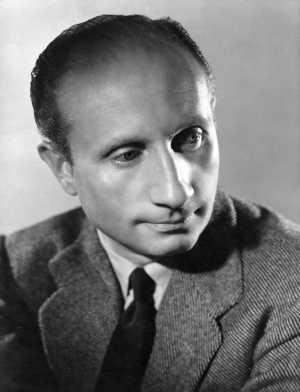 Jack Nathan was born in London on 23rd August 1910. Upon leaving school he took up a position as Assistant Secretary in a manufacturing company in the City, with a view to becoming an accountant. In 1932 he started doing gigs with a quintet at a road-house called the Spider's Web on the Watford By-Pass. The group included Ivor Mairants, Les Lambert and Harry Gold, three musicians who were destined to be associated with him for many years to come. The Spider's Web engagement came to an end after six months and, coincidently, Jack lost his day job in the same week!
As music was clearly in his blood, he decided to make it a career and joined Jack Padbury's band (together with Harry, Ivor and Les) at the Prince's Restaurant in Piccadilly. In October of 1932, Roy Fox, who was moving to the Café Anglais from the Monseigneur, offered all four musicians jobs in his band.
To be playing in one of Britain's foremost bands within a few months of joining the profession was no mean achievement and was undoubtedly recognition of Jack's pianistic skill. During his six years with Roy Fox, Jack also used his talents as an arranger, being ultimately responsible for two-thirds of the band's arrangements. In 1936, he arranged a concert version of 'Whispering', which he subsequently conducted on a recording by the Roy Fox Band.
In 1938, Jack joined Canadian bandleader Billy Bissett at the Café de Paris, leaving in 1939 to form his own band at an exclusive club called La Suiva. In October 1940, he joined the RAF, leading a station dance band and conducting a military orchestra.
Upon demobilisation in 1946, Jack Nathan played in the Harry Hayes Band at Churchill's Club prior to returning to Roy Fox for a short spell as pianist/arranger at the Milroy. He then joined the London Coliseum Orchestra under the direction of Reginald Burston for the musical 'Annie Get Your Gun'.
It was in 1947 that Jack Nathan re-formed his own nine-piece band. For a while he was resident at Churchill's Club, moving on to The Nightingale and the '96' Restaurant. Within a few months of their formation, Jack Nathan and his Band started broadcasting and, in 1948, joined the regulars in 'Music While You Work', appearing 146 times during the ensuing two decades.
In 1950, Jack took an 'All Star' band to the Edmundo Ros Club, where he stayed for six years. He was a superior dance band pianist with a unique style which is difficult to describe; it was a bold, positive style, skilfully using the left hand to achieve much variety of expression. Curiously, the band's arrangements exactly reflected his piano style, with 'push' and vitality.
After Jack Nathan's band left the Edmundo Ros Club, they alternated between the Pigalle and Churchill's for 18 years, after which time they moved to the Stork Club near Piccadilly. Although the band stayed there until the club's closure in 1981, Jack did not. Having had a minor motor accident in 1980, he was taking tablets for a stiff shoulder. Unfortunately, these had alarming and unexpected side-effects, resulting in Jack suffering an internal haemorrhage. He spent a year in hospital, where he had four major abdominal operations. He was lucky to recover but remained a far from well man. Nevertheless, he continued to perform as a solo pianist several evenings a week for many years.
Quite apart from his 'Music While You Work' appearances, Jack Nathan broadcast in many other programmes over the years. He had a quintet in the early morning series 'Bright and Early' and gave regular recitals in 'Piano Playtime', occasionally doing live late-night broadcasts from Churchill's with his band.
Jack was well regarded at the BBC, whose executives knew that he could always be relied upon to organise his broadcasts efficiently, many of which were introduced by his signature tune 'Happy Listening', written by Jack in 1947. Another of his compositions, 'Dizzy Daisy', was recorded by him as a piano solo in 1938. I am not aware of any recordings by his regular band but he did make some long-playing records for EMI in the late sixties with a 'big band', the first of which was entitled 'If Glenn Miller Played the Hits of Today'. Around this time, Jack also directed an orchestra called ' The Rustle of Strings' for a number of 'Breakfast Special' sessions.
Less known was the fact that Jack Nathan also wrote a number of film scores, collaborating with Basil Kirchen on 'The Abominable Dr Phibes', 'The Shuttered Room', 'The Strange Affair' and 'I Start Counting'. In 1984 he wrote an arrangement of Jewish folk songs for the Reginald Leopold Orchestra to broadcast in 'Melodies For You'. Jack Nathan died early in 1990, a modest, cultured and charming man, highly respected as a musician and as a person. He left a widow, former Television Topper Patricia Worth, to whom he had been married for 36 years. They had three children.
---


Listen to 'Music While You Work' played by Jack Nathan and his Band
as broadcast on The BBC Light Programme on 8th. December 1965 at 10.31am.
MUSIC WHILE YOU WORK
played by Jack Nathan and his Band
on 8th December 1965
Calling All Workers (sig)
Medley:
. Ain't We Got Fun
. Lulu's Back in Town
. Rose of Washington Square
Yesterday
Charlie Girl
White Christmas
Medley:
. Aren't You Glad You're You
. Taking a Chance on Love
Here it Comes Again
Hey Good Looking
Almost There
Winter Wonderland
The First Time It Snowed
A Walk in the Black Forest
Francesca
I Could Have Danced All Night
Medley:
. June is Busting Out All Over
. Have You Met Miss Jones
Aqua Marina
Hello Dolly
Medley:
. When I Take My Sugar to Tea
. Cool, Cool, Cool of the Evening
. Hit the Road to Dreamland
Calling All Workers (sig)
Coates

Whiting
Warren
Hanley
Lennon/McCartney
Henneker
Berlin

Van Heuson
Duke
Reed
Williams
Shayne
Bernard
Worth
Jankowski
Galbraith
Lerner/Loewe

Rodgers
Rodgers
Gray
Herman

Norman
Carmichael
Arlen
Coates
---


Listen to 'Music While You Work' played by Jack Nathan and his Band
as broadcast on The BBC Light Programme on 16th. December 1966 at 10.31am.
---