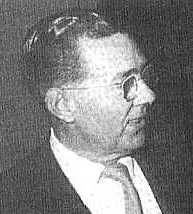 Ronald George Munro was born in London in 1897. He started to play the piano at the age of eight. Initially, he took lessons from his mother but was later taught by Charles Woodhouse. At 17 he went to study at the Guildhall School of Music, under Joseph Speight. From 1915 to 1918 he served in the Army, but upon demobilisation decided on a career in music. He started as pianist in Moody's Club in Soho, also playing in other West End clubs, as well as the Bow Palace and Lyons' Corner Houses. In 1923, he joined the Emlyn Thomas London Band, which played in cinemas and theatres, followed in 1926 with a spell at Jade's Club In Golden Square (formerly the Little Club). Around this time, Ronnie Munro was becoming increasingly busy as an arranger and won arranging contests sponsored by the Daily Sketch and Melody Maker. An arrangement of 'Carolina' resulted in an engagement with Debroy Somers and the commencement of his recording career. In 1926 he had a recording contract for his own band with Parlophone, becoming the label's Director of Dance Music, a job he did for some years. This was the beginning of a 13-year relationship with EMI. Ronnie also recorded for HMV, Regal Zonophone and Columbia. He used a variety of pseudonyms on record, including: The Roof Garden Orchestra, The Merton Orchestra, Parlophone Syncopaters, West End Players and many others. The hand-picked personnel for these recordings included Max Goldberg, Carroll Gibbons, Ted Heath, Freddie Gardner, George Evans and Jack Simpson.
Ronnie Munro became Musical Director of HMV's house orchestra (The New Mayfair Orchestra), composing and arranging extensively for Jack Hylton, Lew Stone, Percival Mackey, Henry Hall and Ambrose, whose signature tune 'When Day Is Done' was orchestrated by Munro in an elaborate concert style. The thirties was possibly the busiest period of Ronnie Munro's career as, in addition to playing with several bands, he arranged music for films, being Musical Director for British National Pictures throughout the period.
Ronnie Munro's big break, as far as broadcasting was concerned, came late in 1940 when he was appointed conductor of the newly formed Scottish Variety Orchestra (the prefix BBC wasn't used until after the war). He was soon broadcasting several times a week and making records with the orchestra. One of his most popular shows was 'Sunday Serenade', which ran for several years. Ronnie stayed with the Scottish Variety Orchestra until 1944, when he handed the baton over to Kemlo Stephen, although he continued to play in 'Sunday Serenade' with his own orchestra, usually broadcasting from wherever the orchestra happened to be located at the time.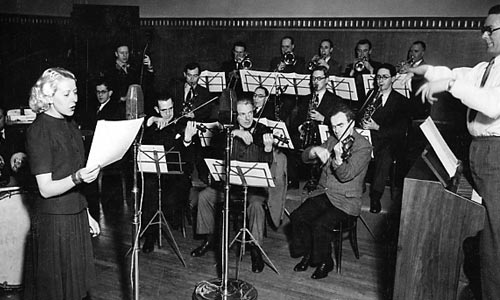 March 1942. The BBC Scottish Variety Orchestra conducted by Ronnie Munro, with Ann Rich at the microphone.
It is evident from information available to researchers at the BBC Written Archives Centre that Ronnie Munro's departure from the Scottish Variety Orchestra was far from smooth. He had arranged hundreds of pieces for the orchestra and had come to regard them as his own property. Furthermore, he intended to continue to use them in 'Sunday Serenade' with his own orchestra, so he took them away with him. Unfortunately, the BBC was adamant that the arrangements were not his property and could only be used with prior permission. A BBC representative therefore went to his home and reclaimed them! After some negotiation, Ronnie Munro was finally loaned three weeks' supply of scores, by which time he was expected to have written new arrangements for the series! 'Sunday Serenade' continued under Ronnie's direction until 1946. On one occasion his car was broken into outside his home and all his arrangements for the following day's broadcast were stolen. Undeterred, Ronnie sat up all night rewriting them so that the broadcast could go ahead. (Anybody who has ever written out an orchestration, complete with band parts, will realise that this was an enormous and seemingly impossible task.)
After Ronnie Munro's 'Sunday Serenade' ended (reverting to the BBC Scottish Variety Orchestra), he got a few broadcast dates with his dance band, but a row blew up during a 'Music While You Work' rehearsal when a sound engineer told the saxophone section that they were playing too loudly. The musicians, including Ronnie Munro, took exception to this interference, declaring it to be 'nonsense and out of order'. The engineer then went into the next studio to find a colleague who would back him up. In this hostile atmosphere the ensuing broadcast did not go well. At one point the pianist was playing one tune with the saxes playing another and they virtually ground to a halt in the signature tune, apart from one trumpet which managed to keep going. Possibly as a result of this incident, Ronnie Munro's dance band ceased to be offered broadcasts and when he enquired in 1950 as to the reason, he was curtly told that the Light Programme was not in the market for his kind of show.
Although 'off the air', Ronnie Munro's band continued to tour the country, playing five summer seasons at the Butlin's Holiday Camp in Ayr and, in 1949 and 1950, visiting Eire, where his became the first British band to broadcast on Radio Eireann. As far as I can ascertain, he didn't resume broadcasting for the BBC until the mid-fifties.
At this point, let us pause to review Ronnie Munro's talents as a composer. He wrote several popular songs, including 'All Over Italy' and the curiously titled 'Gertie the Girl With the Gong'; however, he is surely best-remembered for his light orchestral compositions, such as 'Punch and Judy Polka', 'Miss Pony Tail', 'Estorella' (paso doble), 'The Musical Typist', 'Ski Waltz', 'Fly Away Peter', 'Summer Promenade' and 'Galapagos'.
On the recording side, Ronnie Munro made a number of records on the Decca 'Music While You Work' label, with both the Scottish Variety Orchestra and what he termed his 'waltz orchestra'. Decca subsequently reissued a number of Strauss waltzes from these 78s on one of their first long-playing records.
Picking up his broadcasting career, Ronnie Munro formed a light orchestra in 1956 which, initially, consisted of strings, woodwind, clavioline (later organ), harp, piano and rhythm. At this time he was using different-sized combinations for different programmes including his eight-piece salon ensemble, Harmony Music, and orchestras of 12 or 17 players. He later standardised to one 17-piece orchestra specialising in tuneful, rhythmic light music. The orchestra consisted of strings, organ, piano and rhythm, the organ, usually played by William Davies. It had a most attractive sound, the combination of organ with strings giving a warm, friendly effect.
In 1962 Ronnie Munro formed a 'more economical group'; his idea being to use variable percussion effects produced by the two percussionists and the second guitar. Electronic organ was again present, with Munro on piano. Never was the phrase 'kitchen sink department' more apt, as the players appeared to be rattling and banging everything except each other! He wanted to call the group 'his Combo' but the BBC insisted on the more formal title of Ronnie Munro and his Sextet.
For a time the sextet's broadcasts alternated with those of the orchestra but Munro, worried that the sextet could actually threaten the existence of the orchestra, asked the BBC if the group could be used in 'Morning Music', keeping the orchestra for 'Music While You Work'. The BBC's response was to axe the orchestra, the small group obviously being more economical from their point of view. Actually, by 1965 there were eight players in the group, although it was a long time before the billing changed from 'Sextet' to 'Music'. Over the five years of the group's existence, Ronnie Munro made several changes to both the style and instrumentation. In its final form, it comprised two saxophones (doubling flutes), musette accordion (played by Albert Delroy), piano, bass, percussion and two guitars (one of which was played percussively). Ronnie Munro's BBC career came to an end in 1967 when the group was given some sessions in 'Breakfast Special'.
Ronnie Munro had been a stalwart contributor to MWYW over the years, appearing with most of the combinations which he had directed, namely the Scottish Variety Orchestra (91 performances), Dance Band (10), Harmony Music (1), Light Orchestra (52) and Sextet (28).
When it became apparent that no further broadcasts were going to be forthcoming, Ronnie Munro and his wife took the decision to emigrate to Johannesburg - a logical step as he had, during the sixties, played piano and organ on cruises from Southampton to South Africa. Once there, he re-formed his orchestra for broadcasting, and eventually became Head of Light Music for SABC.
He retired in 1975 and died on 3rd July 1989, having been blind for the last seven years of his life.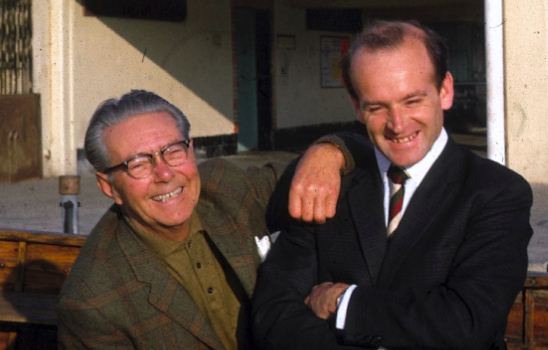 Ronnie Munro (left) with his drummer Peter Ward on the seafront at Brighton 1969


Listen to 'Music While You Work'
played by Ronnie Munro and his Sextet
as broadcast around 1963/1964
MUSIC WHILE YOU WORK
played by Ronnie Munro and his Sextet
circa 1963/1964
Calling All Workers (sig)
Limehouse Blues
Shy Serenade
Street of Linden Trees
Maigret Theme
Bracken Brew
Cherokee
Boom
Ladies of Calcutta
Taverna
Flywheel
Lonesome Ranger
Trudie
In a Persian Market
???
Scenic Railway
Calling All Workers(sig)
Eric Coates
Philip Braham
George Scott-Wood
Harold Geller
Ron Grainer
Martin
Ray Noble
Charles Trenet
Gaze
Norrie Paramor
Ronnie Munro
Cecil Norman
Joe Henderson
Albert Ketelbey
???
Roger Roger
Eric Coates
---


Listen to 'Music While You Work'
played by Ronnie Munro and his Sextet
as broadcast on the BBC Light Programme at 3.31pm on 13th May 1966
MUSIC WHILE YOU WORK
played by Ronnie Munro and his Sextet
on 13th May 1966
Calling All Workers (sig)
Betty Dear
A Walk in the Black Forest
Medley:
. Jeepers Creepers
. I'm Young and Healthy
. Lullaby of Broadway
Swinging Baroque
Second Hand Rose
Medley:
. Where is your heart
. Sous les toits de Paris
. Pigalle
Bond Street Rag
Medley:
. Positano
. Pepito
. Mexican Serenade
Medley:
. Darktown Strutters Ball
. Je vous aime beaucoup
. Jada
Medley:
. You stepped out of a dream
. Laura
The Seine
Punch and Judy Polka
Medley:
. How deep is the Ocean
. Poinciana
. From Russia with love
Russ Conway Selection:
. Sidesaddle
. China Tea
. Roulette
Arriverderci Roma
Poor People of Paris
Jumping Jiminy
La Vie en rose
Volare
Swedish Rhapsody
Luxembourg Polka
Calling All Workers(sig)
Eric Coates
Raymond Agoult
Horst Jankowski
Norman Warren



Diernhammer
James Hanley

Larue
Rouel Moretti
George Ulmer
Inez Holland

Jack Coles
William Hill-Bowen
Jack Coles

Shelton Brooks
Anna Rossanko
Bob Carleton

Nacio Herb Brown
David Raksin
Guy La Farge
Ronnie Munro

Irving Berlin
Nat Simon
Lionel Bart
Trevor Stanford



Renato Rascel
Margerite Monnot
Moody
Luis Guglielmi
Dom. Modugno
Hugo Alfven
Emile Reisdorff
Eric Coates
---


Listen to 'Music While You Work'
played by Ronnie Munro and his Sextet
as broadcast on the BBC Light Programme at 10.31am on 24th January 1966
MUSIC WHILE YOU WORK
played by Ronnie Munro and his Sextet
on 24th January 1966
Calling All Workers (sig)
A Walk in the Black Forest
Hello Dolly
Jealous Heart
Jeepers Creepers
Young and Healthy
Lullaby of Broadway
I'm in Love with Love
I love Paris
Portugal in Paris
Oh what a Beautiful Morning
People will Say we're in Love
Surrey with the Fringe on Top
Tropical Romance
Betty Dear
It's a Sin to tell a Lie
Winter Wonderland
Snow Bells
Tokio Melody
Ski Waltz
Frasquita Serenade
Trolley Song
Calling All Workers(sig)
Eric Coates
Horst Jankowski
Herman
Carson
Harry Warren
Harry Warren
Harry Warren
Dierhammer
Cole Porter
Ferrao
Richard Rodgers
Richard Rodgers
Richard Rodgers
Ronnie Pleydell
Raymond Agoult
Mayhew
Bernard
Kent
Helmut Zacharias
Ronnie Munro
Franz Lehar
Blayne
Eric Coates
---


Listen to 'Music While You Work'
played by Ronnie Munro and his Sextet
as broadcast on 21st October 1963
MUSIC WHILE YOU WORK
played by Ronnie Munro and his Sextet
on 21st October 1963
Calling All Workers (sig)
The Exececutioner's Theme
Selection: The King and I
. March of the Siamese Children
. I Whistle a Happy Tune
El Adorno
Hors d'Oeuvre
Punch and Judy Polka
Regency Beguine
Medley:
. Side Saddle
. China Tea
. Roulette
Tahitian Twilight
Happy Whistler
The Legion's Last Patrol
Hawaiian War Chant
Paraqueets of Paraguay
Bacciar
Calling All Workers(sig)
Eric Coates
Botkin
Richard Rogers


Leonard
Comer
Ronnie Munro
Ivor Slaney
Russ Conway



Langford
Don Robertson
Lavagnino
Noble
Cedric Dumont
Isobel Brandez
Eric Coates
---


Listen to 'Bright and Early'
played by Ronnie Munro and his Sextet
as broadcast on 21st July 1964
BRIGHT AND EARLY
played by Ronnie Munro and his Sextet
on 21st July 1964
Trolley Song
Great Day
Brise de Paris
Medley:
. Jeepers Creepers
. Young and Healthy
. Lullaby of Broadway
Galapagos
Jumping Jiminy
My Ebony Cane
Constantly
Java
Today
Ramona
Bambalina
Never on Sunday
Siboney
Hello Dolly
Brayne
Vincent Youmans
Albert Delroy
Harry Warren



Ronnie Munro
Galento
Ronnie Munro
Seracini
Toussaint
Sparks
Gilbert
Bernard Ebbinghouse
Hadjidakis
Ernesto Lecuona
Jerry Herman
---


Listen to 'Music While You Work'
played by Ronnie Munro and his Orchestra
as broadcast on 21st November 1961
MUSIC WHILE YOU WORK
played by Ronnie Munro and his Orchestra
on 21st November 1961
Calling All Workers (sig)
. (missing segment approx 14 minutes)
Windows of Paris
Chianti
Medley:
. Smile
. Limelight
Steps of Monaco
Mexican Serenade
La Mer
All over Italy
Climb every mountain
Tango Monaco
There's a tavern in the town
Medley:
. Serenata
. Sleigh Ride
. Plink, Plank, Plunk
Selection from 'Lilac Domino'
The London Scottish
Calling All Workers (sig)
Eric Coates

Tony Osborne
Gerhard Winkler
Charles Chaplin


Ivor Slaney/D.Wilson
Jack Coles
Charles Trenet
Ronnie Munro
Richard Rodgers
Lezlo Anales
Trad. arr.Ronnie Munro
Leroy Anderson



Cuvillier and Carr
H.E.Haines
Eric Coates
(Regretably about fourteen minutes are missing from this recording, but all of the above are included)
---


Listen to 'Music While You Work'
played by Ronnie Munro and his Sextet
as broadcast on 28th March 1966
MUSIC WHILE YOU WORK
played by Ronnie Munro and his Sextet
on 28th March 1966
Calling All Workers (sig)
Swing in Baroque
Medley:
. La Ronde
. Under Paris Skies
. Tulips from Amsterdam
Medley:
. Jealous heart
. I left my heart in San Francisco
Betty Dear
Cobblers' Song
Medley:
. Positano
. Pepita
. Mexican Serenade
Petite Mechante
Selection from 'South Pacific'
Medley:
. Swedish Rhapsody
. At Last
Medley:
. April in Paris
. La Mer
. I kiss your little hand, Madame
. Darktown Strutters' Ball
. Je vous aime beaucoup
. Ja da
Calling All Workers (sig)
Eric Coates
Diernhammer

Oscar Straus
Hubert Giraud
Ralf Arnie

Jennie-Lou Carson
George Cory
Raymond Agoult
Frederic Norton

Jack Coles
William Hill-Bowen
Jack Coles
Ronnie Munro
Richard Rodgers

Charles Wildman
Charles Trenet

Vernon Duke
Charles Trenet
Ralph Erwin
Shelton Brooks
Anna Rosenko
Bob Carleton
Eric Coates
---