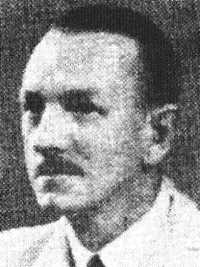 Although the Strings in Rhythm broadcast regularly during the fifties their musical director's main claim to fame was that he was one of Britain's leading exponents of the cinema organ. Henry Croudson was born in Leeds on 13th November 1898. Upon leaving school, he became a clerk in the local branch of the Midland Bank. At the same time he served as deputy organist at St Chad's Church in Leeds.
In 1925, he decided that banking was not for him and went into music full-time, becoming organist at the local Majestic Cinema, playing for silent movies. He moved to the newly-opened Paramount Theatre in 1932 and commenced broadcasting in 1934, initially as a pianist. In 1935, he transferred to Manchester's Paramount Theatre and, in the same year, formed an Accordion Band comprised of unemployed musicians which he also used for broadcasting. It was in Manchester that he made most of his 78 rpm records on the Regal-Zonophone label, some of which had vocals by Ken Beaumont, who was subsequently to become a bandleader.
During the next few years, Henry Croudson had further moves, first to Birkenhead and then to Bedford. He also broadcast on the original BBC Theatre Organ prior to its destruction by enemy action early in the war. He was one of many cinema organists to contribute to 'Music While You Work' in its early years. However, when his home in Merseyside was also destroyed by enemy action, he decided to give up the organ and move back to his home town of Leeds. There he became a publican at the Ship Inn at Briggate, very close to the Paramount Theatre, which, in common with other provincial Paramounts had now become the Odeon. It was not long before he was coaxed by the Odeon management into playing again for them.
After the war, Henry moved south, playing and broadcasting from the organs of many of the major cinemas in the London area, including the Gaumont-Haymarket, The State-Kilburn, The Dominion-Tottenham Court Road, as well as the second BBC Theatre Organ.
In the early fifties, he formed an orchestra for broadcasting (which he led from the electronic organ) called Strings in Rhythm, specialising, as the title implied, in modern rhythmic light music or, as Henry Croudson put it, 'light music with a beat'. This orchestra played regularly on 'Music While You Work' throughout the fifties, as well as appearing on 'Bright and Early', 'Morning Music' and other light music programmes.
In 1959, his health declining, Henry decided to give up regular cinema organ recitals and reverted to his occupation of publican, this time at the Red Lion in Nazeing, Essex. He took with him his Selmer Electronic Organ, with which he entertained the customers!
In common with many cinema organists, Henry Croudson was a prolific light music composer, his compositions including 'Little Boy Blue', 'Piccadilly Promenade', 'Scotch and Chaser' and 'Up North'.
The Strings in Rhythm played on MWYW until 1960, after which time Henry Croudson was not heard on the air, apart from a brief appearance in Robin Richmond's programme The Organist Entertains in 1971. Henry died on 30th November 1971, aged 73.
---
Music While You Work at 3.45 p.m. on 16th February 1960
Played by Henry Croudson and his Strings in Rhythm
Calling All Workers (Sig)
Spanish Gypsy Dance
Scotch and Chaser
Medley:
. Alexander's Ragtime Band
. I Bring a Love Song
. Avalon
. When Somebody Thinks You're Wonderful
. When You're Smiling
Pieremont Waltz
Marigold
Pickin' a Chicken
Destiny Waltz
Selection: Gaytime
. Love makes the Wold Go Round
. My Thanks to You
. You've Done Something to My Heart
. Let the People Sing
Espanolita
Unforgettable
A Rose in Granada
Love's Last Word is Spoken
Roulette
Margie
Trudie
Brazilian Fiddler
Lingering Lovers
Savoy Community Medley:
. There's a Tavern in the Town
. Who Killed Cock Robin
. Come Landlord Fill the Flowing Bowl
. Some Folks Do
. John Brown's Body
. When Johnny Comes marching Home
. For He's a Jolly Good Fellow
Calling All Workers (Sig)
Coates
Marquina
Croudson

Berlin
Romberg
Rose
Woods
Fisher/Shay
Green
Mayerl
Bernfield
Baynes
Gay




Mondez
Gordon
Hartley
Bixio
Stanford
Conrad/Robinson
Henderson
Abreu
Goodwin
arr. Somers







Coates
---