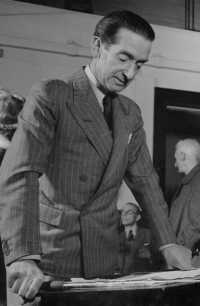 The Richard Crean Orchestra was a major radio contributor before,during, and after the Second World War. Richard Crean was born in Dublin in 1879 and was educated at the Royal Irish Academy, becoming a teacher of piano and organ, as well as voice production. He became Chorus Master of the Thomas Quinlan Opera Company, touring many countries.
Upon returning to England he took over as Chorus Master at Covent Garden under Julius Harrison and Adrian Boult. He then turned to variety, initially at the Ilford Hippodrome but in 1930 he took up the position of conductor of the London Palladium Orchestra, one of the major light orchestras of pre-war days, with which he recorded and broadcast until the mid-thirties. At this time he formed the Richard Crean Orchestra, which he conducted for the rest of his life, apart from a period in 1941/2 when he was the conductor of the newly-formed BBC Midland Light Orchestra.
Although he made some appearances in 'Music While You Work' with the MLO, it is for his 208 appearances in that series with his own orchestra that he is particularly remembered, along with 'Morning Music' and other programmes. His repertoire ranged from the light classics to the contempory light music of the time
Richard Crean made many records on the Decca Music While You Work label, some being reissued on an LP.
In recent years a few recordings have appeared on CD, in noteably two CDs on the Guild label under the title 'Light Music While You Work'
Richard Crean died in November 1955, having just prepared a MWYW programme. The final broadcast went ahead under the direction of Reginald Kilbey.


Listen to The Richard Crean Orchestra
playing 'La Cinquantaine'
(45 second clip)
---
MORNING MUSIC at 7.15 a.m. on the Home Service on August 10th 1949
played by The Richard Crean Orchestra
King Cotton
Toujours Fidele
Salut d'amour
Tritsch -Tratsch Polka
Simonetta
Jumping Bean
Like the Stars
Selection: Belle of New York
John Philip Sousa
Emile Waldteufel
Edward Elgar
Johann Strauss
Frederic Curzon
Robert Farnon
Malberto
Kerker arr. Godfrey
---
MUSIC WHILE YOU WORK at 3.45 p.m. on 21st. October 1955
played by The Richard Crean Orchestra
Calling All Workers (Sig)
On the Quarter Deck
Toujours Fidele
Czech Polka
Tyrolean Tango
Yodelling Mountaineer
The Elephants' Tango
Throw Open Wide Your Window
Selection: The Water Gipsies
El Gato Montes
Calling All Workers (Sig)
Eric Coates
Kenneth Alford
Emile Waldteufel
Johann Strauss
Jack Coles
Louis Voss arr. Hanmer
Bernard Landes arr. Jordan
Hans May arr. Tony King
Vivian Ellis arr. Rapley
Manuel Panella arr. Whiteley
Eric Coates
---