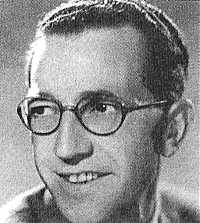 Nearly half a century after his death, the name of Primo Scala is still remembered by lovers of accordion music and his recordings are still being reissued on compact disc. Yet there was never a person of that name, Primo Scala being one of several pseudonyms of pianist Harry Bidgood, son of composer Thomas Bidgood, famous for the march 'Sons of the Brave'.
Harry Bidgood was born in London in 1898, receiving early musical education from his father prior to attending the Royal College of Music. He commenced his professional career just after the First World War as pianist with De Groot at the Piccadilly Hotel, London. In 1926 he started directing recording sessions for Vocalion, which, in 1928, began to issue the famous 8-inch Broadcast records. Harry directed a 'house band' for these records, known as Harry Bidgood and his Broadcasters. Other studio bands under his direction included: The New York Nightbirds, Ciro's Club Band, The Manhattan Melody Makers, Al Benny's Broadway Boys, The Riverside Dance Band and Nat Lewis and his Dance Band.
When accordion bands started to become popular in the early thirties, Harry Bidgood saw the potential and formed a band for Eclipse called Don Porto's Novelty Accordion Band. He also recorded (in 1935) as Rossini's Accordion Band for the Crown label, which sold in Woolworth's stores. It was under the alias of Primo Scala and his Accordion Band, however, that he was destined to become most famous.
There are various theories as to the origin of the name Primo Scala. It has often been suggested that 'Primo' came from a heavyweight boxer named Primo Carnera and that 'Scala' came from Emilio Scala, winner of the Irish Sweepstake, although it is more likely to have to have derived from Scala Records, once part of Vocalion, for which Bidgood recorded. Primo Scala's success on record was such that he assumed this identity for the rest of his career; furthermore, the band began to take on public engagements and by the late thirties was regularly heard on the radio. By January 1941, Primo Scala and his Accordion Band was appearing on 'Music While You Work', soon becoming one of the most frequent and popular contributors, partly because accordions came over well in the factories.
During the next 16 years the band played 296 editions. In the war years, the BBC was anxious not to be accused of employing Italians and this created a problem when using artists with Italian pseudonyms or stage-names. So, Harry's band became 'Primo Scala's Accordion Band directed by Harry Bidgood'. There was even an accompanying paragraph in the Radio Times stating that he had 'taken over' the band before the war!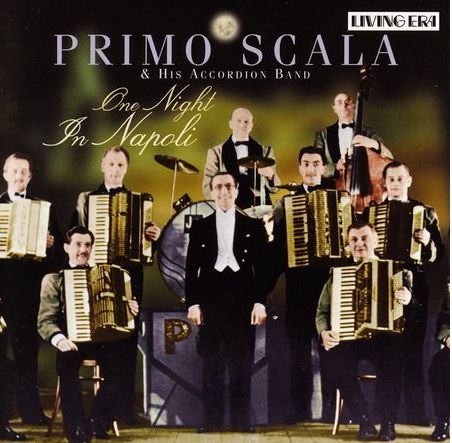 For broadcasting, the Primo Scala band consisted of four accordions, two pianos, bass, drums and guitar (doubling Banjo). In the early years, a violin was sometimes included. Pictures of the band sometimes show about eight accordions but this was probably just for stage use.
After the war, Primo Scala's Accordion Band dropped the appendage 'Directed by Harry Bidgood' but continued to play regularly in MWYW as well as 'Bright and Early' — a programme on similar lines which made for a delightful way to start the day at 6.30 am.
By the fifties, Harry Bidgood had decided to make his 'sound' more commercial (at least on records) and, having dispensed with the violin, he added trumpet and saxophone for a series of records in which the band was joined by the Keynotes. Personally, I preferred the style and instrumentation which he used on the radio.
By 1956, Harry Bidgood's health was beginning to deteriorate and some of his broadcasts were directed by guitarist Ernest Penfold, whom many will remember for his South Sea Serenaders. Harry Bidgood died on 16th November 1957 at the age of 59.
During the sixties, some of Harry's later 'Keynotes' recordings were reissued on an LP. Another LP was produced in 1962, purporting to be Primo Scala and his Accordion Band but it bore no resemblance to the band. Not surprising, since it was a group of session musicians assembled for the occasion under the direction of Ivor Raymonde. Happily, in the 21st century many original recordings of Primo Scala are now being made available on compact disc, ensuring the preservation of these happy sounds for another generation.


Listen to 'Music While You Work' played by Primo Scala and his Accordion Band
as broadcast on the BBC Home Service at 10.30am on 13th. July 1956
MUSIC WHILE YOU WORK
10.30am on 13th. July 1956
played by Primo Scala and his Accordion Band
Calling All Workers (sig)
Cookie
My September Love
Carnivalito
Please hold me tightly
Robin Hood
Come next Spring
Medley:
. Whispering
. Avalon
. California here I come
You are my first love
Alicante
Band of Gold
Poor People of Paris
Dreams can tell a lie
You can't be true to two
Medley:
. Sing everybody sing
. I lift up my finger
. Rolling Round the World
Calling All Workers (sig)
Eric Coates
Mortimer
Millan
Zaldivar
Morris
Signin
Steiner

Schonberger
Al Jolson
Al Jolson
Roberts
Ricardo
Musel
Monnet
Barnes
Hoffman

Long
Leslie Sarony
Scott-Sanders
Eric Coates
---


Listen to 'Music While You Work' played by Primo Scala and his Accordion Band
as broadcast on the BBC Light Programme at 10.30am on 24th. July 1956
MUSIC WHILE YOU WORK
10.30am on 24th. July 1956
played by Primo Scala and his Accordion Band
Calling All Workers (sig)
Medley:
. When a soldier's on parade
. Something about a soldier
. When the Guards are on parade
Poor People of Paris
You are my first love
Cookie
Come next Spring
Memories of Spain
Please hold me tightly
Carnavalito
Dreams can tell a lie
Theme - the Threepenny opera
Canoodling' Rag
The Rock and Roll Waltz
You can't be true to two
Medley:
. Beside the seaside
. Who were you with last night?
. Put me among the girls
Calling All Workers (sig)
Eric Coates

Leslie Sarony
Noel Gay
Leslie Sarony
Marguerite Monnot
Lester Powell
Mortimer
Max Steiner
Clive Richardson
Morris
Edmundo Zaldivar
Howard Barnes
Kurt Weill
Hal Biddy
Shorty Allen
Al Hoffman

John Glover
Fred Godfrey
Clarence Murphy
Eric Coates
---


Listen to 'Music While You Work' played by Primo Scala and his Accordion Band
as broadcast on the BBC Light Programme at 10.30am on 12th. June 1956
MUSIC WHILE YOU WORK
10.30am on 12th. June 1956
played by Primo Scala and his Accordion Band
Calling All Workers (sig)
Pickin' a Chicken
Please Hold Me Tightly
Zambesi
Band of Gold
Vanity Box
Rock and Roll Waltz
Theme from The Threepenny Opera
Cookie
My September Love
I Love the Sunshine of Your Smile
Come Next Spring
The Dummy Song
You Can't Be True To Two
Napolitana
Calling All Workers (sig)
Eric Coates
Bernfield
Morris
Carstens
Taylor
Bidgood
Allen
Weill
Mortimer
Evans
Macdonald
Steiner
Brown / Rose
Hoffman
Troise
Eric Coates
---