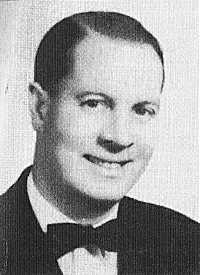 Bill Savill was born in London on 15th March 1910. In the thirties he played drums for Teddy Brown, fulfilling many engagements at night-clubs such as The Mitre, Golden Square, and 50-50. When war came he joined the RAF and, having attained the rank of Sergeant, was instrumental in forming the dance orchestra of RAF Fighter Command, which he directed until 1944. He also provided the resident band at the Officers' Club, Grosvenor House, between 1942 and 1946. It was with this band, a sextet, that he made his first broadcast in 1943. In fact, he made over 100 'Services Calling' broadcasts, as well as appearances at the Allied Club, Piccadilly, and at St. James's Palace. If this wasn't enough, he was also Musical Director for a show called 'This is the Gen' at the Phoenix Theatre, West London.
After demobilisation, he formed a civilian orchestra which gave its first broadcast on the Light Programme in 1946. He soon established his own highly distinctive style with this 14-piece dance orchestra, consisting of strings, saxes, piano and rhythm. Familiar names such as Eric Rogers, Neville Hughes, Reg Leopold and Neil Richardson played in the orchestra over the years, the latter being responsible for many of the arrangements.
Bill Savill continued to fulfill engagements at the Dorchester, Claridge's and Hyde Park Hotels and at the Royal Albert Hall. He became very much associated with London's high society, playing for private functions, hunt balls, and charity balls such as the Royal Caledonian Ball, Queen Charlotte's Debutantes' Ball, and the Westminster Appeal for the Blind Ball to name but a few.
There were also numerous engagements for RAF associations and Masonic and Rotary functions. In 1951, Bill Savill was awarded the Jack Hylton Cup for Musical Directors.
On radio, Bill Savill and his Orchestra were particularly associated with 'Music While You Work' and between July 1946 and September 1967 appeared on no less than 308 programmes, sometimes doing as many as 20 editions in a year. They were the last ballroom orchestra to appear in the series — just nine days before its demise in September 1967. No doubt much of their appeal was due to their individuality of style and the fact that they were one of the few post-war dance orchestras to use a string section instead of brass.
From 1957 onwards, they produced a series of superb LPs for Decca, which were not only perfect for dancing but also ideal for listening. The orchestra was augmented from 14 to 19 musicians for these records — a few extra strings were added, as was a trumpet, but this was used most discreetly and the overall sound was very similar to the broadcasts.
After MWYW finished, Bill Savill's broadcasts became infrequent, with occasional appearances in 'Breakfast Special' until the late sixties. For some time, Bill had provided orchestras in his own name for private functions and he continued to do this for many years after broadcasts ceased.
He died on 3rd March 1995.


Listen to 'Music While You Work'
played by Bill Savill and his Orchestra
as broadcast on the BBC Light Programme at 3.31p.m on 9th April 1962
MUSIC WHILE YOU WORK
played by
Bill Savill and his Orchestra
on 9th April 1962
Calling All Workers (Sig)
Dearly Beloved
Small Hotel
Lady is a Tramp
Forget me not
The Last time I saw Paris
I love Paris
C'est Mangifique
Moon River
Blonde in the Bikini
What more can I say
My Friend the sea
Ring a Ding Girl
I'm on a See-saw
Dear Little Cafe
Raise your Voices
Stranger on the Shore
Cuban Boy
Softly as I leave you
Gonna build a mountain
Isn't this a lovely day
Cheek to Cheek
Top Hat
Pianissimo
Stork Talk
Dancing in the Dark
Blue Room
You're the cream in my coffee
Some Enchanted Evening
I enjoy being a Girl
If I had you
An Apple for the Teacher
One, two,buckle your shoe
The Fleet's in Port Again
Calling All Workers (Sig)
Eric Coates
Jerome Kern
Richard Rodgers
Richard Rodgers
Vandyke
Jerome Kern
Cole Porter
Cole Porter
Henry Mancini
Edward Nash
Art Noel
Ron Goodwin
Syd Cordell
Vivian Ellis
Noel Coward
Jack Fishman
Acker Bilk
Frank Chacksfield
Tony de Vita
Leslie Bricusse
Irving Berlin
Irving Berlin
Irving Berlin
Alex Alstone
Tony Hatch
Arthur Schwartz
Richard Rodgers
De Silva
Richard Rodgers
Richard Rodgers
Ted Shapiro
Johnny Burke
Johnny Burke
Noel Gay
Eric Coates
---


Listen to 'Music While You Work'
played by Bill Savill and his Orchestra
as broadcast on the BBC Light Programme at 3.31p.m on 28th March 1966
MUSIC WHILE YOU WORK
played by
Bill Savill and his Orchestra
on 28th March 1966
Calling All Workers (Sig)
No Strings
The Sweetest Sounds
On a Clear Day
Selection:Charlie Girl
Song of Alassio
Everything's in Rhythm
Spanish Flea
The Last Time I saw Paris
I Love Paris
C'est Magnifique
How much of the dream comes true
Second Hand Rose
People
Come on In
I Left my Heart in San Francisco
Let's Face the Music and Dance
I Whistle a Happy Tune
You're the Cream in my Coffee
Calling All Workers (Sig)
Eric Coates
Richard Rodgers
Richard Rodgers
Lanes
Sherman
Edward Charles
Harry Woods
Wechter
Jerome Kern
Cole Porter
Cole Porter
John Barry
Hanley
Jule Styne
Syd Dale
Cory
Irving Berlin
Richard Rodgers
Da Sylva
Eric Coates
(Due to a sound fault on the original tape, certain items have been removed from this recording)
---


Listen to 'Music While You Work'
played by Bill Savill and his Orchestra
as broadcast on the BBC Light Programme at 3.31p.m on 4th March 1963
MUSIC WHILE YOU WORK
played by
Bill Savill and his Orchestra
on 4th March 1963
Calling All Workers (Sig)
Together wherever we go
Lonely
Poor little rich girl
Elizabeth
I'll follow my secret heart
Someday I'll find you
Betty Dear
Climb every mountain
The night has a thousand eyes
Slightly out of tune
Dearly beloved
There's a small hotel
The lady is a tramp
Globetrotter
Street of Linden Trees
Soul Bossa Nova
Easy to love
All of you
I could write a book
Tango de la Zarzuela
Cuban Boy
Hidden Persuasion
Riding High
Broken Date
From this moment on
Eric Coates
Jule Stein
Acker Bilk
Noel Coward
Katscher
Noel Coward
Noel Coward
Raymond Agoult
Richard Rodgers
Wayne
Antonio Carlos Jobim
Jerome Kern
Richard Rodgers
Richard Rodgers
Joe Meek
Harold Geller
Quincey Jones
Cole Porter
Richard Rodgers
Cole Porter
Rogers
Frank Chacksfield
Churchill
Cole Porter
Phillips
Cole Porter
---


Listen to 'Music While You Work'
played by Bill Savill and his Orchestra
as broadcast on the BBC Light Priogramme at 3.31p.m on 7th October 1964
MUSIC WHILE YOU WORK
played by
Bill Savill and his Orchestra
on 7th October 1964
Calling All Workers (Sig)
I've got you under my skin
This is my lovely day
Most gentlemen don't like love
Ramona
A couple of swells
I got lost in his arms
It's a lovely day today
Bluesette
Hello Dolly
People
No Strings
The Sweetest Sounds
Wrap your troubles in dreams
Chicken Barbecue
If ever I would leave you
The girl from Ipanema
Rosalie
Have you met Miss Jones
Where or when
Rag Doll
Cuban Boy
Descansado
Bali Hai
Young and healthy
Keep young and beautiful
Lullaby of Broadway
Spread a little happiness
Dance little lady
There's no business like show business
Calling All Workers (Sig)
Eric Coates
Cole Porter
Vivian Ellis
Cole Porter
Mabel Wayne
Irving Berlin
Irving Berlin
Irving Berlin
Toots Thielmans
Jerry Herman
Jule Styne
Richard Rodgers
Richard Rodgers
Harry Barris
Edward Nash
Frederick Loewe
A. Carlos Jobim
Cole Porter
Richard Rodgers
Richard Rodgers
Crewe/Gaudle
Frank Chacksfield
Armado Trovajoli
Richard Rodgers
Harry Warren
Harry Warren
Harry Warren
Vivian Ellis
Noel Coward
Irving Berlin
Eric Coates
---


Listen to 'Music While You Work'
played by Bill Savill and his Orchestra
as broadcast on the BBC Light Programme at 3.31p.m. on 18th March 1963
Music While You Work at 3.31 p.m. on 18th March 1963
Played by Bill Savill and his Orchestra
Calling All Workers (Sig)
Let's Face the Music and Dance
I Whistle a Happy Tune
You're the Cream in My Coffee
Lonely
The Best Things in Life are Free
Button Up Your Overcoat
Good News
I'll Follow my Secret Heart
Some Day I'll Find You
The Night has a Thousand Eyes
Bushel and a Peck
If I Were a Bell
Guys and Dolls
Slightly Out of Tune
I Get Along Without You Very Well
Globetrotter
The Street of Linden Trees
Pied Piper
The Last Time I Saw Paris
I Love Paris
C'est Magnifique
Soul Bossa Nova
Betty Dear
Alley Cat
Surrey with the Fringe on Top
Out of My Dreams
People Will Say We're in Love
Broken Date
Together Wherever we go
Everything's Coming Up Roses
Dancing with My Shadow
My Hat's on the Side of My Head
We'll All Go Riding on a Rainbow
Calling All Workers (Sig)
Coates
Berlin
Rodgers
De Sylva
Bilk
De Sylva
De Sylva
De Sylva
Coward
Coward
Wayne
Loesser
Loesser
Loesser
Jobim
Carmichael
Meek
Geller
Race
Kern
Porter
Porter
Jones
Agoult
Bjorn
Rodgers
Rodgers
Rodgers
Phillips
Styne
Styne
Wood
Wood
Wood
Coates

---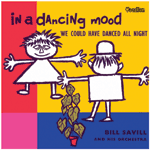 Dutton Vocalion have recently re-released two of Bill Savill's LPs from 1959 on a CD
WE COULD HAVE DANCED ALL NIGHT
The original LP SKL 4019 (1959) STEREO
In A Dancing Mood
The original LP SKL 4065 (1959) STEREO
Click on the picture to order
---