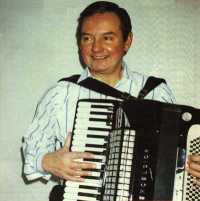 The Jack Emblow Sextet was regarded by some senior BBC producers as the best small group on radio, led by one of the most skilful accordionists in the country. Jack Emblow was born in Lincoln on 27th June 1930. He started learning the piano at the age of nine, switching to the accordion two years later. At 15 he was part of a stage act with jazz pianist Eddie Thompson and, at 17, he auditioned with the BBC. In addition to solo broadcasts, he played with a variety of groups during the fifties and had a three year spell at the Berkeley Hotel in Piccadilly, playing for Ian Stewart.
The Jack Emblow Sextet made its radio debut in 'Music While You Work' in 1956 and for about five years was one of the mainstays of the programme. Increasing demands for the band's services in other programmes rather limited their appearances in the series in later years, their superb arrangements, smooth sound and flawless playing making them suitable for any time of day. They did about 500 broadcasts, of which 54 were in MWYW but they also contributed extensively to programmes like 'Bright and Early', 'Morning Music', 'On with the Bands' and a number of late evening programmes.
Jack also played in many other groups, his distinctive style making him immediately recognisable. Although generally regarded as Britain's top jazz accordionist, the self-effacing Jack Emblow doesn't agree, preferring to be regarded as an 'all-rounder'. For more than 40 years he provided the accordion accompaniment for the Cliff Adams Singers in 'Sing Something Simple' and during the seventies formed the 'French Collection' for radio and records, leading the group on the French Musette accordion — an instrument that he does not particularly like! He much prefers his straight-tuned Excelsior accordion, which has a special tone chamber, enabling him to achieve his famous mellow tone.
For many years he contributed to the incidental music for the television series 'Last of the Summer Wine', and also played the theme for the comedy series 'Allo 'Allo.
Jack Emblow was elected Honorary President of the National Accordion Organisation of the United Kingdom in 2002. He is still giving recitals around the country and even an occasional broadcast!. His youthful appearance which belies his advancing years has given rise to him being dubbed 'Peter Pan' by his fellow musicians.
---


Listen to 'Music While You Work' played by The Jack Emblow Sextet
as broadcast at 10.30 a.m. on 11th September 1959
MUSIC WHILE YOU WORK at 10.30 a.m. on 11th September 1959
played by The Jack Emblow Sextet
Calling All Workers (Sig)
Great Day
I'm a Dreamer
Keep an Eye on your Heart
I've Waited so Long
Arrivederci Roma
Medley:
. When You've got a little Springtime
. Dancing With my Shadow
. What a Little Moonlight Can Do
Espada
Undecided
Gigi
Wee Boy of Brussels
You're getting to be a habit with me
Easy to Love
Merry Merengue
Last Night on the Back Porch
Who's Sorry Now
Calling All Workers (Sig)
Coates
Youmans
De Sylva
Manners
Lordon
Rascel

Woods
Woods
Woods
Dias
Shavers
Loewe
Aznavour
Warren
Porter
Slavin
Brown
Snyder
Coates
---
MUSIC WHILE YOU WORK at 10.30 a.m. on 16th March 1956
played by The Jack Emblow Sextet
Calling All Workers (Sig)
Medley:
. I've Got a Pocketful of Dreams
. Sing a Song of Sunbeams
. An Apple for the Teacher
When You Lose The One You Love
A Room With a View
Moments To Remember
Nicolo Nicolo Nicolo
Medley:
. There's Always a First Time
. Everywhere
. Fascination
Pickin' a Chicken
Penny Serenade
Robin Hood
Close To Me
Life Could Not Better Be
Medley:
. Shine
. I Can't Give Anything But Love
. That's My Weakness Now
. Pasadena
Calling All Workers (Sig)
Coates

Monaco
Monaco
Monaco
Pelosi
Coward
Allen
Winkler

Tibsen
Evans
Marchetti
Bernfield
Wecsma
Sigman
Carr
Fine

Dobny
McHugh
Green
Warren
Coates
---