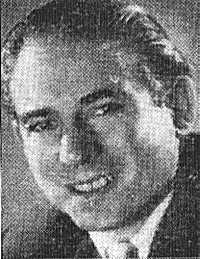 Michael Freedman was born on 31st. August 1911. He took an early interest in music, playing the violin at the age of seven. At sixteen, he was accepting professional engagements in the West End of London.
During the Second World War he served in the Royal Air Force but,upon demobilisation he formed a ten-piece orchestra for broadcasting, which was promptly rejected by Kenneth Sydney Baynes, the man responsible for 'Music While You Work' and other light music programmes.
In 1947, Michael Freedman joined the Philharmonia Orchestra as a viola player, gaining immeasurable experience playing under Toscanini, Beecham, Von Karajan and other famous conductors. He also assisted with Walter Legge's recordings at the Kingsway Hall. Although light music had now become a side-line, he again auditioned for broadcasting in 1949, this time with a 15-piece orchestra, comprising strings, woodwind, percussion and, as a nucleus, the two pianos of Edward Rubach and Robert Docker. The audition was successful and Michael Freedman and his orchestra gave their first broadcast on 21st. December 1949. For the next 17 years the orchestra broadcast regularly on the radio in such programmes as 'Music While You Work' (194 editions), 'Music for the Housewife', 'Morning Music', 'At the Close of Day', 'Continuous Performance', 'Music Matinee' 'Sunday Morning Melody', 'Home to Music', and in 1961, 'Strings by Starlight' - featuring the Stella Strings.
During the fifties, Michael Freedman made a number of light orchestral records on the Oriole label as well as many classical recordings with the London Metropolis Symphony Orchestra, many of whose players were recruited from the Philharmonia Orchestra. He also directed recordings with the Celebrity Concert Orchestra, the Cosmopolitan Orchestra and the New Concert Orchestra, with which he also gave concerts. His many LPs included 'Holiday in Italy', 'Music from the Ballet' and 'Holiday in Spain'.
In 1956, Michael Freedman formed the Michael Freedman Ladies' Orchestra which, in addition to making an excllent LP on the Oriole label, gave eight radio broadcasts in 1957, culminating in a concert at the Royal Festival Hall in December of that year. 1958 brought eight television appearances which included a series of 'spectaculars' entitled 'The Big Parade' in which they shared the billing with top military bands.
Despite all this, Michael Freedman's main activities centered around his original light orchestra, his programmes being bright and tuneful, his motto being ' not too high for the low-brow and not too low for the high-brow'. He also undertook considerable work as a session player, performing for Mantovani and in the Palladium orchestra for 'Sunday Night at The London Palladium'.
Although he continued to play for the Philharmonia orchestra for some years, Michael Freedman had, by the mid-sixties confined himself to his own light orchestra and it will have come as quite a shock when (in common with a number of other orchestras) his orchestra was dropped from broadcasting. Towards the end of his career he took up the clarinet purely for his own amusement.
With little work now available to him, Michael Freedman decided to leave the music business and start a new career as a London taxi driver. This initially meant hundreds of hours cycling the streets of London acquiring what is known as 'the knowledge'. He achieved this in record time and really relished the freedom that this offered him. He felt that, at last, he was out of the rat-race. Sadly cancer curtailed this activity and he died on the 8th. August 1979.
---


Listen to 'Home to Music'
played by Michael Freedman and his Orchestra
with
Henry Krein and his Quartet
as broadcast on the BBC Home Service at 6.35pm on 2nd August 1966
---


Listen to 'Music While You Work' played by Michael Freedman and his Orchestra
as broadcast on the BBC Home Service at 10.31am on 28th March 1964
MUSIC WHILE YOU WORK
played by Michael Freedman and his Orchestra
on 28th. March 1964
Calling All Workers (sig)
Portuguese Party
Alpine Echo Waltz
Runaway Romance
My thanks to you
Samba Rag
Madrugado
Ha ha ha
Gaylord
Babette
Rhumbalinda
Portrait of a Flirt
Calling All Workers (Sig)
Eric Coates
Gilbert Vinter
Pilatus
Florian Zabach
Noel Gay
Lawrenson
Ronald Binge
Taccani
Shepherd
Horatio Nicholls
Eric Jupp
Robert Farnon
Eric Coates
---


Listen to 'Music While You Work' played by Michael Freedman and his Orchestra
as broadcast on the BBC Light Programme at 3.31pm on 21st June 1966
MUSIC WHILE YOU WORK
played by Michael Freedman and his Orchestra
on 21st. June 1966
Calling All Workers (Sig)
Frankfurt Polka
Louisette
Samba Rag
Maigret Theme
Toy Town Trumpeters
Medley:
. It's a hap,hap,happy day
. June in January
. Buttons and Bows
. Moonlight becomes you
. Tangerine
. Beyond the blue horizon
Aparecida
Blue Tango
Spring Double
Nights of Gladness
Ca c'est Paris
Cuban Holiday
Selection:
. La Ronde
. Pennies from Heaven
. Dream Lover
. Amapola
. Falling in love again
. Great Day
Calling All Workers (Sig)
Eric Coates
Harry Dexter
Jacques Vallez
Lawrenson
Ron Grainer
William Davies
arr. Antony Fones
Timburg/Sharples
Ralph Rainger
Livingstone/Evans
Jimmy van Heusen
Johnny Mercer
Whiting/Harling
Williams
Leroy Anderson
Albert Marland
Charles Ancliffe
Jose Padilla
Donald Phillips
arr. Roy Green
Oscar Strauss
Arthur Johnston
Victor Schertzinger
Joseph Lacalle
Frederick Hollander
Vincent Youmans
Eric Coates
---


Listen to 'Music While You Work' played by Michael Freedman and his Orchestra
as broadcast at 10.31am on 9th June 1962
MUSIC WHILE YOU WORK
played by Michael Freedman and his Orchestra
on 9th. June 1962
Calling All Workers (Sig)
Gretchen polka
Alpine Echo Waltz
Nicola
Fascination
Honouring the Haggis
Meet Mr. Callaghan
Toni's Tune
Threepenny Opera Theme
Medley:
. Lullaby of Broadway
. September in the Rain
. I only have eyes for you
. Jeepers Creepers
Spanish Gypsy Dance
Calling All Workers (Sig)
Eric Coates
Hans George Schutz
Max Pilatus
Steve Race
Marchetti
Raymond Agoult
Eric Spear
Donald Phillips
Kurt Weill
Harry Warren




Marquina
Eric Coates
---


Listen to 'Music While You Work' played by Michael Freedman and his Orchestra
as broadcast at 10.31am on 12th September 1964
MUSIC WHILE YOU WORK
played by Michael Freedman and his Orchestra
on 12th. September 1964
Calling All Workers (Sig)
Times Square Dance
Bluesette
Sarda
Wrap your Troubles in Dreams
Cuban Holiday
Waltz from 'Masquerade'
Canary Twist
Stairway to the Sea
Valse du Diable
Ca C'est Paris
Calling All Workers (Sig)
Eric Coates
Rogers / Livesey
Thielmans
Fred Alexander
Barris
Donald Phillips
Khachaturyan
Barber
Cioffi
Bazin
Padilla
Eric Coates
---
7.15 a.m. Home Service on 22nd. July 1953
Michael Freedman and his Orchestra
Cuban Holiday
Waltz for a Debutante
Slavonic Dance in E Major
Bees-a-Buzzin
La Maja de Goya
Gypsy Fiddler
Fascination
The Military Polka
Pulling Strings
Summertime
Highland Scene
Donald Phillips
Eric Denson
Dvorak
Edrich Siebert
Philip Green
Ralph Elman
Marchetti
Lloyd Thomas
Ivor Slaney
George Gershwin
Robert Docker
---