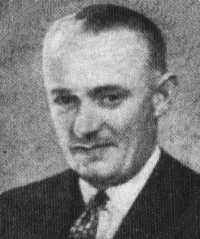 Wynford Hubert Reynolds was born in Ebbw Vale in 1899. After studying the violin in Cardiff, he joined the Army during the First World War. Upon his return to civilian life he studied violin, viola and composition at the Royal Academy of Music, later becoming musical director of a cinema, like so many of his contemporaries, gaining his early experience playing for silent movies. He later joined Sir Henry Wood as a violinist in the famous Queen's Hall Orchestra.
It was as a member of a string quartet that he made his first broadcast from Savoy Hill. Subsequently he played viola in many broadcasting combinations, including those of Fred Hartley, Reginald King and Jack Payne.
During the thirties he directed his own orchestra at the Spa, Felixstowe, his signature tune being his own composition 'Spa Song', which was later re-titled 'Cocktail of Happiness'. Other delightful compositions from his pen include an exhilarating Viennese waltz entitled 'Morning Glory' and novelties such as 'Twinkletoes'.
By the late thirties, Wynford Reynolds and his Orchestra were broadcasting regularly. This orchestra, which specialised in light, tuneful novelties and medleys, initially comprised 11 players but was later increased to 13. Around this time, Wynford Reynolds also joined the staff of the BBC as a producer.
When Music While You Work commenced in 1940, Wynford Reynolds and his Orchestra were early contributors, appearing nine times in the first year. In 1941, the BBC created the post of 'Music While You Work Organiser' and appointed Wynford Reynolds to take on this task. As part of his work would involve the selection and allocation of contributing orchestras to the programme, he was not permitted to appear with his own orchestra whilst he held this appointment. He might have been seen to have an unfair advantage over other contributors, and there was the potential for difficulties to arise when dealing with disciplinary matters. In any case, he was kept busy visiting factories around the country, advising managers on suitable receiving equipment, ascertaining the views of the workers on the suitability of contributing bands, and even listening to programmes in prevailing conditions to establish their audibility above factory noises.
Although independent of the BBC, the Decca Record Company produced some 420 records on their special 'Music While You Work' label, the majority of which were produced by Wynford Reynolds, whose own orchestra was well represented. Many of the recordings from this series have now been released on compact disc.
Wynford Reynolds relinquished his appointment as MWYW Organiser in 1944 and his orchestra resumed broadcasting in the series. After the war, he continued to participate in various light music programmes including 'Bright and Early', 'Morning Music', 'Uninterrupted Music', and 'Time For Music'. He also had a 19-piece combination called The Raeburn Orchestra, his pseudonym as a composer being Hugh Raeburn. This larger orchestra was also featured in 'And So To Bedtime' and 'Time for Music'. The two orchestras collectively appeared in 109 editions of 'Music While You Work'. Many will recall the Raeburn Orchestra's long association with 'Marching and Waltzing'.
Other combinations directed by the Maestro were The Wynford Reynolds Players and the 29-piece Wynford Reynolds Concert Orchestra, which was mostly used in breakfast-time programmes.
Unfortunately, in 1956, Wynford Reynolds was told by the BBC that his original 13-piece orchestra was 'dated' and had 'outlived its usefulness'. The BBC disliked his use of three saxophones at a time 'when the public had become accustomed to the sound of five saxophones', which (in their opinion) gave 'an aura of the early thirties'. It would seem that his style was considered redundant!
Graciously, the BBC told Wynford Reynolds that he could continue broadcasting with the Raeburn Orchestra. This he did until being taken seriously ill in 1958. At this time the orchestra was contracted do a series of 'Marching and Waltzing' as well as some MWYW programmes. Violinist/conductor Bernard Monshin, who played in the orchestra as well as being its 'fixer', told me that he offered to conduct the scheduled programmes himself, 'to prevent the broadcasts being lost to another orchestra'. Consequently, quite a number of the Raeburn Orchestra's programmes were conducted by Bernard Monshin.
In August 1958,Wynford Reynolds informed the BBC that he hoped to return to broadcasting the following January and that, in the meantime, he was working on new arrangements in his hospital bed. Sadly, his optimism was ill-founded, as he died in October 1958, aged 59.

Listen to Wynford Reynolds and his Orchestra
playing their signature tune, 'Cocktail of Happiness'
(also known as 'The Spa Song')
composed by Wynford Reynolds
(60 second clip)

Listen to Wynford Reynolds and his Orchestra
playing 'Fairies in the Moon' by Montague Ewing
(60 second clip)
---
MUSIC WHILE YOU WORK at 10.31 a.m. on 21st April 1956
played by Wynford Reynolds and his Orchestra
Calling All Workers (sig)
Begorrah
Rip Van Twinkle
Medley:
. Chansonette
. Indian Love Call
. Every Little While
. Only a Rose
Flirtation Waltz
Medley:
. The Poor People of Paris
. Love is the Tender Trap
. Robin Hood
The Royal Tango
Theme from The Threepenny Opera
Throw Open Wide Your Window
Medley:
. I've Got a Pocketful of Dreams
. An Apple for the Teacher
. Great Day
Guanta le Gusta
Valse Royale
Calling All Workers (sig)
Coates
Martin
Nelson
Friml arr. Reynolds




Heywood
arr. Reynolds
Monnot
Van Heuson
Sigman
Monshin
Weill
May
arr. Reynolds
Burke/Monaco
Burke/Monaco
Youmans
Ruis
Reynolds
Coates
---
MUSIC WHILE YOU WORK at 10.31 a.m. on 24th May 1958
played by The Raeburn Orchestra
Conductor: Wynford Reynolds
Calling All Workers (sig)
Marching Strings
Westminster Waltz
The March Hare
La Petite Valse
Stringing Along
The Gay Nineties
Pepita
Selection: Where's Charley
Calling All Workers (sig)
Coates
Ross
Farnon
Green
Heyne
Reynolds
arr. Gray
Versey
Loesser
Coates
---