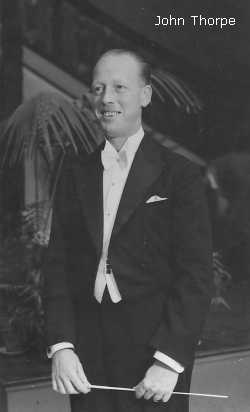 It was whilst on holiday at the Butlin's Holiday Camp at Skegness in 1947 that the BBC's Music While You Work Organiser, Kenneth Baynes decided to go and hear the camp orchestra. He knew of their conductor, John Thorpe as the former bandmaster of the Band of the Bedfordshire and Hertfordshire Regiment which had often played on 'Music While You Work' during the war. He was so impressed with what he heard that it was not long before the Butlin Light Orchestra was broadcasting regularly on 'Music While You Work'. Unfortunately, towards the end of 1948, Butlin's dispensed with the services of the orchestra and it was necessary to find another name for it. So John Thorpe renamed it 'The Regent Orchestra' - having registered the new title with the Board of Trade.
During the next ten years or so, the orchestra, which had a standard theatre orchestra instrumentation of brass,woodwind and strings, participated in a number of light music programmes, including the popular daily 'Morning Music' broadcasts. By the end of the fifties the BBC were tiring of theatre orchestras, feeling that many of them were not up to the standard of their own staff orchestras, some of which had a similar sound. Being larger than the 'speciality orchestras' on their books, they were also more expensive. Believe it or not, there is actually a scribbled note in the Regent Orchestra's file in the BBC Written Archives saying: "If we don't use them so much, with a bit of luck they will pack up!" They duly obliged!
As far as John Thorpe was concerned it was, by this time only a hobby as, for many years he continued to run his very successful music printing company in Wembley - John Thorpe and Sons. Sadly, this very worthwhile orchestra, to which I used to enjoy listening in my youth made no records and as, to the best of my knowledge, no off-air recordings of it survive, this brief account will be the only testimonial on the Internet to it having ever existed.
Photo courtesy of John Nelson (nephew of John Thorpe)
---
7.15 a.m. to 7.50 a.m. on February 27th 1953
THE REGENT ORCHESTRA
Conducted by John Thorpe
El Relicario
Overture: Susanna's Secret
Rustle of Spring
Airy Fairy
Spanish Dance No.5
Ecstasy Waltz
Lady of Spain
Demoiselle Chic
All in Step
Tango Bolero
Balmoral (Royal Castles Suite)
Padilla
Wolf-Ferrari
Sinding
Arnold Steck
Moszkovsky
Sydney Baynes
Tolchard Evans
Percy Fletcher
Gerald Crossman
Juan Llossas
Haydn Wood
---
MUSIC WHILE YOU WORK at 3.45 p.m. on 21st. February 1958
played by The Regent Orchestra conducted by John Thorpe
Calling All Workers (Sig)
Selection: Free as Air
Sarda
Tritsch Tratsch Polka
The Doll Medley:
. Dainty Doll
. Lonesome Little Doll
. Rag Doll
. Little Dutch Doll
. The Doll Dance
. Wedding of the Painted Doll
Portuguese Party
Selection: Hit the Deck
Vanity Fair
Slavonic dances
Frankfurt Polka
Dance of the Panpipes
Flat Foot
Selection: A King in New York
Calling All Workers (Sig)
Coates
Slade
Alessandro
Strauss
arr. Michaeloff






Vinter
Youmans
Collins
Dvorak arr. Hanmer
Dexter
Coles
Whiteley
Chaplin
Coates
---