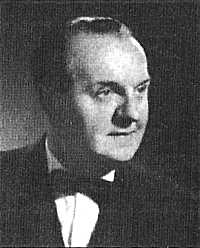 Tommy Kinsman was born in Liverpool in 1901. In his youth he learned to play the banjo, subsequently taking up the clarinet and the saxophone, upon which he became an accomplished performer. He began his bandleading career in 1928, directing what was initially called the London Frivolities Band in Weston-super-Mare. For a while he played at the Florida Club, graduating to the famous Ciro's club before taking up residency at the Ritz Hotel in 1932. By the mid-thirties he was playing at the exclusive Fischer's Restaurant in Bond Street, performing for a discerning clientele. During the first ten years of the band's existence over 250 'sides' were cut for the record labels Sterno, Piccadilly, Metropole, Phonochord, Edison Bell, Winner and Octacros, for which Tommy Kinsman later became Musical Director. In addition, he recorded under pseudonyms such as The Bond Street Swingers and Eddie Harding and his Night Club Boys on the Piccadilly and Metropole labels.
During these early years the band personnel numbered between eight and twelve players. Regular broadcasting commenced on Radio Luxembourg in 1936 and Tommy Kinsman was well satisfied with his 'high society' following, avoiding the press, seeking no publicity and, therefore, not receiving any! Some of his early recordings were reissued in 1990 on a long-playing record on the Harlequin label and amongst the personnel was violinist/saxophonist Freddie Ballerini, whose own sextet often broadcast during the sixties.
Despite the large number of commercial records made before the Second World War, Tommy Kinsman is best remembered for his post war broadcasts with his dance orchestra, playing 'strict tempo' ballroom music. He played regularly on 'Music While You Work' for over 20 years, chalking up 138 programmes in the series, and very entertaining they were too! The band consisted of a full saxophone section plus brass and rhythm (the guitar and violin which he included before the war were dispensed with in later years). A memorable feature was the orchestra's two-piano team who played 'a Ia Victor Silvester' in a style sometimes known in the music business as 'bubble and squeak' — the second pianist being required to play an improvised 'filigree' of notes around the main melody played by the first pianist, rather in the manner of a clarinet player in a traditional jazz band.
Tommy Kinsman continued to make records after the war and, during the fifties and sixties, made more than 40 long-playing records for Oriole, Wing and Fontana. Very occasionally, a string section was used for certain tracks, as was an accordion where appropriate, but the basic sound was the same as the broadcasts: brash, bouncy and tuneful. In common with other bands, Tommy Kinsman's style had changed since the thirties and now had great appeal to London's high society, and his band become known as the 'Deb's Delight Band'. He was the doyen of dance band leaders, having fans amongst European Royalty. One of his biggest fans was the late Queen Mother!
Unlike many bands, Tommy Kinsman and his Dance Orchestra never had 'palais' residences, preferring to do gigs in London and elsewhere. They could be at Windsor Castle one day and a working-men's club the next. That they existed for about 50 years could well be attributed to the fact that Kinsman was an unassuming man who, despite his high standing in society, was quite happy to play for anyone who wanted his services; apparently he even played in people's houses. (I wish I'd known!)
Tommy Kinsman's post-war orchestra had 14 musicians and, during the sixties, played only in the longer afternoon editions of MWYW, which ended in 1966. The lower budget allocation for the remaining morning shows didn't allow for the use of many large bands, however, after some persuasion, Tommy Kinsman managed to secure one more broadcast before the series ended. Although the band carried on for many years after broadcasting ceased, I recall reading in the seventies that they were struggling to get work. Modern trends had meant that most of their 'society' work had dried up and they were mainly doing working-men's clubs. At that time their drummer (whose bass drum bore the autographs of monarchs of many lands) had been in the band for 22 years!
Finally, Tommy Kinsman went into the business of providing bands for cruise liners. Of course, he made sure of always fronting one himself, thus enabling him to combine work with pleasure! He also took the opportunity of playing for private parties on the Continent. In 1982, at the age of 81, Tommy decided to retire to Marbella. Sadly, he suffered a heart attack on 1st February 1984 and after a further attack on 15th March was rushed to a clinic in Malaga, where he died. He was cremated in Madrid and his ashes were scattered in the gardens of Golders Green Crematorium, as had been those of his first wife.


Listen to 'Music While You Work' played by Tommy Kinsman and his Dance Orchestra
as broadcast on the BBC Light Programme at 3.31pm on 17th July 1963.
Music While You Work
Played by Tommy Kinsman and his Dance Orchestra
on 17th July 1963
Calling All Workers (Sig)
Brotherhood of Man
Ice Cream Man
If I had you
Relax-ay-voo
Into each life some rain must fall
Mais Oui
How do you do it
Playtime for Poodles
I live you and don't you forget it
Under the bridges of Paris
How about you
Pagan Love Song
Singing in the Rain
You can't have everything
Rhythm of the rain
Half a sixpence
Mississippi mud
Pepito
Five Minutes More
Put on a happy face
Mister Sandman
Guys and Dolls
I'm Confessin'
You Were meant for me
Some of these days
China town
Puttin' on the Ritz
Me and my Shadow
Nobody's Darlin'
Bistro
Calling All Workers (Sig)
Eric Coates
Frank Loesser
Joe Meek
Jimmy Campbell
Arthur Schwartz
Alan Roberts
Carlo Donida
Mitch Murray
Eddie Strevens
Henry Mancini
Vincent Scotto
Ralph Freed
Ralph Freed
Nacio Herb Brown
Mack Gordon
John Gummoe
David Henneker
Harry Barris
Carmen Taylor
Sammy Cahn
Charles Strouse
Pat Ballard
Frank Loesser
Doc Dougherty
Nacio Herb Brown
Shelton Brooks
Arthur Schwartz
Irving Berlin
Al Jolson
Davis
Harris
Eric Coates
---


Listen to 'Music While You Work' played by Tommy Kinsman and his Dance Orchestra
as broadcast in early 1963.
---


Listen to 'Music While You Work' played by Tommy Kinsman and his Dance Orchestra
as broadcast on the BBC Light Programme at 3.31pm on 30th March 1966.
Music While You Work
Played by Tommy Kinsman and his Dance Orchestra
on 30th March 1966
Calling All Workers (Sig)
Come Dancing
Heartaches
Leaning on a Lampost
Medley:
. Just you wait
. The rain in Spain
. On the street where you live
There and back
Caterina
Gandy Dancers Ball
Destiny
Casanova
I'm going to sit right down
Goody Goody
Start of Something big
Give me the simple life
You make me feel so young
The very thought of you
Bistro
Unforgetable
Spanish Flea
Second Hand Rose
Medley:
. Has anybody here seen Kelly
. Maggie, yes Ma
. He'd have to get under
. Rings on my fingers
. Hitchey Kee
. In the shade of the old apple tree
. Put on your ta-ta little girlie
Calling All Workers (Sig)
Eric Coates
David
Glenner
Noel Gay
Lerner/Loewe



Syd Dale
Schuman
Weston
Sydney Baynes
Jack Coles
Young
Mercer
Allen
Ruby
Gordon
Ray Noble
Harris
Gordon
Wechter
Hanley

Murphy
Tucker
Abrahams
Scott
Gilbert
Alstyne
Leigh
Eric Coates
---


Listen to 'Music While You Work' played by Tommy Kinsman and his Dance Orchestra
as broadcast on the BBC Light Progamme at 3.45pm on 5th October 1960.
Music While You Work
Played by Tommy Kinsman and his Dance Orchestra
on 5th October 1960
Calling All Workers (Sig)
Looking High, High, High
Toni's Tune
Fings Ain't Wot They Used To Be
Sunday
You're Driving Me Crazy
Pink Elephants
Bye Bye Blackbird
Somebody Stole My Gal
Say It With Music
Eternally
How About That
The Best Things in Life are Free
Harry Lime Theme
Dancing Time
Easy to Love
Cheek to Cheek
Do you Mind?
La Ronde
You Forgot Your Gloves
My Baby Don't Mean Maybe
Sing Baby Sing
Ida Sweet as Apple Cider
Glue Foot
Cinderella Jones
Standing on the Corner
An Apple for the Teacher
It's the Natural thing to Do
One Two Button Your Shoe
The Music Goes Round and Around
Romantica
Poor People of Paris
Ooh La La
Calling All Workers (Sig)
Coates
Watson
Phillips
Bart
Rodgers
Donaldson
Woods
Dixon
Woods
Berlin
Chaplin
Van Dyke
De Sylva
Karas
Kern
Porter
Berlin
Bart
Straus
Lehak
Donaldson
Pollack
Leonard
Mercer
Styne
Loesser
Monaco
Johnson
Johnson
Farley
Rascel
Monnot
Calvi
Coates
---