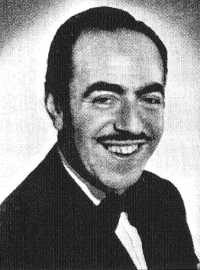 Felix Ferdinand King was born in Brighton on 27th March 1912. His first engagement was as pianist at the Grand Hotel, Eastbourne. In 1932, he formed a band to play at the Gargoyle Club, London but was soon to spend much of his time as pianist in leading dance bands in London, writing music for films and, indeed, playing in them! In 1935 he joined the newly-formed Victor Silvester Ballroom Orchestra and played on their first record, but left after about a year. He then toured with Florence Desmond as accompanist, writing a number of songs for her, but it was bandleading that really interested him, so he formed a band which he took to Norway and to the exclusive Sporting Club at Monte Carlo. At this point, however, the war intervened and Felix King soon commenced a six-year spell in the Royal Air Force. When he was demobilised in 1946, Felix picked up his career where he had left off and took a band to Nice.
In 1947, Felix King, his piano and orchestra opened at the Nightingale Club, in Berkeley Square. This was a 16-piece orchestra featuring two pianos, for which Felix King composed the signature tune, 'The Night and the Nightingale'. He could not use the obvious 'Nightingale Sang in Berkeley Square' as this had already been adopted by a band across the road!
It was about this time that Felix King commenced his broadcasting career. Apart from his 100 'Music While You Work' programmes, he sometimes broadcast from restaurants in which his band was resident at the time. In addition he was regularly featured as solo pianist in the series 'Piano Playtime'. As he possessed a suave, silky voice, Felix was allowed to present his own programmes, later developing this talent in the sixties to become a regular compère of 'Housewives' Choice'.
In 1948, he and his orchestra moved to the Orchid Room, where the late Princess Margaret sometimes danced to his music. It was during this period that he did a series for Radio Luxembourg which ran for 20 months.
A residency at the Colony Restaurant began in 1950, where Felix directed a nine-piece orchestra until 1959, when he made a final move to Quaglino's Restaurant. Here his band was reduced to five and subsequent broadcasts in MWYW were billed as 'The Felix King Quintet'.
In 1966, Felix King was invited to form a 17-piece string orchestra for 'Breakfast Special', which he directed from the piano in his expressive and distinctive style. He had already made a number of 78s for Decca in the late forties and early fifties, as well as some LPs, so it was no new experience for him when, in 1967 as a direct result of these broadcasts, he was asked to make an LP on the Fontana Special label. This was entitled 'Elegance'.
According to the sleeve-notes, Felix King was an avid traveller and this enabled him to indulge in another of his hobbies — making colour movies of the places that he visited. He had been right across America, Mexico, the Caribbean and Malta, and after each trip he edited his films, adding a musical soundtrack and commentary. He joked that his friends would then ask him "When's the premiere?"
Felix King died on 13th June 1982 aged 70.
---
MUSIC WHILE YOU WORK at 3.45 p.m. on 10th July 1958
played by Felix King and his Orchestra
Calling All Workers (Sig)
Stairway of Love
Handful of Songs
Got the Sun in the Morning
Stepping Out With My Baby
You're Just in Love
Time
I Never Had It So Good
I Am, I Am
Twilight Time
Espada
Brazil
Tulips from Amsterdam
Lollipop
I'll Follow My Secret Heart
Dearest Love
Someday I'll Find You
Who's Sorry Now
Everything is Nothing Without You
These Foolish Things
You've Done Something To My Heart
La Vie en Rose
All Over the Place
Streets of Sorrento
Hello Young Lovers
I Whistle a Happy Tune
Fascination
Under the Bridges of Paris
Funny Face
Clap Your Hands
S'Wonderful
I Want to be Happy
Whispering
Love Is
I'm in Love for the Very First Time
Calling All Workers (Sig)
Coates
Tipper/Bennett
Steele
Berlin
Berlin
Berlin
Heneker/Norman
Heneker/Norman
Heneker/Norman
Ram/Nevins
Dies
Russell
Arnie
Ross/Dixon
Coward
Coward
Coward
Snyder
Mann/Ripindale
Strachey
Gay
Louiguy
Louiguy
Osbourne
Rodgers
Rodgers
Marchetti
Scotto
Gershwin
Gershwin
Gershwin
Youmans
Shonberger
Lynes
Roberts/Woodman
Coates
---