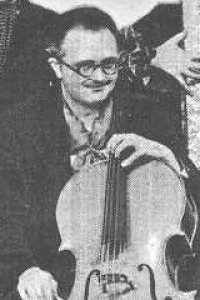 If, like myself, you were brought up during the Forties and Fifties and remember the variety shows that were an integral part of early post-war television, you will probably recall a gentleman who played a musical saw! Well, the chances are that you will have been watching the subject of this article, Jacques Vallez.
Born Jacques Bekaert in 1902, he came to this country from his native Belgium in 1919 to work as a cellist and with a view to improving his English. It also enabled him to escape from a manipulative mother! He arrived with just £4 in his pocket and he later wrote in " Radio Fun":-
"But for the generosity of an Englishman, I might have returned to my native country quite soon after I came - but back in 1919 I soon hired a cheap cello and eventually bought it for £20. A few weeks later, being out of work, I decided that the only thing I could do was to re-sell the cello to the dealer from whom I bought it. He expressed surprise when I told him that I was a professional musician. He said, 'Had I known at the time that you were buying the instrument to earn your crust, I would have allowed you the usual discount' - and he added 'keep your cello, my boy!' as he pressed a £5 note into my hand! The next post brought an offer of a job. The crisis was over! "
So, having changed his name to Jacques Vallez, he embarked upon a successful career, and having originally come to Britain to stay for six months, eventually stayed here for the rest of his life. In 1926, he purchased a garden saw for 4/11d and taught himself to play some 300 pieces on an 'instrument' which had only a range of one and a half octaves. The following year he joined Falkman and his Apache Band as cellist and exponent of the musical saw. He also played in Lionel Falkman's larger orchestra which was called 'The Troubadours'.
During the war years, Jacques Vallez did about 500 concerts for ENSA and appeared in propaganda films which were dropped by parachute to members of the resistance in France and Belgium. For two seasons, Jacques was a member of Charles Ernesco's orchestra at the Princess Gardens in Torquay. In 1949 he directed his Savoyards Orchestra on the South Parade Pier, Southsea, Brighton's West Pier and also London's Benelux restaurant.
In his capacity of musical saw performer, he provided 'special effects' for over 40 films and played the theme for the film 'Castles in the Air'. One would have thought that the musical saw was not the sort of 'instrument' that many people would choose to take up, nevertheless Jacques had twenty pupils under his wing at one stage!
Jacques' association with Falkman spanned five decades - playing cello, saw and singing songs with the orchestra who, in addition to their restaurant work, were regularly heard on radio in 'Music While You Work' and other programmes until Falkman's death in 1963.
Although billed as ' The Wizard of the Musical Saw', Jacques did not much care for the term 'musical saw'. "Every one I use is normal and can be bought in any shop. The main difference is that the teeth on my saws are unset. If I had them sharp I would probably tear my trousers to pieces!"
Jacques' broadcasting credits included 'Variety Bandbox', 'Children' Hour', 'In Town Tonight', as well as numerous television shows which included a guest appearance with Mantovani and his orchestra. In the 40s he sometimes appeared in a radio variety series called 'Contrasts' and even broadcast with Walford Hayden's famous Cafe Collette Orchestra.
It was in 1956 that Jacques first broadcast with his sextet and it was not long before this became Jacquez Vallez and his Septet. His signature tune was 'Sur la Pont d'Avignon' which he would often sing at each end of his programmes. They broadcast regularly for a decade and became particularly associated with the long-running mid-morning series 'Continental Serenade'. Jacques got to speak as well as sing in this series. Indeed, he opened each programme with greetings in French! The ensemble's accordionist Albert Delroy usually had a solo in each programme and Jacques, as well as being the cellist in the group also had a solo on the musical saw. When 'Continental Serenade' ended in 1963, they made a number of appearances in 'Music While You Work', usually billed as Jacques Vallez and his Players, which implied that they might have been slightly augmented. The players comprised a small string section with Jacques on cello, with saxophone, accordion, and piano. For MWYW however, the saw solo was omitted.
Jacques was a prolific composer; his compositions included 'Clip Clop', 'Abracadabra', 'Bon Soir', 'Paris Bonjour', 'Chunga', 'Cocorico', 'Shantily', 'Joie de Vivre', 'Louisette', 'Rendezvous', 'Ritorno', 'Rosanette', ' Jolly Suissesse', 'Un Petite Baiser', 'Song of Freedom', 'Va Presto' and 'Zig Zag''. Of these titles 'Paris Bonjour' and 'Va Presto' were the most played by the light orchestras of the day. Jacques also composed a piece called 'Jacqueline', dedicated to one of his daughters.
Much of the information contained in this article originates from Jacques' other daughter, Claudine Green to whom I am most indebted for her assistance. She has also sent me a copy of a diploma which her father was awarded in 1962 when he 'beat the panel' on the television game show 'What's my Line?' It is signed by Eamonn Andrews and the panel, which consisted of Barbara Kelly, Sidney James, Isobel Barnett, David Nixon and the producer. As many people will recall, the idea was to guess a person's occupation from a piece of mime. It was also the custom for the contestant to sign his name on a board before commencing. So it was amazing that the above celebrities failed to guess his occupation or, indeed his identity!
This reminds me of a similar show called 'Tell the Truth' in which three contestants claimed to be a particular person with a story to tell, and only the real one was obliged to tell the truth. On one occasion the three contestants claimed to be bandleader, Ivy Benson. I recognised the true Ivy Benson immediately but none of the 'panel' had ever heard of her!.
Jacques Vallez was, for many years married to Helen Royer (although I understand that this was not the happiest of relationships). He was apparently a very flamboyant man who often sported a magnicent cape which he swirled around him as he walked. He was clearly a man of great magnetism - an extrovert. Jacques Vallez and his Septet were last heard in 'Music While You Work' on 28th. February 1967. Just a week later, on 7th March, Jacques died, at the early age of 65.


Listen to 'Continental Serenade' played by Jacques Vallez and his Septet
as broadcast around 1958.
---


Listen to 'Music While You Work' played by Jacques Vallez and his Septet
as broadcast on 16th January 1967.
MUSIC WHILE YOU WORK
played by Jacques Vallez and his Septet
at 10.31am on Monday 16th January 1967 - Light Programme
Calling All Workers (sig)
Seville Nights
Waltz of Paree (Under Paris Skies)
Marina
La Petite Valse
Boulevards de Paris
Amour Vagabond
Lazzarella
Brise de Paris
Nicolo,Nicolo,Nicolino
Louisette
Bavarian Clog Dance
Napolitana
Calling All Workers (sig)
Eric Coates
Cyril Watters
Giraud
Granata
Joe Heyne
Michael
Raymond Agoult
Dominenco Modugno
Albert Delroy
Gerhard Winkler
Jacques Vallez
Davenport
Pasquale Troise
Eric Coates
---


Listen to 'Music While You Work' played by Jacques Vallez and his Players
as broadcast on 27th June 1964.
MUSIC WHILE YOU WORK
played by Jacques Vallez and his Players
10.31am. on Saturday 27th. June 1964 - Home Service
Calling All Workers (sig)
March: Montmartre
La Seine
Swedish Rhapsody
La Petite Swisse
Bal Taborin
Latin Serenade
Clip Clop
Heidelberg Polka
The Petite Waltz
Little Serenade
Tulips from Amsterdam
Nola
The Happy Swiss Waltz
Sur le Pont d'Avignon
Calling All Workers (sig)
Eric Coates
Haydn Wood
Lafarge
Hugo Alfven
Frank Chacksfield
Frank Chacksfield
Albert Delroy
Jacques Vallez
Cyril Watters
Joe Heyne
Ferrio
Arnie
Felix Arndt
Naylor
Trad. arr. Marcel Gardner
Eric Coates
---


Listen to Jacques Vallez and his Septet
playing 'Juanita' by George Boulanger
(75 second clip)
---