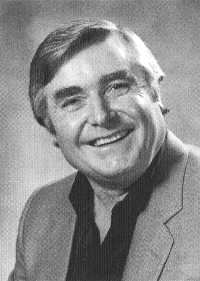 Jack Dorsey, or to give him his real name, Handel Huckridge, was born in Wrexham, North Wales. Educated at Hammersmith Central School and the Song School, Westminster Abbey, where he was a chorister, he studied the trumpet with Ernest Hall at the Royal College of Music and George Eskdale at the Royal Academy of Music. He also studied composition and orchestration with the distinguished Dr Gordon Jacob and harmony and counterpoint with Dr W.S. Lloyd-Webber.
After leaving school he joined the Band of the Grenadier Guards, where he played cornet and trumpet. He also played in theatre orchestras for shows such as 'Kismet' and 'The King and I'. He even had a spell playing trumpet for Bert Ambrose, and a stint with the Crazy Gang as musician and deputy conductor.
To the general public, however, Jack is best known as a musical director. In 1961 he formed a band to play at the Rank Organisation's Astoria Dance Salon in London. When he first arrived, he was surprised to find notices advertising 'Jack Dorsey and his Orchestra'. 'I am the new bandleader here, who's this Jack Dorsey?' he enquired. 'You are!' he was told. It would appear that the management did not feel that the name Handel Huckridge was very commercial, therefore they found a name that was synonymous with dance band music. Thus Handel Huckridge became Jack Dorsey, which he remains to this day, although he still answers to both names, and others that are unrepeatable (his words, not mine!).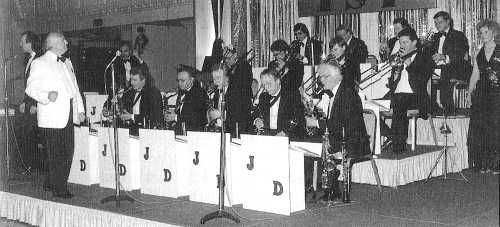 In January 1962, Jack's energetic-sounding band, which he led on trumpet, made the first of its 37 appearances in 'Music While You Work'. (Jack remembers that his first encounter with MWYW was just after the war, when his father, also a musician, took him to the studio to attend broadcasts by Debroy Somers and his Band.) Early in 1963, the Rank Organisation Management gave Jack the opportunity to create a new 17-piece orchestra, possibly the largest band to hold a ballroom residency. It wasn't long before it was being heralded as the finest band in the country. Writing in the London Evening News about one of the band's television appearances, the well-known television critic James Green stated: 'This band is going to be very very big in popular music'.
As the new band was a replacement for the old, it was only a matter of time before its power-house sound was introduced to 'Music While You Work'. The big band was an immediate hit on MWYW, although Jack's fine swinging arrangements did not initially meet with the approval of the powers that be, because some of his ideas were in contravention of the guidelines for the show — namely, that melodies should be clearly defined without frills. When Jack then arranged a jazzy version of 'Calling All Workers' to close each programme, BBC officials were not pleased, to say the least, as they were very particular about the signature tune being played 'straight'. Actually, their view was somewhat hypocritical as Lou Preager had used an elaborate 'fanfare' arrangement of the tune for years. Anyway, the BBC officials backed down when Jack drew their attention to the band's high ratings.
Listen to Jack Dorsey speaking
about his 'swinging' of the Music While You Work signature tune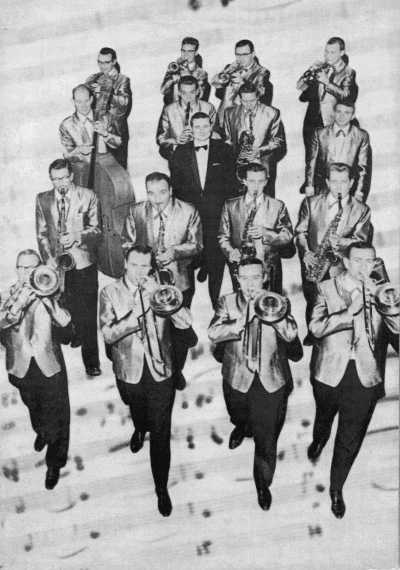 Jack Dorsey and his orchestra nearly got their marching orders
for swinging the signature tune of 'Music While You Work'
Although Jack continued with the band for some years, it was never his intention to be a palais bandleader for the rest of his life and he eventually diversified, turning his attention to the production side of the recording industry. He became A and R Manager for EMI and Pye, but fronted his own band for a number of long-playing records. Subsequently he began a 25-year association with the well-known recording orchestra 'The 101 Strings', becoming their conductor/producer/arranger as well as composing many of the pieces which they recorded. Jack also fronted his own 'Rose of Romance Orchestra' for a series of long-playing albums of romantic music.
When 'Music While You Work' was revived for a week in 1982 as part of the BBC's 60th Anniversary celebrations, Jack Dorsey and his Orchestra were invited to contribute. The session was a veritable who's who of the dance band world!
Jack, who for many years lived in Hove, on the South coast of England, died on 30th April 2017, aged 88.
---


Listen to 'Music While You Work'
played by Jack Dorsey and his Orchestra
as broadcast on BBC Radio 2 at 3.30pm on 7th August 1982
MUSIC WHILE YOU WORK
played by Jack Dorsey and his Orchestra
on 7th August 1982
Calling All Workers (sig)
Double or Quits
Volare
By the Light of the Silvery moon
On Moonlight Bay
For me and my Girl
The Girl Next Door
I'm Getting Married in the Morning
On the Street Where you Live
I could have Danced all Night
I can't stop lovin' You
I know why
My Favourite Things
Surrey with the Fringe on Top
Ida, Sweet as Apple Cider
Truckin'
'Deed I do
If you knew Susie
Calling All Workers (sig)
Eric Coates
Jack Dorsey
D.Modugno
Gus Edwards
Percy Wenrich
G.Meyer
Hugh Martin
F.Loewe
F.Loewe
F.Loewe
D.Gibson
Harry Warren
R.Rodgers
R.Rodgers
Eddie Munson
Rube Bloom
Fred Rose
DeSilva, Meyer
Eric Coates
---


Listen to 'Music While You Work'
played by Jack Dorsey and his Orchestra
as broadcast on 20th April 1962 at 10.31am
MUSIC WHILE YOU WORK
played by Jack Dorsey and his Orchestra
on 20th April 1962
Calling All Workers (sig)
For you Rio Rita
Charmaine Cha Cha
Ferryboat Inn
I'm in a Dancing Mood
Tonight
Honky Tonk Rag
I've found a new baby
Oh you beautiful doll
Everybody loves my baby
Smile
Easter Parade
It only happens when I dance with you
A fella with an umbrella
Steppin' out with my baby
Blueberry Hill
The Mind Reader
Hear my song, Violetta
Rustlin'
Yip-I-addy-I-ay
My Friend the sea
Sucu Sucu
Almost like being in love
I enjoy being a girl
Do - Re - Mi
Calling All Workers (sig)
Eric Coates
Santeugini
Rapee
Campbell
Sigler
Leonard Bernstein
Rees
Palmer
Nat Ayer
Palmer
Charles Chaplin
Irving Berlin
Irving Berlin
Irving Berlin
Irving Berlin
Lewis
Wakley
Klose
Russell
Cobb
Fishman
Rojas
Frederick Loewe
Richard Rodgers
Richard Rodgers
Eric Coates
---


Listen to 'Music While You Work'
played by Jack Dorsey and his Orchestra
as broadcast on 22nd March 1965 at 3.31 p.m.
---
MUSIC WHILE YOU WORK
played by Jack Dorsey and his Orchestra
on 22nd March 1965
Calling All Workers (Sig)
Colonel Bogey
A Spoonful of Sugar
Medley:
. Put on a Happy Face
. Kids
. A Lot of Living To Do
March of the Gonks
I'll Never Find Another You
Six-Two-Five Special
Harlem Nocturne
Medley: My Fair Lady
. I'm Getting Married in the Morning
. On The Street Where You Live
. I Could Have Danced All Night
Soulsville
Dear Heart
Bonanza
Making Whoopee
Soul Bossa Nova
Girls That Boys Dream About
In The Meantime
I Apologise
Kookie
Medley:
. Hometown
. Wotcher
. Sally
Medley:
. Deed I Do
. Truckin'
. Ida
. If You Knew Susie
Calling All Workers (Sig)
Coates
Alford
Sherman
Strouse



Dorsey
Springfield
Hill
Hagen
Loewe



Richardson
Mancini
Livingstone
Donaldson
Jones
Grainer
Burch
Hoffman
Strevens

Carr
Chevalier
Leon

Hirsch
Bloom
Leonard
De Sylva
Coates
---