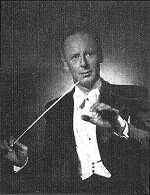 Jack Coles was born in London on 28th April 1914. After studying the trumpet at the Royal Military School of Music, Kneller Hall, from 1933—34 and winning the Gold Cup for the best all-round pupil, he played with leading dance bands until the outbreak of war in 1939. After serving with the King's Royal Rifle Corps, he joined the British Band of the AEF as trumpeter and arranger for its conductor, George Melachrino.
Jack Coles started broadcasting in 1946 with a ten-piece dance band called the Music Masters. Subsequently, at the request of the BBC, he formed a 22-piece light orchestra consisting of strings and woodwind, piano, percussion and two French horns. Specialising in light music of the day, this was called Jack Coles and his Orchestre Moderne and, unlike the Music Masters, which only survived a few years, was destined to become a major contributor to the light music scene for over a decade.
Jack Coles and his Orchestre Moderne contributed to programmes such as 'Melody Hour', 'Morning Music' and, of course, 'Music While You Work', for which the orchestra did 51 programmes. (The Music Masters did 16 in the late forties.) I well remember listening to a live MWYW by the orchestra on one blisteringly hot August afternoon in 1959 when the music suddenly stopped and the announcer explained that the very hot weather affected the tuning of the musical instruments, going on to say '...the orchestra crave your indulgence for a few moments whilst they retune their instruments in order that they may continue to play in concert pitch'. Their retuning was not heard on air and they soon resumed playing.
From the outset, Jack had always impressed the BBC with his musicianship, programme building and ability as a conductor. It was, therefore, no surprise when, in 1958, he was invited to take part in the annual BBC Festival of Light Music at the Royal Festival Hall in London. He was also invited to conduct the Continental Orchestra of Hilversum. His many talents included composing and arranging for radio, television, film and stage productions, his own musical tastes ranging from jazz to operatic and symphonic works. He was also one of the leading composers of light music in this country. His best known composition, 'Tyrolean Tango', written under the pen-name of Paul Stewart, was recorded by George Melachrino and in America by Duke Ellington, re-titled 'The Echo Tango'. Jack also recorded it, together with some of his other compositions, on a 1966 Columbia LP entitled 'The Music of Jack Coles'. His numerous compositions included 'Mexican Serenade', 'Dude Ranch', 'Dance of the Pan-pipes', 'Fan Tan', 'The Girl From Cadiz', 'Parakeets and Peacocks', 'Positano', 'Prochida', 'Sparky', 'Cowbell Polka' and 'Joy Ride'.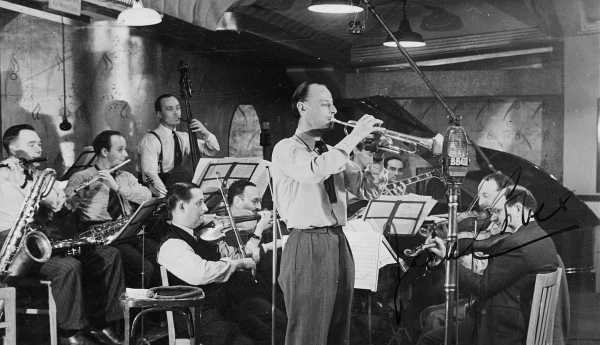 Jack Coles and the Music Masters, 1947
(Photo courtesy of Richard Howell)
By the late 1950s, Jack Coles was regularly 'guest conducting' the various BBC Regional Light Orchestras, and a tour of Holland with the BBC Studio Choir so impressed the BBC that it was decided that his was a skill that needed to be exploited at a higher level. Since early in 1959, the BBC Midland Light Orchestra had been without a permanent conductor and Jack Coles, Gilbert Vinter and Leo Wurmser were holding the fort until a fixed appointment was made. In 1960 it was decided to make changes to the orchestra's instrumentation, reducing its size and making it more suited to a lighter, more modern style. Jack Coles, having already introduced a number of modern arrangements to the orchestra, was seen as the obvious man to develop this on a permanent basis and was duly appointed conductor in August 1960.
Jack lived in London and commuted to Birmingham, staying for three or four days each week. As he was not available full time, Gilbert Vinter, who had previously been the resident conductor, was drafted in for the days that Jack couldn't be there, playing the more traditional style of light music with which he was associated. This arrangement gave the orchestra an unusual versatility. Jack held the post of conductor of the MLO until 1972, when he retired to Italy — to Positano, the title of one of his compositions.
Returning to London in the early eighties, he recorded programmes for the revived series of MWYW. Jack Coles died on 24th April 1991, four days before his 77th birthday.


Listen to 'Music While You Work' played by Jack Coles and his Orchestra
as broadcast on BBC Radio 2 on 4th February 1983 at 12 noon.
MUSIC WHILE YOU WORK
played by Jack Coles and his Orchestra
on 4th February 1983.
Calling All Workers (sig)
633 Squadron
Little Serenade
Tyrolean Tango
Santa Lucia
Rouge et Noire
Herdsmaiden's Dance
Here's that Rainy Day
Elizabethan Serenade
There's a Coach Coming In
Calling All Workers (sig)
Coates arr. Coles
Ron Goodwin
Ernest Tomlinson
Jack Coles
Trad. arr.Jack Coles
Fred Hartley
Hugo Alfven
Burke/Van Heusen
Ronald Binge
Lerner/Loewe
Coates arr. Coles
---


Listen to 'Music While You Work' played by Jack Coles and his Orchestra
as broadcast on BBC Radio 2 on 3rd. June 1983 at 12 noon.
MUSIC WHILE YOU WORK
played by Jack Coles and his Orchestra
on 3rd June 1983.
Calling All Workers (sig)
Humoreske
Jeannie with the light brown hair
Little French Suite (Galop)
Without your love
All of me
Fenesta che lucive
A playful scherzo
Oh dear what can the matter be?
Calling All Workers (sig)
Coates arr. Coles
Dvorak arr.Coles
Foster arr. Coles
Alan Langford
Jack Coles
Simons arr. Coles
Trad. arr. Coles
Peter Hope
Trad. arr Coles
Coates arr. Coles
---


Listen to 'Music While You Work' played by Jack Coles and his Orchestre Moderne
as broadcast on 15th. June 1956 at 3.45pm.
MUSIC WHILE YOU WORK at 3.45 p.m. on 15th June 1956
played by Jack Coles and his Orchestre Moderne
Calling All Workers (sig)
Shooting Star
Songe d'Automne
Without Your Love
Mexican Serenade
Shimmering Silk
In a Persian Market
Napolitana
Bluebell Polka
Lady Beautiful
Petite Waltz
The March Hare
Calling All Workers (sig)
Coates
Torch
Joyce
Noel
Coles
King Palmer
Ketelby
Troise
Stanley
Bayco
Heyne
Green
Coates
---
1.10 p.m. Home Service on 17th July 1953
Jack Coles and his Orchestre Moderne
Derby Winner
Suddenly
Puppet March
Echo Waltz
Film Theme: Limelight
Viva los Valientes
The Last Rose of Summer
Flying Flutes
Rainbow Rhapsody
Rachel
Some Enchanting Evening
Waltz for a Debutante
Pulling Strings
Wyoming Lullaby
Boys and Girls come out to Play
Claude Yvoire
Heuberger/Cochrane
Jack Coles
Walter Landauer
Charles Chaplin
Bobby Pagan
trad: arr. Coles
Rene Touzet
Peter Yorke
Pressman/Lavello
Rodgers/Hammerstein
Eric Denson
Ivor Slaney
Gene Williams
trad: arr. Coles
---