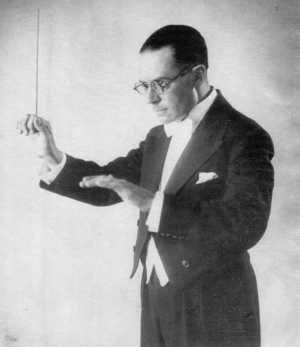 The Albert Cazabon Orchestra is probably best remembered by listeners to 'Morning Music' but their other broadcasts did include 23 editions of 'Music While You Work'.
Albert Cazabon was born in 1883,the son of French violinist Alphonse Cazaubon. He began playing the violin, aged four, under his father's tuition and was regarded as a child prodigy — giving his first recital, aged nine, at London's Queen's Hall. He received musical training at the Guildhall School of Music and later in Paris. He studied composition under Gustav Holst (composer of The Planets).
After touring the British Isles as a violin soloist, supplementing his earnings with orchestral playing, he turned his attention to conducting, working with the London Symphony and Bournemouth Symphony Orchestras, amongst others. He arranged music for the theatre and later for silent films, becoming Director of Music at the Everyman's Theatre, Hampstead for some years.
In 1927 he went to Australia, spending nine years in Sydney as Director of Music at the Prince Edward Theatre, following a recommendation from Basil Cameron. In 1930 he conducted the Hungarian March from Berlioz's 'Damnation of Faust' for Columbia — the first recording of a symphony orchestra to be made in Australia. He made commercial recordings of his own compositions for violin and piano and wrote the 'Song of the Great Bridge' for the opening of the Sydney Harbour Bridge in 1932. He was awarded a Jubilee Medal by King George V in 1935 for services to music in Australia.
Returning to England in 1937, he broadcast with the Albert Cazabon Trio and later with his orchestra, making his first appearance in 'Music While You Work' in 1941. His orchestral compositions include 'The Jesters', 'Fjell Melody', and 'Giocoso'. He also produced many orchestral arrangements, theatre scores, violin solos, piano pieces and comic songs, broadcasting frequently until his retirement in the mid-fifties.
Albert Cazabon died in 1970.
---
MORNING MUSIC at 8.15 a.m. on 19th. December 1950
played by The Albert Cazabon Orchestra
Three Dances from 'Tom Jones'
. Morris Dance
. Gavotte
. Jig.
The Grenadiers Waltz
El Relicario
Pas de Fleurs (Naila)
The Peanut Polka
Dance Slave (Le Roi maigre lui)
Serenata
Intermezzo No.2 (Jewels of the Madonna)
Shepherd's Hey
Men of Harlech (A Welsh Fantasy)
Edward German



Emile Waldteufel
Padilla, arr. Binge
Delibes
Robert Farnon
Chabrier arr. Perry
Moszkowski arr. Croudson
Wolf-Ferrari
Percy Grainger
Ronald Hanmer
---
MUSIC WHILE YOU WORK at 10.30 a.m. on 15th December 1955
played by The Albert Cazabon Orchestra
Calling All Workers (sig)
The Dam Busters
Peacock Patrol
Gaytime
The Last Tango
The Stein Song
Lady of Spain
Sleigh Ride
Scotch and Chaser
The Waltzing Bugle Boy
Selection: The Water Gipsies
Calling All Workers (sig)
Coates
Coates
Barrington
Crossman
Monshin
Fenstad
Evans
Anderson
Croudson
Martin
Ellis
Coates
---