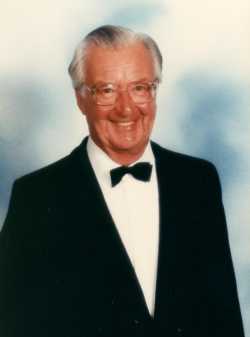 'Swingsong' was the title of a weekly programme of melodious popular music featuring the Johnny Douglas orchestra with guest vocalists and other musicians.
It commenced in March 1961, continuing on a weekly basis until the end of September 1962. It was initially a 55 minute Sunday night show, commencing at 7.35pm and compered by singer Roy Edwards, until moving to Mondays at 9.35pm in September 1961, when Dennis Lotis took over as singer/presenter. Apart from a short period in 1962 when it moved to a lunchtime placing on Saturday, its final three months were broadcast at 10.41pm on Mondays.
Johnny Douglas and his orchestra also did hundreds of editions of 'Morning Music'. The broadcasting orchestra consisted of strings, woodwind, accordion, piano, percussion and a large trombone section - this giving it a distinctive sound.
Johnny Douglas (1920-2003) was playing the piano at the age of three and started orchestrating at the age of 10!
He made over 100 LP records, many of which featured his 'Living Strings', a much larger orchestra whose records were initially aimed at the American market.
Johnny wrote arrangements for some of the world's biggest stars (such as Vera Lynn and Shirley Bassey) and scored 36 feature films, the most memorable being the 1970 production of 'The Railway Children'.


Listen to 'Swingsong' played by Johnny Douglas and his Orchestra as broadcast in Spring 1961
The Mike Sammes Singers
Douglas Gamley (piano)
Programme introduced by Roy Edwards who also sings some songs