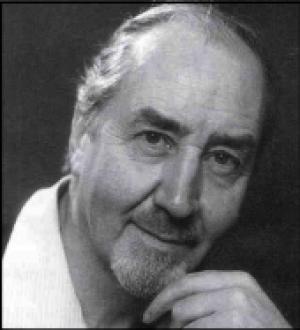 Geoffrey Brand
Former Conductor, London Wind Orchestra (United Kingdom) Geoffrey Brand - one of the leaders of the modern band movement in England; conductor for numerous high quality concert band recordings by the top professional musicians in London. A popular lecturer and guest conductor in the U.S.
Born into a Salvation Army family in Gloucester, Mr. Brand made his career as a professional trumpet player with the Royal Philharmonic, Philharmonia and Covent Garden orchestras. He worked closely with brass and military bands as a BBC Producer (1955 - 68) before turning with great success to conducting and publishing.
He rose to prominence in brass banding after a successful spell as a professional conductor of the Black Dyke Mills Band. He assumed leadership of the band in 1967 and led the band to a win at the Nationals in his first year. Brand took the Black Dyke through its most successful period for some time by also winning the British Open Championship in 1968, taking 2nd prizes in the Nationals in both 1968 and 1969. In 1970, the World Championship was theirs, and in 1972 he followed with the " rare 'double' of winning both the Open and the Nationals in the same year.
Geoffrey Brand died on February 5th 2023 aged 96.
Further biographical information can be found here
Youtube interview with Geoffrey Brand


Listen to 'Music While You Work' played by Geoffrey Brand and his Orchestra
as broadcast on BBC Radio 2 at 12 noon on 24th June 1983
---


Listen to 'Music While You Work' played by Geoffrey Brand and his Orchestra
as broadcast on BBC Radio 2 at 12 noon on 28th October 1983
MUSIC WHILE YOU WORK
played by Geoffrey Brand and his Orchestra
on 28th October 1983
Calling All Workers (sig)
Belle of the Ball
Summertime
Prestbury Park
Come follow the band (from Barnum)
West Side Story (Selection)
Don't cry for me, Argentina
March of the Toys
Calling All Workers (sig)
Coates
Leroy Anderson
George Gershwin
Philip Lane
Cy Coleman
Leonard Bernstein
A. Lloyd Webber
Victor Herbert
Coates
---


Listen to 'Music While You Work' played by Geoffrey Brand and his Orchestra
as broadcast on BBC Radio 2 at 12 noon on 14th January 1983
MUSIC WHILE YOU WORK
played by Geoffrey Brand and his Orchestra
on 14th January 1983
Calling All Workers (sig)
Who killed Cock Robin
Westmister Waltz
Memory
South Pacific Selection
Bridge over troubled water
Sleigh Ride
A Bridge too Far
Calling All Workers (sig)
Coates
Trad. arr. Paul Fenhoulet
Robert Farnon
Andrew Lloyd Webber
Richard Rodgers
Paul Simon
Leroy Anderson
John Addison
Coates
---